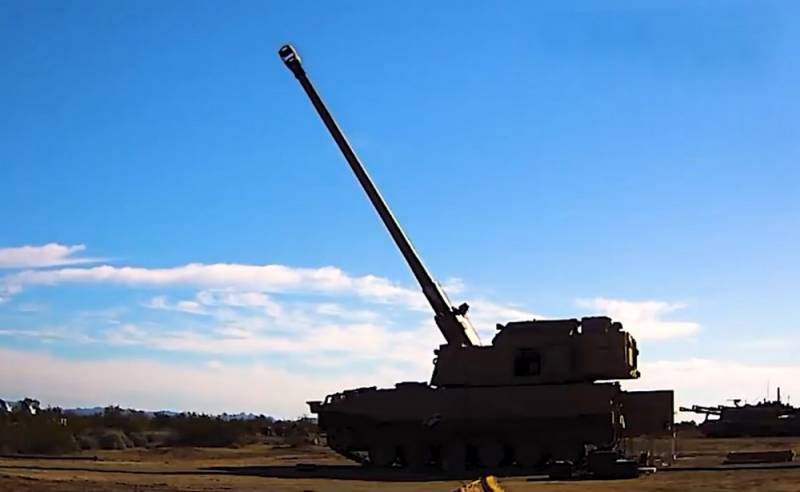 Already in the fall of this year, our newest self-propelled gun "Coalition-SV" will take part in the international exercises "West-2021". At the same time, the United States claims that despite the superiority of our gun over the American "Paladin", it is inferior to their promising XM1299 self-propelled artillery mount.
Nobody is trying to dispute the fact that our project 2S35 ACS is better than the M109 "Paladin" and the German Panzerhaubitze 2000 in terms of basic parameters. However, are the Pentagon's statements about the promising XM1299 true?
Let's start with the characteristics of the "Coalition", which is a turret-mounted ACS on the chassis of a T-90 tank (later "Armata"). The Russian "self-propelled gun" received a 152-mm howitzer with a barrel length of 52 caliber, placed in an uninhabited tower with mechanized stowage for 70 rounds.
The automatic loader provides a practical rate of fire of 12 rounds / min. At the same time, "Coalition-SV" is capable of hitting targets at a distance of up to 80 km.
As for the American design, it entered the test site in 2018. XM1299 received a self-propelled unit from the same "Paladin". In fact, only the gun (155 mm with a barrel length of 58 calibers) and the fire control system were updated here.
The tower is still inhabited, and manual loading. True, the developer still promises to equip his weapon with an automatic loader in the future.
The only significant superiority of the KhM1299 over the "Coalition-SV" can be shells that reach the target at a distance of 90-100 km. But the latter have not yet been created in the United States and most likely will not be created soon, since the maximum achievement of American engineers is now 70 km.
In turn, Russia already has experimental developments that allow reaching a target at a distance of 90-92 km. Thus, it is still very early to speak about the superiority of a promising howitzer from the United States.