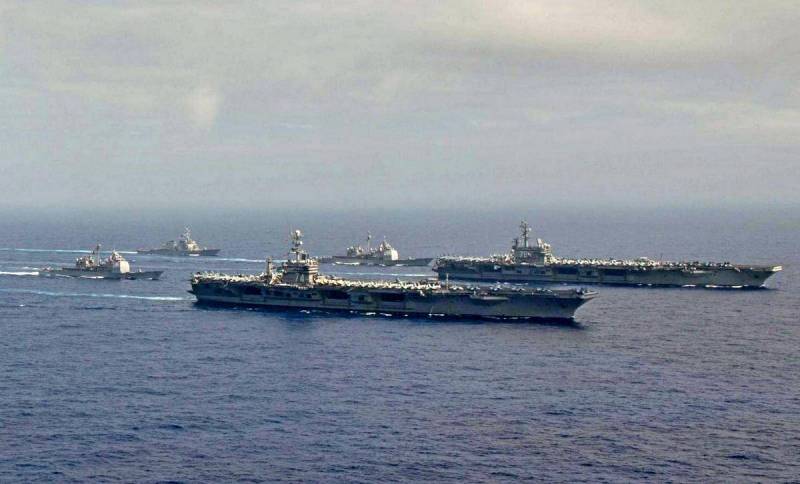 US Navy aircraft carriers still dominate the oceans, but every year it becomes more difficult to do, writes the American edition of We Are The Mighty.
Moscow and Beijing decided to change the situation at sea that has developed over the past decades. They got down to business seriously.
In August 2020, China launched two successful ballistic missile launches that struck a moving target ship in the South China Sea several thousand kilometers away. The tested missiles are modifications of the DF-21 (range up to 2100 km) and DF-26 (up to 3860 km).
Beijing claims that it is forced to take such measures because of the incessant "provocations of the Americans." A few days earlier, Washington had sent two of its AUGs to the region. Chinese military analysts called the launches a "warning signal" for the United States.
At the same time, in December 2020, the Russian Navy conducted regular tests of the Zircon hypersonic cruise missile in the White Sea. The Russians launched the Zircon from the frigate Admiral Gorshkov at a target located at the Chizha training ground in the Arkhangelsk region. The rocket developed a speed of Mach 8 and, having flown 350 km, successfully hit the target.
All of this indicates that the US aircraft carriers, for years considered the masters of the seas and oceans, may face a real threat to their existence, and their dominance will end. However, the process has already begun.
US aircraft carriers have always been considered dangerous ships. This was also recognized in the USSR, realizing that hundreds of aircraft capable of using nuclear weapons are a real threat. It was enough for the aircraft carriers to simply appear off the coast of Grenada, Iraq or some other country, after which the balance of forces and
политическая
the situation changed immediately. It was the aircraft carriers that kept the PRC from invading Taiwan. It is not surprising that the USSR was developing options for the destruction or at least neutralization of the AUG.
At that time, Moscow had a whole air fleet of missile carriers, an armada of surface ships and nuclear submarines. Both the modern Russian Federation and the rapidly gaining power China are now actively engaged in something similar. US aircraft carriers are forced to stay away from the Russian and Chinese coasts. The most dangerous for aircraft carriers is considered to be hypersonic weapons. The American military is well aware that their aircraft carriers do not have long to dominate.