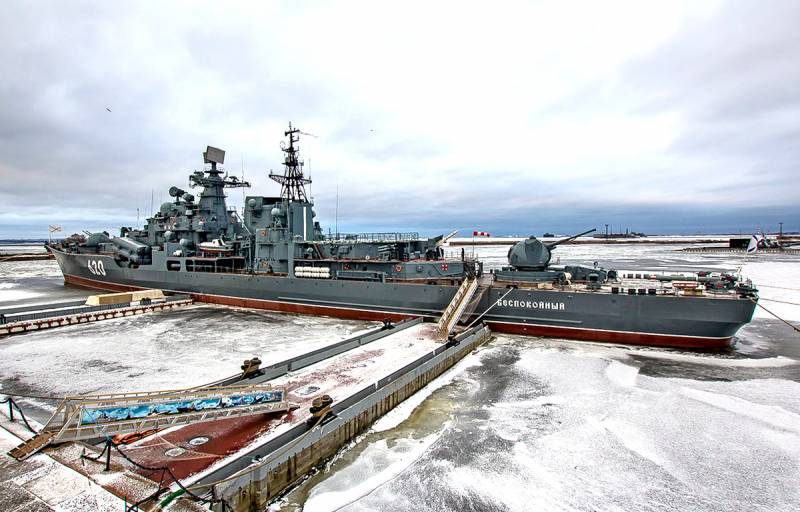 The commander of the destroyer "Restless" of project 956 "Sarych" (modification 956-A) of the Baltic Fleet, conspiring with other persons, stole two 13-ton bronze propellers from his ship. After that, the original screws were replaced with imitation (fake) ones made of cheaper metal, writes the American online edition WarZone, citing Russian media.
The powerful warship served faithfully for the Soviet and Russian navies for over 25 years and it was decided to turn it into a floating museum after being decommissioned. But an ignoble act looks like a plot from some comedy Hollywood movie about a robbery, where intruders fake objects made of expensive metal.
The investigation is already coming to an end. The two screws are estimated at about 39 million rubles, more than $ 522 thousand at today's exchange rate. The ship was robbed at the Baltic Shipyard Yantar in the Kaliningrad region. This happened after it was docked for conversion in September 2016. The ship's hull was sealed so that it could be afloat without crew maintenance. It was then that the screws were removed. Currently, the destroyer has been turned into an exhibit of the military-historical complex of the Western Military District and serves the cause of educating young people. It is exhibited in the Patriot Park in Kronstadt, on the Kotlin Island, not far from St. Petersburg.
A total of 21 destroyers of this class were built and "Restless" was the 15th in the series. The basic displacement of these ships is 6600 tons, maximum up to 8500 tons. Their main armament was eight P-270 Mosquito supersonic anti-ship missiles. They could also carry up to 48 missiles to the M-22 "Uragan" air defense missile system - a naval version of the 9K37 Buk. The ships had two twin gun mounts AK-130 of 130 mm caliber and two rapid-fire six-barreled AK-630M caliber 30 mm. There are three such ships left in the Russian Navy: "Real" (Baltic Fleet), "Admiral Ushakov" (former "Fearless" - Northern Fleet) and "Fast" (Pacific Fleet).
Details about "Restless" became known a month after the equipment was stolen from an Il-80 "Doomsday" aircraft near Taganrog. The weight of the screws does not allow them to be stolen unnoticed, even by a group of knowledgeable intruders. Probably, representatives of the Navy were also involved in the robbery. It remained unclear whether the bronze screws were returned to their place or not. In general, it is safe to say that someone screwed up, since the Russian commanders rob their own fleet, summed up the media from the United States.