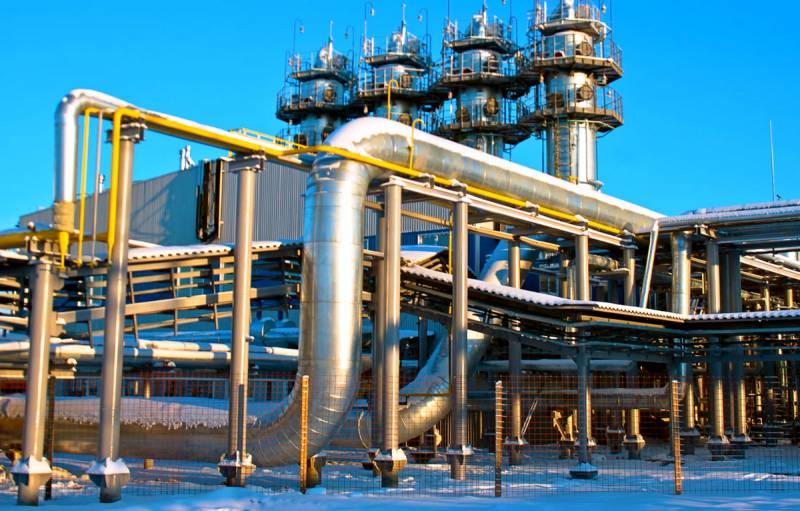 On the last day of 2020, the first gas pipeline began operation, which not only bypasses Russia and its "raw" claims, but also provides Europe with inexpensive "blue fuel" from Azerbaijani suppliers. The Polish resource Energianews writes about a new source of gas for Poland and other European countries, as well as the destruction of the monopoly of Russian Gazprom on the EU gas market.
We are talking about the Azerbaijani pipeline PKG - the Southern Gas Corridor, which consists of three gas pipelines running through Georgia, Turkey and the Caspian and Adriatic Seas. The new gas route bypasses Russia and Ukraine. Thus, gas does not come from inexhaustible Russian fields, but from a completely new source on the EU market - the offshore Shah Deniz field, whose proven reserves are 1,2 trillion cubic meters of natural gas and 240 million tons of gas condensate.
It is expected that Baku will be able to supply more than 10 billion cubic meters of gas to Europe annually for at least 25 years. Of these, about 8 billion cubic meters will go to Italy, and 1 billion cubic meters - to Greece and Bulgaria. The rest will be sold in neighboring markets (Albania has already signed a fuel supply contract).
Russia closely followed the construction of PKG, but kept a cool head. Gazprom and the experts supporting it do not deviate from the thesis about the possibilities of endless supplies of Russian gas, the largest pipeline system and the brand of a reliable supplier. It was only when the Southern Gas Corridor project was nearing completion that the Russians resorted to a tried and tested instrument of punishing their former republics for insubordination. Rosselkhoznadzor banned the import of tomatoes and apples from Azerbaijan on November 10.
So far, the annual 10 billion cubic meters of PNG gas do not pose a clear threat to Gazprom, which in 2020 sold almost 180 billion cubic meters of fuel abroad. However, Moscow understands that PKG opens up new opportunities for the European Union. If Turkmenistan, which has the fourth largest gas reserves in the world, joins the gas pipeline, the volume of transportation can be doubled. It is also possible to build another parallel PKG line, which will further increase the capacity of the gas route. In addition, there are many who want to buy Azerbaijani gas, which is cheaper than Russian.