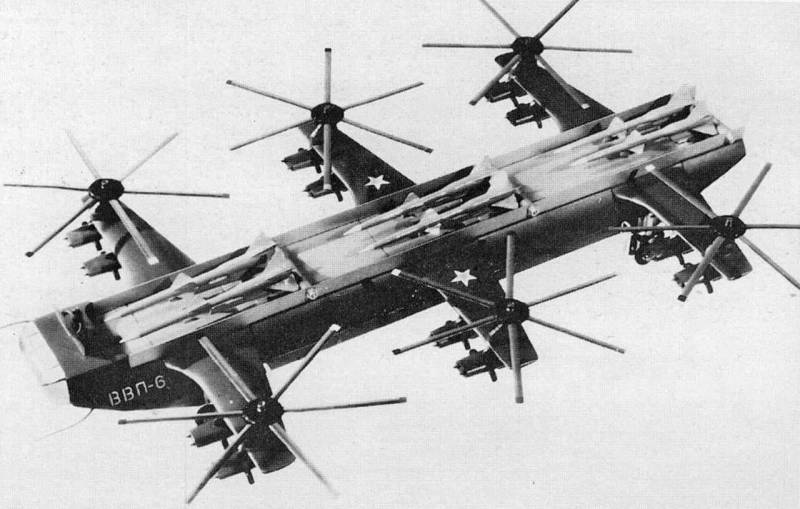 The Soviet Union once considered the possibility of creating a massive helicopter that could launch surface-to-air anti-aircraft missiles while in flight. The emergence of jet aircraft with vertical landing (for example, the Yak-38) gave a new impetus to such ideas, wrote Efim Gordon and Sergey Komissarov in the book "Non-Flight Wings". Experts from the American edition of The National Interest recalled the Soviet project of the monster helicopter.
In the 1960s, the Yakovlev Design Bureau proposed a project for a giant cargo helicopter VVP-6, capable of airlifting a whole battery of anti-aircraft missiles in one flight. This helicopter was a real flying monster. A tabletop model of the concept illustrates that the helicopter's fuselage is similar to an amphibious assault vehicle, but with three short wings on each side and a six-bladed propeller on each wing. The rotors were driven by four motors.
The helicopter would have a length of about 53 meters - almost the same as the Boeing 777. On the upper deck of the huge rotorcraft, three pairs of surface-to-air missiles C-25 Berkut could be placed, lying flat like sardines in a can ... Additional missiles and radar systems were to be located on the lower deck. There were even plans to launch S-75 Dvina missiles from a helicopter, the length of which was about 12 meters.
However, according to Gordon and Komissarov, the use of such missiles would be unreasonable, since the SA-1 launchers rotated 360 degrees to track the target, and the huge flames emitted by the missiles during launches could damage the propellers of the flying machine. In addition, the helicopter would be an excellent target for enemy anti-aircraft guns and fighters.