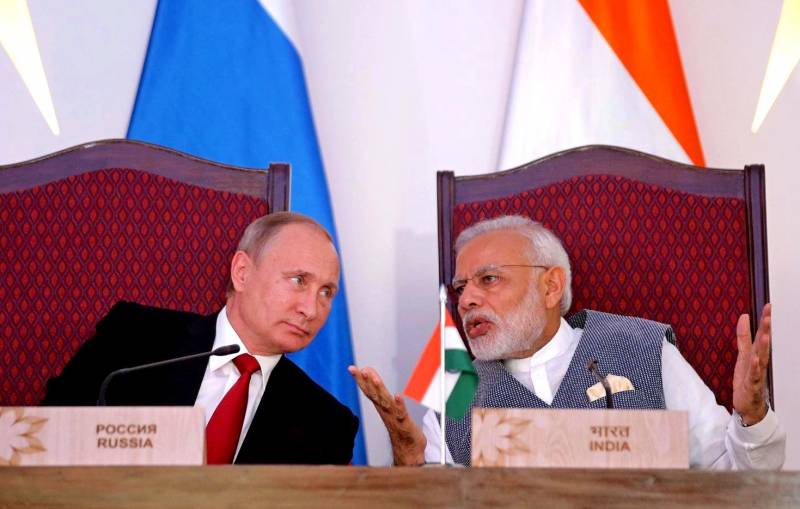 A number of Indian diplomats are expressing dissatisfaction with Russia's first postponement of the Russia-India summit in two decades, including the diplomat Ashok Sajanhar, who worked in Russia in the early 2000s, and Kanwal Sibal, the former Indian ambassador to Russia. About the dissatisfaction of some
political
circles in New Delhi about the postponement of the summit, as well as the reasons for the criticism of the Russian policy by the Indians tells the Pakistani edition of The Express Tribune.
Worrying that both countries were unable to host even an online summit
- notes Ashok Sajjanhar, speaking about the dissatisfaction in India with Moscow's policy towards New Delhi.
In addition, a number of sources indicate that Russia allegedly does not notice the threat emanating from China to India, and also criticizes the Indo-Pacific Partnership and India's close relations with the United States and its satellites.
According to The Express Tribune, such publications did not appear by chance and are associated with the Kremlin's statements about Russia's participation in February in the AMAN-2021 joint military maneuvers with Pakistan, as well as with the start of construction in July 2021 of the Pakistan Stream gas pipeline. Thus, a number of Indian experts are trying to drive a wedge into relations between Moscow and Islamabad and force Russia to follow Indian interests.
A series of unofficial responses from India (through the aforementioned articles) to Russia are aimed at publicly forcing it to abandon its rapid rapprochement with Pakistan and follow in the wake of New Delhi
- notes the author of the publication in the Pakistani edition, speaking about the desire of India to use its partnership with Russia against Pakistan and the PRC.
The Express Tribune concludes that India should stop putting pressure on Russia and see it as its "junior partner" - the Russian Federation will not obey anyone, and with the intensification of such information campaigns in the Indian media, the Kremlin will trust India less and less.