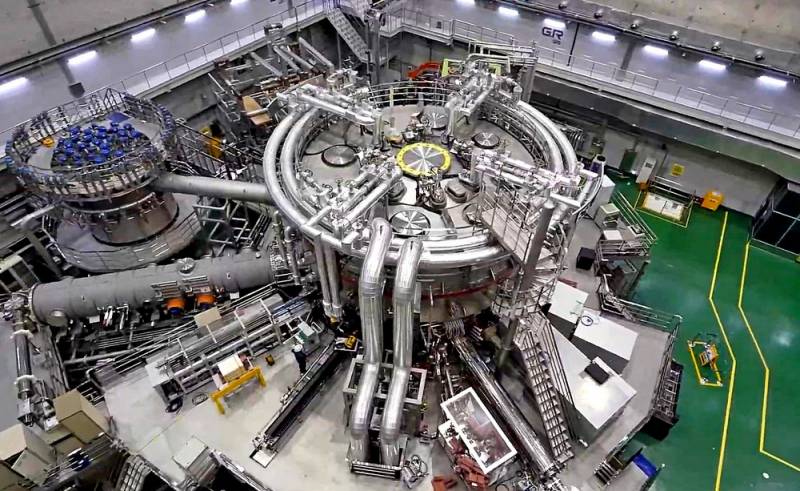 Specialists from South Korea managed to keep the plasma heated to more than 100 million degrees Celsius inside the KSTAR tokamak for 20 seconds. This was announced yesterday by representatives of the KSTAR research center located at the Korea Institute of Thermonuclear Energy (KFE).
It should be noted that this indicator is currently an absolute record. For example, it is assumed that the new Chinese tokamak HL-2M will be able to bring the plasma temperature to 150 million degrees, but the device will be able to keep it in this state only for about 10 seconds.
The Korean Experimental Fusion Reactor has been operating since 2008. The KSTAR research center is working on the project in conjunction with Seoul National University and Columbia University (USA).
The KSTAR tokamak is one of the few in the world that has received fully superconducting magnetic coils. The specialists involved in the project are constantly increasing the plasma temperature and its retention time.
So, in 2018, the temperature of plasma ions in the Korean "artificial sun" for the first time reached 100 million degrees. However, it was possible to keep it in this state only for 1,5 seconds. In 2019, scientists achieved an indicator of 8 seconds at a similar temperature.
And so, an absolute record of 20 seconds was set this year. At the same time, all the other thermonuclear reactors that managed to heat the plasma to 100 million degrees Celsius and above could not keep it in this state for more than 10 seconds.
Next year, it is planned to replace the carbon KSTAR in-chamber elements with tungsten ones, and in five years the scientists intend to keep the hot plasma inside the reactor for 5 minutes.