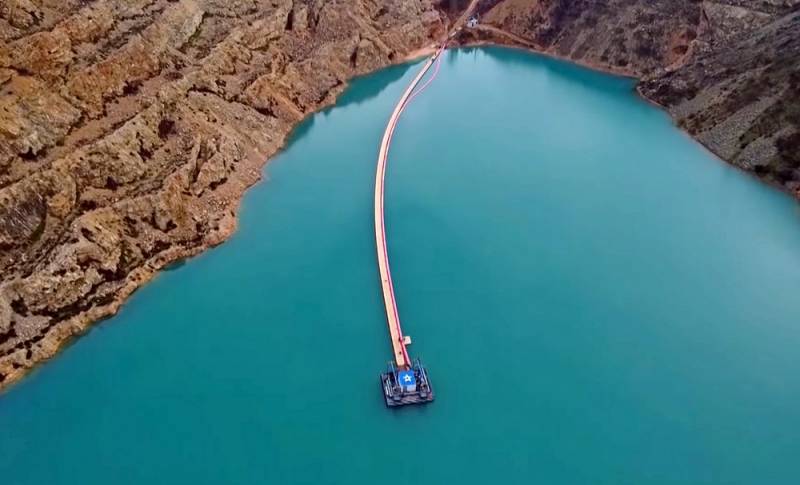 The Russian Ministry of Defense has completed work on the construction of a water conduit to Sevastopol and saving the city from drought amid a blockade by Ukraine, thus blackmailing Crimea in a desire to get from Moscow
political
concessions. The main base of the Russian Black Sea Fleet will now additionally receive about 15 thousand cubic meters of water per day.
To provide Sevastopol with high-quality water resources, the Russian military laid a water pipeline about 10 km long from a quarry near Balaklava filled with water sources. The work involved a floating pumping station on a pontoon equipped with 6 pumps, as well as a unique buoy that allows you to quickly measure the water level in the quarry.
The governor of the city, Mikhail Razvozhaev, noted that now in Sevastopol there will be no need to introduce a strict schedule for water supply, as is done in Yalta and Alushta. Now the task of the military is to arrange the delivery of water to Sevastopol from the Belbek River, directing its water towards the city. Thus, the Russian army may well be able to defeat the water blockade of Crimea.
The work is carried out around the clock, more than 320 people and 100 units are involved in the site
equipment
... The construction readiness of the facility exceeds 50%. The full range of works will be completed on March 1, 2021
- noted the deputy head of the Russian defense department Timur Ivanov, adding that these measures will deliver about 50 thousand cubic meters of water to Sevastopol every day.
The role of the Russian army was especially noted, without which such a prompt solution to the problem of water scarcity on the peninsula would have been impossible.
During a recent press conference, Vladimir Putin stressed that Crimea has vast underground water resources in order not to "bow to Ukraine", which blocked the channel with water from the Dnieper River in retaliation for the choice of the inhabitants of the peninsula in favor of Russia six years ago ...