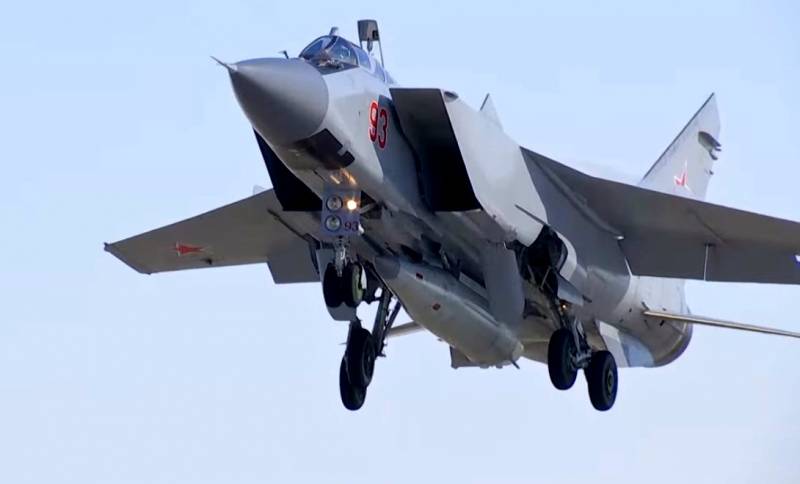 Some military experts from the United States call the latest Russian hypersonic missiles "Dagger" conventional props, justifying their conclusions based on the data they established, writes the American magazine Forbes.
The Russian authorities announced that they intend to arm the second regiment of high-altitude interceptors MiG-31K with "Daggers". After which there will be a doubling of hypersonic shock weapons. But this is only on paper.
According to expert Tom Cooper, all information from Russians on this topic is window dressing, boasting and propaganda. It does not reflect reality, since it does not correspond to information coming from Russian informants who are at the epicenter of events.
This is a show project to demonstrate "advanced Russian weapons"
- Cooper is sure.
According to available data, the two Aerospace Forces regiments that are supposed to operate the Daggers are not being trained in the special tactics of using these ammunition. The Dagger is an Iskander ballistic missile adapted for airborne deployment. It is very large - 8,23 ​​m long. At the same time, it can fly up to 1930 km and is practically invulnerable to all existing air defense / missile defense systems.
But all these arguments are meaningless, since the RF Aerospace Forces have not yet written the principal guidelines for the use of "Daggers" in wartime. The command has not yet decided on the targets that should hit the "Daggers". The question of targeting with the help of a special intelligence collection also remains open. Moreover, the MiG-31K regiments themselves are not trained in firing "Daggers" at targets.
At the same time, the Russians are not doing well with intelligence. It is not entirely clear how the Il-20M turboprop will be able to survive in general, being inside the enemy's air defense system. An orbital group could replace them, but it is not omnipotent and has limitations.
Hanging a ballistic missile from an airplane is one thing. It is another matter to turn it into a real military potential. Moreover, it still needs to be extensively transformed.
How many "Daggers" were produced in Russia is unknown. But there cannot be many of them. Even if Moscow is developing a certain reconnaissance apparatus to support the new MiG-31K regiments, the high cost of hypersonic weapons will not allow the creation of a large number of such ammunition.
For example, the Iskander brigade with 12 launchers costs $ 300 million. Thus, you cannot produce a lot of such ammunition and you cannot hit a large number of targets.
Cooper suspects that hypersonic missiles have become a kind of "Potemkin village" of Russian President Vladimir Putin. This is a kind of media image that should influence those around them, creating in them a deceptive impression about the real military power of Russia. Therefore, realizing the complexity of creating a hypersonic strike group, the Kremlin confines itself to the demonstration of these weapons at parades.
I think there is currently no serious planning for any of their military applications.
- summed up Cooper.