Modern Russia is a country of victorious primary raw materials. And the Russians themselves suffer from this, first of all. We buy goods for foreign currency abroad, largely produced from exported Russian raw materials.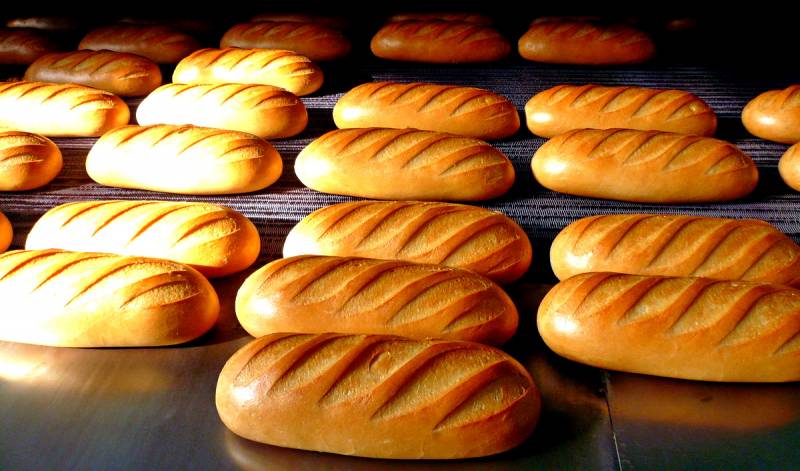 Bread is the head of everything, they always said in Russia.
Economy
Russian bread today is not a topic for the faint of heart. The collapse of the Russian national currency, supported by a low level in many respects by the state regulator, has turned Russia into an almost ideal bread exporter for foreign consumers. According to the Ministry of Agriculture, grain crops in the country are breaking records from year to year. For example, in 2017, our agricultural holdings grew a record crop, breaking Soviet achievements. And for this year, the United States and its "red-faced" farmers are threatened with crowding out of first place as an exporter of grain.
However, in reality, everything is not as rosy as we would like. Firstly, picky buyers are exported only the best grain. All that remains is going to the domestic consumer. There was information that for Russians baked bread even from feed grain, i.e. feed for livestock.
Secondly, as you know, flour is obtained from cereals by simple actions. But Russia's share of the flour market is not at all impressive 1,7%. Turkey comes first, which holds 25% of the world flour market, purchasing grain, including from Russia. In second place is our neighbor Kazakhstan, which itself grows grain and buys it in our country. For those with enthusiastic views on the successes of domestic agriculture, it will also be useful to know that the Russian share in the cereal market is a pitiful 2%, and that of finished bakery products - 1,1%.
And then everything is still more sour, and in the literal sense of the word. The non-profit organization "Russian Quality System" has published data that are very unpleasant for lovers of fresh Russian loaves. They checked 176 rifled loaves in all Russian regions. Only 14 were awarded the Quality Mark, and 25 were baked with obvious violations.
In 10, bacteria were discovered that are not dangerous to human life, but indicate violations of the process. Several loaves from the Novosibirsk region literally stank because of the so-called potato bacillus - a disease of the original grain. In all likelihood, manufacturers purchased flour for Russian loaves in Kazakhstan or China. Bread baked in the regions of the Siberian District exceeded ash standards because it was prepared from low-grade imported flour.
By the way, natural flour does not give an appetizing white color to bread. It is provided by chemical bleaches, also imported. Some manufacturers did not hesitate to add bromates to the compatriots for this purpose, which are banned in the European Union due to carcinogenic properties. The presence of preservatives in the fragrant bread from the factory should not surprise anyone, since for the profitability of the business, sliced ​​loaves should be stored for at least 10 days. Experts explain:
The use of additives is the uncertainty of the manufacturer in wheat, the uncertainty in flour. If it is not known what quality flour (or, on the contrary, it is known that it is not too high), at the bakery are insured with additives, improvers
The only thing that saves from the consequences of the baker's experiments is the high temperatures in production, which kill almost everything except the most toxic chemistry. Muscovites and residents of the Moscow region will be interested to know what it is they who save the most bread producers. The reasons are commonplace: bread prices are supported by the state at a socially acceptable level, and the costs of capital bakers are higher than in Russia. Therefore, for profitability, they should buy cheap flour of dubious quality and mask its shortcomings with "additives."
It would seem, why it is impossible to organize large-scale flour milling in Russia, to give jobs to people, to receive taxes? But why do something if "people hawala" and so, in all senses of this expression?