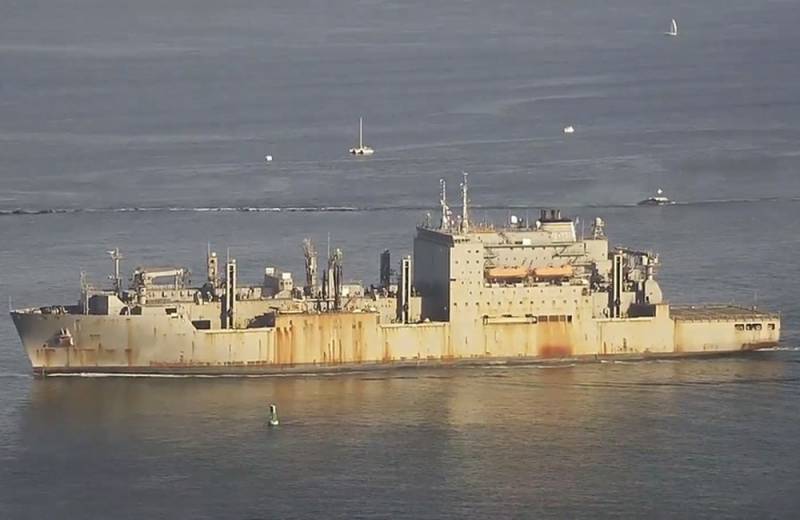 On December 4, 2020, the US Navy supply vessel USNS Washington Chambers (T-AKE-11) entered San Diego Bay, home to the second largest US naval base, in a dire state. This is a relatively new dry cargo ship of the Lewis and Clark class (in service since February 2011), designed to deliver ammunition, food, drinking water and oil products for the US Navy ships at sea, which allows the fleet to maintain combat readiness for a long time, writes the American edition of The Drive ...
The Pentagon is pushing its navy to the brink. This is manifested in the fact that its ships and vessels become unusable after prolonged operations (long-term operation at high rates without proper maintenance). The USNS Washington Chambers in San Diego is a case in point.
Its entire hull and superstructure are covered with dark spots of "running rust". The poor appearance of the ship, which entered service less than a decade ago, is a testament to the alarming trend and situation that has developed in the US Navy in recent years.
However, this appearance is not surprising to anyone. Recently, the "veteran of the fleet" (in service since August 1994), the Arleigh Burke-class destroyer USS Stout (DDG-55) on the Atlantic coast appeared before the public in a similar state. But the USNS Washington Chambers still looks more "shabby and tired".
It can be stated that the US Navy is now working at the limit of its capabilities, and there is no real end in sight. This will have serious consequences, as such exploitation results in longer and more costly maintenance periods and reduced combat readiness. Not to mention the condition of the crews, i.e. sailors on these ships and ships.
How long the USNS Washington Chambers was out of service is unknown. The Pentagon is "courageously" silent. From this we can conclude that the command of sea shipping is a potentially weak point in the entire US naval strategy. Especially if Washington has to go to war. But even just to see such a young and important ship in such a state is very unpleasant, the newspaper concluded.