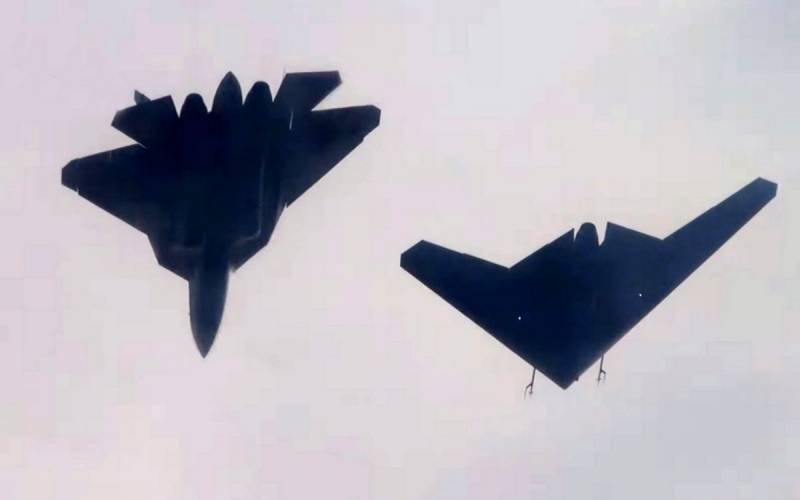 The newest Russian heavy attack stealth drone S-70 "Okhotnik" is testing its capabilities in countering enemy aircraft. It has been confirmed to have begun flight tests with air-to-air missiles. This indicates that it was originally designed not only as a bomber, but also as a fighter-interceptor, writes the American edition of Military Watch.
The Russian Aerospace Forces, after testing the combat characteristics of the "Hunter", expect to receive the first copies for service until 2025. The S-70 will work in close contact with the Su-57 fighters. They will undoubtedly expand the already unrivaled firepower of these fifth generation aircraft.
It is noteworthy that the Su-57 can accommodate more missiles in its internal compartments than any other fifth generation fighter. The Russians were able to fit in it up to 10 air-to-air missiles, while the American F-22 and the Chinese J-20 are eight each, and the American F-35 is generally four.
Russian media reported that the tests were carried out using mock-ups of the corresponding ammunition. This will make it possible to conduct a full assessment of the communication of the drone's avionics with missile guidance systems and the head Su-57. However, they did not specify which ammunition layouts were used.
However, it is not difficult to guess that we are talking about the same missiles that have been developed or are already at the final stage of development for the Su-57. These include the hypersonic R-37 and R-37M with a range of 300 km. These are the world's longest-range missiles of this class. Moreover, they can intercept hypersonic targets. The ultra-long-range KS-172 is under development. The range of its flight will be 400 km. The Russians also have a medium-range R-77-1 (110 km). At the same time, the K-77M and K-77ME are in development, the range of which can be 195 km.
Probably, the Hunter will not launch short-range missiles due to its obvious bias towards combat operations out of sight. It also remains unclear whether the S-70 will be paired with other aircraft. For example, MiG-35 or Su-35.
The RF Ministry of Defense informed that Okhotnik will expand the coverage area of ​​the Su-57 radar and provide target detection for the use of airborne weapons. "