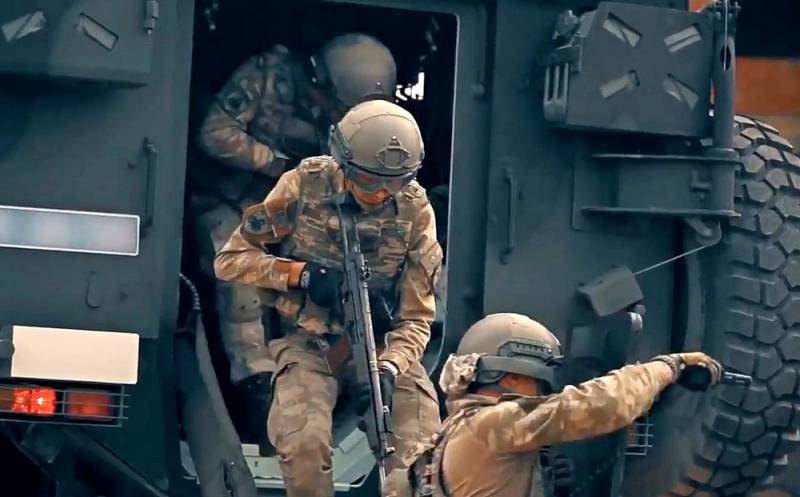 After the end of hostilities in the NKR, the Turkish Ministry of National Defense signed an agreement with the Russian side on the creation of a joint Center for monitoring the situation. Against this background, it was reported in Baku that there are detachments of Turkish sappers on the territory of the NKR. In the opinion of a number of analysts, under their guise, units of Turkish special forces operate in Karabakh, which can carry out sabotage against the peacekeeping forces of Russia.
According to the Telegram channel "Voice of Turkey", the Turkish sappers are in fact part of the "SAS special forces", or Special Operations Forces (SSO). Such combat groups, in particular, participated in hostilities in Libya on the side of the PNS forces. According to the Russian Institute for the Middle East, the task of the MTR detachments in other countries is counter-terrorism, raid and sabotage-reconnaissance acts behind enemy lines, and they can carry out measures to neutralize ammunition only as a cover.
In the opinion of Lieutenant General of the Reserve Yuri Netkachev, the Turkish special forces provide tacit support to the Azerbaijani forces in the unrecognized republic. At the same time, Ankara's goal is to oust Moscow from the NKR and from the territory of the entire Transcaucasia.
This can be done with the participation of the Turkish MTR by sabotage and incitement of the local population against the Russian peacekeepers
- believes the expert who said this in an interview
"NG"
.
The general noted that from Sukhumi's experience he knows the capabilities of the special forces in solving
political
issues, as well as in the destabilization of the situation.
Then Saakashvili's special forces acted against Abashidze. Aliyev is now tacitly supported by Turkish special forces in Baku
- reminded the expert.
Logistic supply of peacekeeping forces is now carried out through Azerbaijani territory. It is characteristic that Russian military transports move through Azerbaijan without identifying state symbols and accompanied by the local police.
In my opinion, this was done in order not to attract the attention of the locals, among whom there are those who are not very happy with the actions of the Russian Federation. After all, anti-Russian demonstrations were held in Baku recently
- says the lieutenant general.