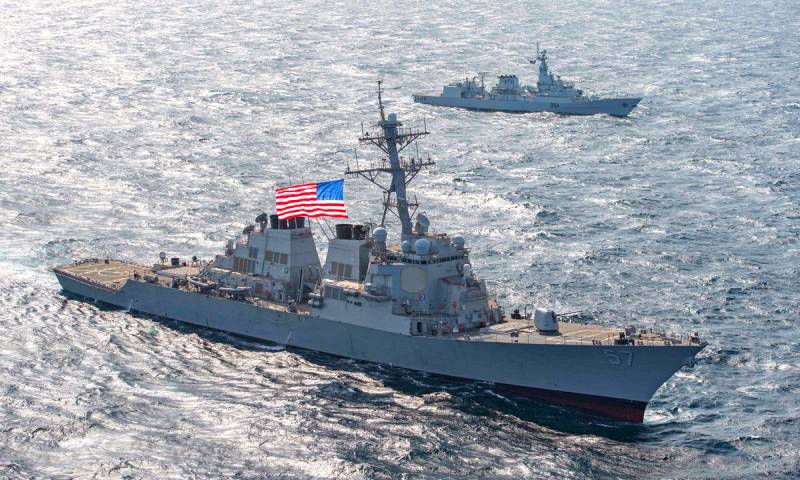 On November 24, 2020, the USS John S. McCain (DDG-56) USS John S. McCain (DDG-2) -type URO destroyer, which had been in the Sea of ​​Japan for several days, violated the territorial waters of the Russian Federation in the Peter the Great Gulf, going beyond the Russian line. sea ​​border by XNUMX km. This is stated in the official statement of the Russian Ministry of Defense.
The Russian military department clarified that the nearby BOD "Admiral Vinogradov" escorted the American "guest" out of the Russian waters.
"Admiral Vinogradov" warned "John McCain" on the communication channel about the inadmissibility of such actions and said that he could go to the ram. After that, the Russian BOD continued to be near the American destroyer, and the command of the Pacific Fleet of the Russian Navy sent the Corvette "Perfect" to the area for safety net.
At the same time, the American military informed that they do not feel any guilt for themselves, since they only exercised the right to "free" navigation. Users of Russian social networks reacted to the dangerous incident, more like an invasion.
Is such an option possible in case of violation of the border, as the landing of several groups of "special forces" to seize the ship, or is it stupid?
- Mikhail Rekunov asked.
They will say that they accidentally got lost and all the bigwigs will fly to Russia as usual. And nothing will happen for a ram, all the more, you can disable the ship, as it was recently 9 miles from Kastelorizo
- Yuri Kemendzidis replied, referring to the incident when the Greek frigate Koundouriotis stopped and forced the Turkish research vessel Oruc Reis to turn around.
Battering ram disables both ships, and disables them for a long time. We have six top ranks at the Pacific Fleet, the Americans have more than forty, and this is without henchmen in the form of the Japanese and Koreans.
- said Maxim Abramov.
Many, apparently, have reconsidered Hollywood. What kind of ram was there, the Kursk was not enough? They will answer, they have something, unlike the Russian Federation. Our business is small now. And then explain that "she drowned"
- says Sergey Klevtsov.
It is enough to find a soft spot. The Greek (Greek frigate) is now participating in IRINI (the EU mission off the coast of Libya to ensure the UN arms embargo - ed.). Repair is required minimal, the main thing is in the ranks and combat-ready
- clarified Yuri Kemendzidis.
Finding a soft spot near the destroyer at a speed of 18 knots - this is the cruising speed of the Arlie Berkov - is unrealistic. And it is impossible to avoid personal injury. Another thing is that the bulk attempt could frighten off the Americans
- summed up Maxim Abramov.