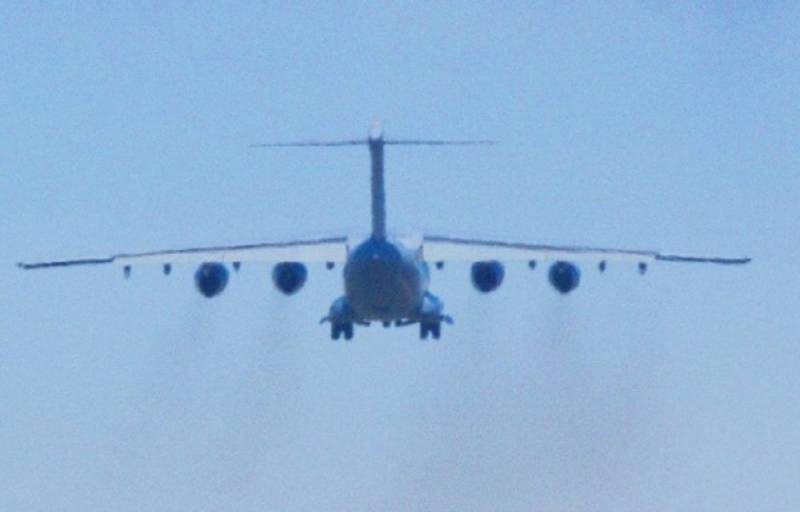 For the first time, a frame of a Chinese military transport aircraft Y-20B with four WS-20 turbojet (turbofan) twin-circuit aircraft engines (turbofan engines) manufactured in China was installed on the Web. This aircraft is a further development of the first Chinese heavy military transport Y-20, which first took to the skies in 2013, and since 2016 has been adopted by the PLA and is now mass-produced.
It should be noted that the screen shows an experimental flight, during which new engines were tested. If specialists from Shenyang succeed in implementing the WS-20 project, then this power unit will become the first Chinese engine with a thrust of 12-14 tons, a suitable good thrust-to-weight ratio. After that, the Chinese can be congratulated on their success.
Since 2014, the WS-20 has been tested on one of the Il-76s, of which China has at least 16 units. All previously produced Y-20 aircraft, which appeared thanks to the Ukrainian state enterprise "Antonov", were equipped with Russian D-30KP-2 engines, with a thrust of 12 tons.
The Chinese planned to replace them with the WS-18 under development, but something went wrong, and the WS-20 project appeared. During the period 2009-2020, China purchased 463 D-30KP-2 engines and continues to buy. For the development of the WS-20 aircraft engine in China, all available knowledge about the technologies of American General Electric and Pratt & Whitney, the Russian JSC UEC-Perm Motors and the Ukrainian Motor Sich were used.
Y-20B aircraft will differ from Y-20 only in engines. The Y-20 has a lifting capacity of 66 tons. It can climb to a height of 13 km and move at a speed of 830 km / h (cruising 780 km / h). The ferry range is 7800 km, with a maximum load of 4400 km.