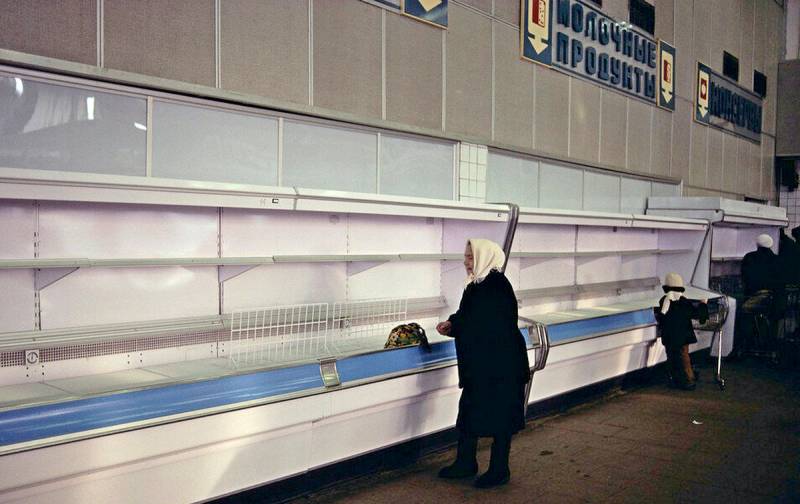 The topic of "total deficit", "widespread queues", "absolutely empty counters" and other problems allegedly inherent in life in the USSR is discussed on the Internet in our Fatherland and the so-called "post-Soviet countries" with fervor, often exceeding the passions that flare up in conversations about modern
political
events. Each of the parties brings a lot of arguments - from statistical data of varying degrees of reliability to examples from personal experience. Even photos from family albums are used ...
It would seem that it is impossible to search for the truth and unequivocally determine who is right in a discussion that has been going on for three decades. However, we will try to do this. And at the same time - "dig deeper" and figure out who and why needed the destruction of the system of supplying citizens with everything necessary in the USSR, as well as why it was done.
First, let's figure it out with time
As I said above, in addition to arguments in the form of numerous references to exactly which store and for which particular product, their author "had to stand a kilometer, signing up in line from the night", or, on the contrary, long lists of goodies that are "completely free were sold in the most ordinary Grocery store, and for mere pennies ", the disputants are increasingly using, so to speak, visual agitation. And here's what is interesting ... As a rule, when frames are presented as evidence in which the counters and shelves of grocery and manufactured goods outlets shining with virgin emptiness are really captured, an extremely characteristic detail is revealed. The vast majority of those, if not all of them, have a perfectly clear time reference. That is, they were made in the second half of the 80s or early 90s. And here we are dealing with the most serious, downright fundamental fraud. After all, this time, in fact, can no longer be called Soviet, even if we talk about the period before 1991.
Beginning with Mikhail Gorbachev's coming to power, the process of the purposeful collapse of the USSR and the destruction of socialism as a social system on its territory was launched. Hence - and all the actions of the authorities. To break the gigantic
economic
The potential of the Soviet Union, accumulated over 70 years of great construction projects and the shock work of its entire population, was far from an easy task. However, the traitors who seized leading positions in the state with the help of their Western "friends" coped with it more than successfully. How exactly, we will consider in detail below. In the meantime, let's decide on the main thing - with the goals that were pursued at the same time.
Yes, a certain number of government officials, party functionaries and simply resourceful citizens had a banal thirst for enrichment, and it was fully satisfied. However, all this "worked" exclusively at the grassroots level - small jackals, with contented rumbling snatching their pieces wherever possible. "Upstairs" both plans and tasks were much larger. The Soviet people - all, without exception, and to the last person had to be plunged not just into poverty, but into poverty. People, preoccupied with the search for a piece of bread and nothing else, will not resist the fact that their country is being destroyed before their very eyes ... Alas, this is exactly what happened later. Moreover, it was extremely important for the murderers of the USSR that this very poverty, empty counters, the inability to buy goods of even the most basic necessities, were associated with the Soviet system, the rule of the Communist Party. Parallel to the creation of not only a total deficit, but a complete absence of consumer goods in state trading networks, an information campaign was being actively promoted about "closed party distributors", "social inequality" and the like.
Unfortunately, this task was also accomplished - the millions who were still Soviet citizens, who were brutalized by "sausage and vodka" battles and communication with speculators, did not support in the fall of 1991 the last attempt (albeit extremely miserable) to reverse the process of destruction of their homeland. The union of an empty refrigerator and a TV pouring out streams of lies won an extremely convincing victory over common sense, which should have suggested that it was not the "Soviet government" that was to blame for everything that was happening, but only its specific current leaders.
"What you don't miss - there is nothing ..."
Those who today, in all seriousness, are trying to talk about the "terrible food shortage" in the Soviet Union either simply did not live in those days (and, perhaps, are mistaken in good faith), or are trying with the help of such conversations to avoid answering a very tricky question: "Where the colossal food reserves of the country have disappeared at the moment when the shelves of Soviet grocery stores were really empty? " Yes, the current variety of assortment in them was not even close even in the 70s. However, a certain set of necessary and very high-quality products was always available in abundance. Of course, Khrushchev destroyed the Stalinist abundance of pickles (during which the state had to print posters urging citizens to eat crabs) with his sabotage "reforms" and, above all, absolutely insane agricultural policy. He also wiped out household plots in the bud, thereby inflating prices on collective farm markets. Nevertheless, under Brezhnev, the main consequences of the "corn catastrophe" were overcome. There was no abundance, but no one was starving either. Under Brezhnev, but already at the suggestion of Gorbachev, in 1982 he had to adopt the famous "Food Program". Accepted - and, after five years, excuse the rudeness, there was nothing to eat at all. This is despite the fact that according to official statistics, its indicators have been met, if not exceeded. How so? It's very simple.
In my archive is a tape recording of one retired general from law enforcement. For some personal reasons, I will not name his name here, I will only make a reservation that at one time he held quite significant positions - for example, he headed the BKSS service of Checheno-Ingushetia. Subsequently, he ended up in one of the republics that gained independence - and also far from being in a low position. And this is how this person described to me a situation that he faced in the very beginning of the 90s:
The capital of the republic in those days was literally suffocating from the shortage, primarily from the food shortage. And at the same time, the warehouses of more than numerous trading bases located in the city were bursting with an abundance of products! I began to travel to all these bases myself. Moreover, he came to the area without any warning, taking with him from the city police department someone who was well-versed in the area, could show where all these objects are located. We entered the first warehouse - and I was amazed! Not that there are food in wagons, but in trains! What is not there - not only stew, condensed milk, but also cod liver, sausage, whatever you want, even caviar! What is most interesting is that the leaders of these very "klondikes" found a very original excuse for themselves - they say that both the bases and warehouses belonging to them were "under the union's subordination." Here they are, the orphaned and the poor, in the complete absence of guidelines from above, they cannot put their minds to it - what to do with all this. And we would be glad to put it on sale - well, they will be called to account!
Such is the story with geography. These are not fictions, but testimonies of a very specific person who was in his right mind and hard memory, and, believe me, was absolutely not inclined to fantasies. There are other confirmations - the same Nikolai Ryzhkov, who was chairman of the USSR Council of Ministers during the "perestroika" period, later admitted that there was a clear and unambiguous instruction "from above" - not even to unload the food trains arriving from the regions. In the end, if the country had real problems with food, its leadership could (and had to) make a decision on commodity interventions from the huge reserves of the USSR State Reserve. However, nobody did it. The murderers of the USSR needed a hungry and "silent" people - and they got it.
USSR for export
The situation with non-food products is even more interesting. Gentlemen democrats and liberals go out of their way trying to convince all of us that in the Soviet Union, neither normal clothes and shoes, nor household
equipment
, no furniture. In short - none of the most popular consumer goods. Decent (that is, exclusively imported) things could be "obtained by pull" or purchased from blacksmiths and other speculators at exorbitant prices. There is some truth in this, but only a fraction. Yes, there was "cronyism", and recordings on headsets and sets, and lively guys who sold from under the floor little-worn American pants. But here is how, then, to explain those figures about which the defenders of "market reforms" and other "re-arranged" devilry, if they remember, then very reluctantly, literally with a gnash of teeth. Among these very reforms there was, in particular, the decision taken in early 1987 to abolish practically all the restrictions that had been in effect before in foreign trade. This was the main step towards turning the shelves of Soviet stores into an absolute desert.
In this article, I will not touch upon the issues of exporting stocks of strategic raw materials abroad - this is a topic for a separate story, and our conversation is now about something else. Since the removal of barriers in the way of those wishing to enrich themselves at the ferry across the cordon of "unusable" Soviet goods, these same goods flowed there not even like a river - Niagara Falls! In 1988 alone, half a million (!) Color televisions, 200 thousand washing machines went abroad from the USSR ... This alone completely refutes the miserable thesis that in the Soviet Union such goods "were not produced in sufficient quantities" or were "completely of poor quality ". Abroad, primarily in Eastern Europe, our goods, as they say, were torn off with their hands! And there was a very specific reason for that.
Soviet consumer goods had a "ridiculous", penny cost. In comparison with their foreign counterparts (not always, by the way, of better quality and more reliable), they were generally almost free! They scattered them "with a bang", and with a double, triple "wrapping", or even at a price five times more than the price for which they were purchased in Soviet trade by resourceful "shuttle traders". And caravans pulled out from the USSR. To Yugoslavia, Romania, Poland ... The latter generally turned into one huge bazaar, where our compatriots sold everything and everyone. Literally everything that could be exported was exported - the state export of fabrics from the Soviet Union alone instantly took off 3, 5, 7 times! And we will never know how much and what the private persons were dragged off the cordon, and for no reason - customs statistics were not kept in the country as such. However, some customs still tried to keep at least some kind of accounting. At the same time, the numbers turned out to be terrible, downright catastrophic. According to only one of the posts through it during 1989, more than 2 million tons (!!!) of consumer goods, which at that time belonged to the category of acutely scarce, flowed over the cordon. Nobody even tried to count on pieces ...
Do you think that in Moscow, in the Kremlin, in the Central Committee of the CPSU, they had no idea about this? Could not figure out what horrific consequences such a total sale of the country would inevitably lead to? I am sure that everyone there understood and understood perfectly well. But what was happening more than met the plans of Gorbachev and his accomplices. It is impossible to assume anything else if we consider the reaction of the Soviet authorities to what was happening in it. In 1989, new Customs regulations were adopted, which, among other things, removed any restrictions on the export of gold and jewelry from the country. As a result, how many of them were exported abroad, how fabulously enriched both individual citizens and certain structures - this, again, no one will say.
The destruction of Soviet industry, trade, and supplies was carried out deliberately and purposefully. At the same time, let me repeat myself, both political and purely mercantile motives were pursued. Let me give you another concrete example - after the "sudden" shutdown of 26 of the 28 tobacco factories in the Soviet Union, a real cigarette collapse broke out. In some republics and regions, it came to "tobacco riots", and in the markets banks sold ... cigarette butts! After that, cheap domestic cigarettes completely disappeared from the shelves, but imported ones immediately appeared in their place. But they cost five times, or even ten times more ...
The shortage and insecurity of the population of the USSR with both food and consumer goods were created during the period of "perestroika" completely artificially and with criminal intentions by those who set their goal to destroy the entire country. This is the truth, confirmed by figures, facts and memories of those who lived in this terrible time. Everything else is shameless lies and rigging.