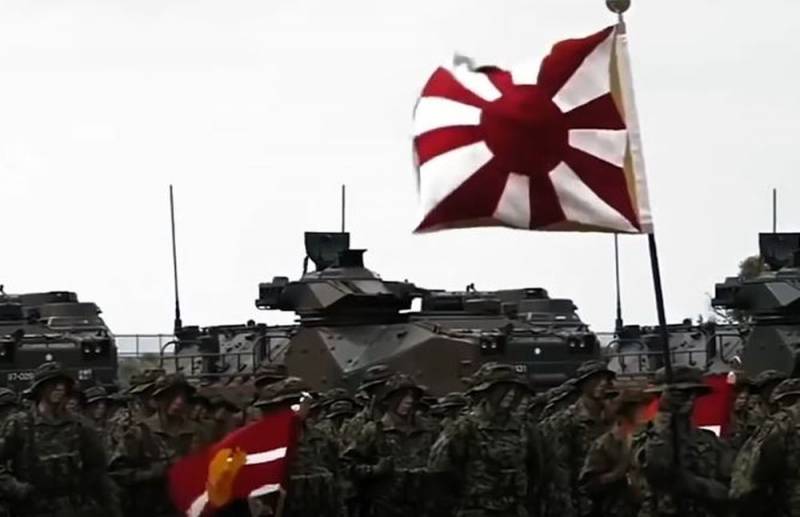 After Japan's surrender in World War II, she was forced to abandon the use of military force in resolving conflicts and adopt a new Constitution, proclaiming the desire for peace. But recently Tokyo began to change its approach and began to militarize. The gradual but steady strengthening of the Land of the Rising Sun is one of the most noticeable trends characterizing the dynamics of international relations in the Asia-Pacific region in recent years, writes Asia-Pacific Research.
For six decades, Japan had a very small self-defense force with very limited capabilities. However, there is now a resurgence of militarism, and this process is intensifying. The end of the Cold War led to Japan's military build-up under any pretext. After 8 years of Shinzo Abe's premiership, it can be stated that Article 9 of the Japanese Constitution has become exclusively decorative. It was under Abe that a turn in ideology and serious military-technical cooperation with the United States began.
Now Tokyo is actively and effectively investing in the development of its military potential. Japan is already capable of independently developing a modern military
machinery
... The foundation of the Japanese military-industrial complex is a group of companies, among which Mitsubishi Heavy Industries Corporation stands out. It can produce tanks and other armored vehicles, aircraft, ships and other military products.
In the outgoing financial year, Tokyo will spend about $ 47,6 billion on defense, and from the new financial year, i.e. from April 1, 2021, the amount of spending will rise to $ 51,7 billion.Japan is causing an increase in spending with a dispute over the Senkaku (Diaoyu) Islands, which China claims. The Japanese have already ordered more than a hundred American stealth fighters, the F-35A and F-35B. In addition, Tokyo is developing its own version of the fifth generation combat aircraft and this worries Beijing.
Currently, Russia and China do not view Japan as a source of immediate threat, but they are already beginning to take precautions. Moscow recently deployed T-72B3 tanks to the Kuril Islands. By this, she made it clear to Tokyo that she would defend her territory in the event of aggression. Whether this will affect the Japanese is unknown. Now the countries of the region are actively sending each other all kinds of signals.