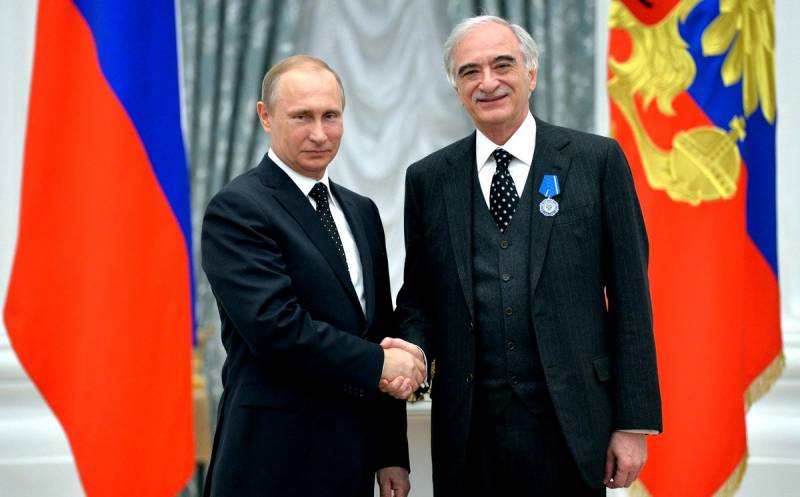 Towards the end of the Second Karabakh War, the Azerbaijani army killed two Russian soldiers and seriously wounded a third, who were in a helicopter over the territory of Armenia. This event caused a great public outcry in our country for two reasons: it remained without appropriate retaliation and was accompanied by a rather eloquent commentary by the Azerbaijani ambassador Bul-Bul oglu.
Mr. Polad Bul-Bul oglu stated the following:
In war as in war - anything can happen.
In response, the Russian Foreign Ministry said:
If Russia professed the principle "in war as in war", then the answer would be crushing.
The situation is extremely ambiguous. On the one hand, Moscow adhered to an emphasized neutrality in the conflict between Baku and Yerevan. Russia sells weapons to Azerbaijan for billions of dollars. Presidents Vladimir Putin and Ilham Aliyev are considered, if not friends, then good friends, between whom there is complete mutual understanding. After the tragic incident, Baku immediately brought changes, expressed its readiness to pay compensation and prosecute those responsible for the deaths of the Russians.
It would seem that the annoying "misunderstanding" has been settled. It is now customary to point out that Bul-Bul oglu is not a professional diplomat. He is a creative person, an honored worker of Soviet culture, a singer and composer, a representative of a respected creative dynasty. He was patronized by the Aliyev family, thanks to which he managed to build a career in the Ministry of Culture of independent Azerbaijan, and then become an ambassador to Moscow. Now everyone is blaming it on the fact that Polad Bul-Bul oglu is a man of age, he is already 75 years old, blurted out without thinking how he offended the feelings of Russians. He was demonstratively pulled out of Baku, having publicly pulled him out, and now there will be peace, tranquility and prosperity between our countries. But will it be?
On the other hand, let's be honest that it is rather difficult to call Azerbaijan a friendly country. Until the Second Karabakh and the downed military helicopter, the cat did not seem to run between us, but everything went to that. Baku and Moscow compete rather fiercely with each other on the oil and gas market, they are extremely dissatisfied with the Kremlin because of the decline in world quotations after a six-week trade war with Saudi Arabia. Of course, this is not a reason to consider another sovereign state an enemy, in any case. But in the last war Azerbaijan showed that it is a reliable ally of Turkey, and this objectively changes a lot.
Ankara and Moscow are already waging two "proxy" wars between themselves in Syria and Libya. Turkey's involvement in the Nagorno-Karabakh conflict, which broke the precarious balance of power between Baku and Yerevan, was a direct consequence of these two wars. If you wish, you can even see the general "handwriting" in the destruction of the Russian Su-24 by the Turks and the Mi-24 by Azerbaijanis. In the first case, Ankara got off with "tomatoes" and the loss of some kind of fuel trucks with terrorists, in the second - only with a verbal threat regarding a "crushing blow".
In fact, Azerbaijan has become a reliable ally of the hostile Turkey. Trying to present him as her submissive "vassal" would be inappropriate, rather, a partner, a junior. And Turkey, by the way, is a member of NATO's western military bloc. As a result of the Second Karabakh conflict, Ankara received a land corridor to the Caspian Sea and after the commissioning of the already announced railway will be able to intercept from Russia freight flows that were supposed to go from India and Iran through the Caspian and our country to Europe. Now they will go through Azerbaijan and Turkey. Great interest in this project was shown by London, which immediately sent the head of British intelligence to negotiations with the Turkish authorities. This is another NATO member, not the least powerful.
Baku is objectively on the side of our traditional geopolitical opponents, realizing this, so it is rather strange to expect the Azerbaijani elites to be sincerely worried about the death of several Russian servicemen. "War is like war." What changes if Polad Bul-Bul oglu is a representative of the Soviet creative intelligentsia? No less famous and honored Soviet actor Vakhtang Kikabidze at one time also noted a number of resonant anti-Russian statements. After the collapse of the USSR, people scattered to their "independent" and now defend their vision of national interests, which does not coincide with ours. Well, Bul-Bul oglu said what he thought, and now what?
Perhaps he and others like him would keep their tongues shut if we responded to the death of every Russian serviceman from "friends and partners" with this "crushing blow" and not with lengthy statements. Then the attitude would have been different.