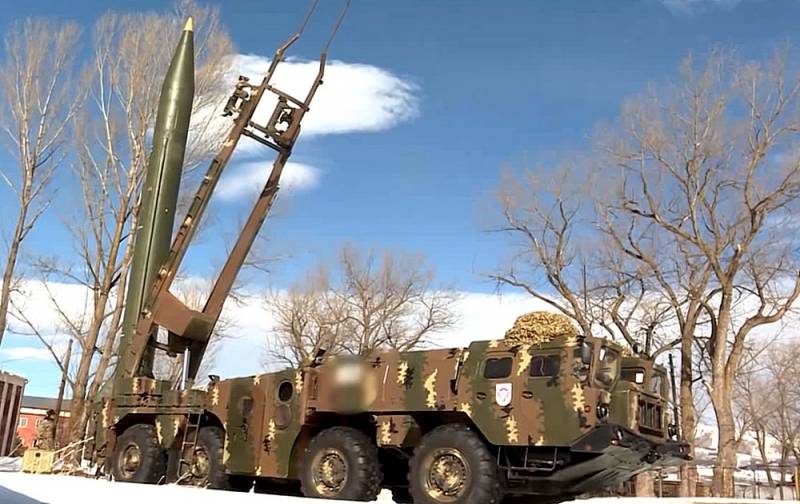 In social networks, information appeared about the infliction of a new double strike on the Azerbaijani army with ballistic missiles from the 9K72 Elbrus OTRK. The footage of the attack was made in the area of ​​the city of Karvachar (Kelbajar) in Nagorno-Karabakh.
According to unconfirmed reports, the target of the attack of the Armenian forces were units of the Azerbaijani army near the city of Ganja. Judging by the fact that both missiles flew to targets along the same trajectory, they were both launched in the same region. The maximum range of the Elbrus complex is 300 km, the missile hitting accuracy is 450 m.
Launch of missiles OTRK 9K72 "Elbrus" of the Armed Forces of Armenia near the town of Karvachar (Kelbajar) in Nagorno-Karabakh.

Photo: Ilya Pitalev

Via Military Informant pic.twitter.com/xcEyOp2W5g

- SwankyStas (@StasSwanky) November8st
Meanwhile, according to the representative of the Armenian defense department Artsrun Hovhannisyan, intense hostilities are taking place in the city of Shushi - the outcome of the battle for this settlement can be decided as early as Monday, November 9. Representatives of Baku previously announced the capture of Shushi under the control of the Azerbaijani army, which was later denied by Yerevan. The resource "Sputnik Armenia" reported this.
The Armenian troops are trying to take control of the territories seized by the forces of Azerbaijan. Hovhannisyan did not specify on whose side the initiative in the hostilities is now - in his opinion, it is too early to talk about it. On the eve of the Azerbaijani servicemen began to attack Shushi, and the Armenian army has to resist the advancing forces.