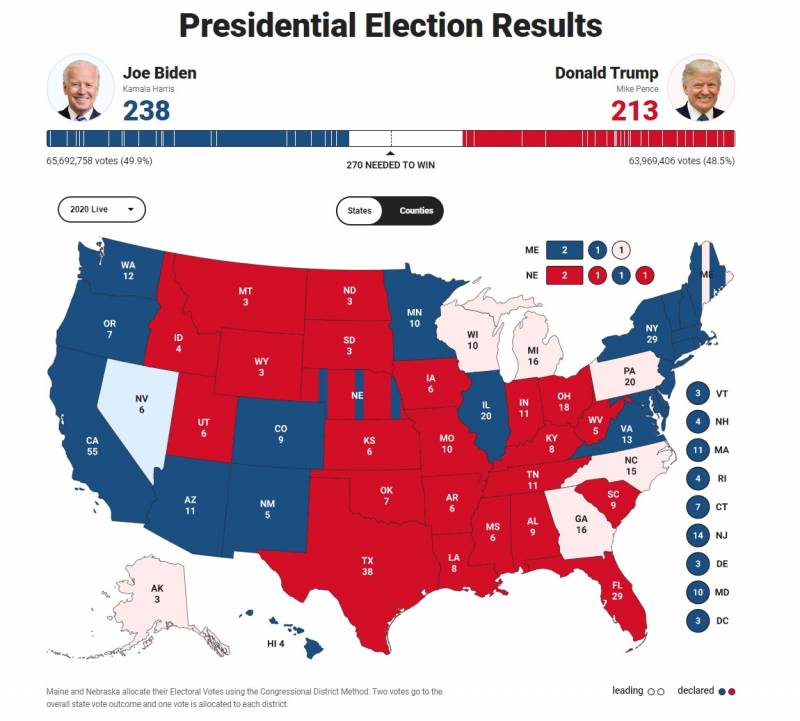 The election of the President of the United States was held on Tuesday November 3. The campaign elects the head of state, vice president, 435 members of the House of Representatives, 35 senators, governors of 11 states and 2 territories, and the legislatures of some states.
Political
analysts sum up the first results of the vote.
The current head of the White House, Republican Donald Trump has promised to make a statement about his election victory, tweeting that he won a "big victory." At the same time, he noted that political opponents are trying to steal the leadership from the Republicans, but he will not allow this. In his opinion, even after the closing of polling stations, votes cannot be cast.
Trump's opponent, Democrat Joseph Biden, also addressed his voters. According to him, he is on his way to victory, but we still need to be patient and wait for the final counting of votes. Biden called on his supporters to believe in the victory of the Democratic Party and announced that he would win this election.
According to the latest data, Joe Biden received 238 electoral votes, while Donald Trump was supported by 213. In the states of Alaska, Wisconsin, Michigan, Pennsylvania, North Carolina and Georgia, the electors voted mainly for Trump, in Nevada, California and New York. the victory was given to Biden. At the same time, both candidates have chances to prevail in the presidential race.