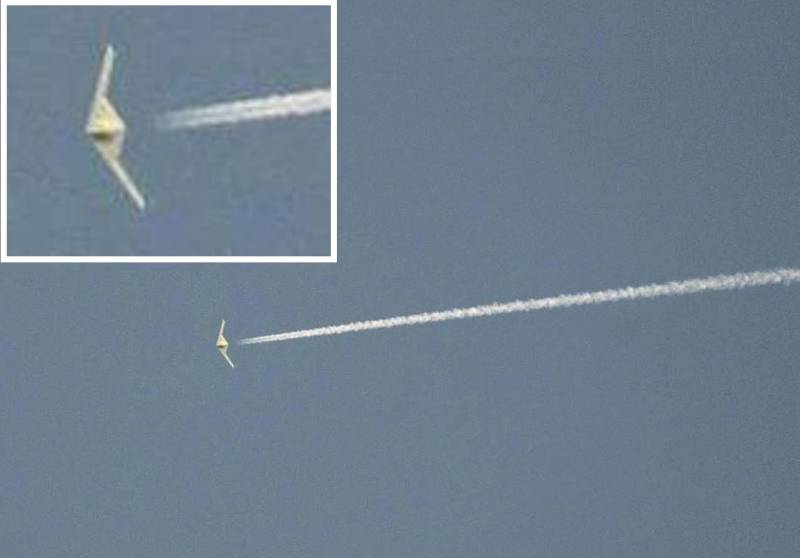 The first photo of the newest American secret stealth drone RQ-180 has appeared on the Web, writes Aviation Week from the USA.
The photograph was taken a few weeks ago in the military operations area around the Edwards Air Force Base in California. Now amateurs are studying it with interest.
The drone was captured during daylight hours, when it flew at an altitude of 6 meters.At first, it was mistaken for an aircraft of unknown design, but then it became clear that this was the same reconnaissance RQ-180 that Northrop Grumman had developed as part of the JUCAS project.
His first flight, according to the military, he made in 2013 over the territory of Area-51 in the state of Nevada. But up to this point, there were no photographs of him. This image comes a year after the US Air Force adopted the RQ-180.
From the image above, the stealth drone configuration confirms many of its alleged features. It is built on the aerodynamic "flying wing" design and has a simple trailing edge. Its wingspan seems to be significantly larger than that of all known drones and has a relatively small sweep angle. According to the contrail, the drone is equipped with two closely paired twin-circuit turbofan engines.
The RQ-180 is painted in an unusual light color. For this he received the nickname - "Big White Bat". Sometimes called "Shikaka" - the fictional sacred white bat from the 1995 movie "Ace Ventura 2".
The White Bat symbol also appeared on the 74th Reconnaissance Squadron badge. This unit is believed to have become a training squad for the RQ-180 and was specially created in early 2020 following the activation of Task Force 2018 Squad 5 at Beale Air Force Base in California in 9.