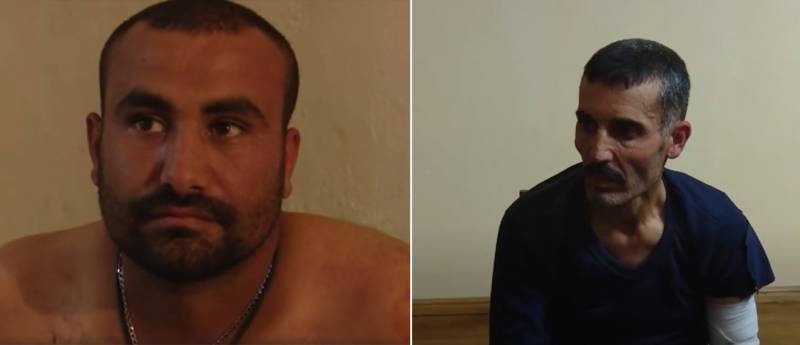 The participation of militants brought by Turkey from Syria and a number of other countries in the conflict over Nagorno-Karabakh on the side of Azerbaijan has long been no secret. They themselves or their relatives published different
video
and gave
interview
Western media. But now there are confessions of two mercenaries who were captured by the Armenians with an interval of several days.
The Armenian Defense Ministry showed several videos of the interrogation of Syrian jihadists. The footage was published by the press secretary of the department Shushan Stepanyan on his Facebook page.
Artsakh Defense Army units capture another Syrian mercenary
- she wrote on November 01, 2020.
The man in the video revealed that he was born in 1988. He is from the Jiyadiya village in the Jesral Shuur region of Syria. He has a wife and five children. According to him, he was promised a salary of $ 2 thousand a month and a bonus of $ 100 for the head of each "infidel."
Before that, on October 30, 2020, Stepanyan published similar information.
Artsakh Defense Army captured radical Islamist-terrorist who fought on the side of Baku
- said Stepanyan.
This man said that his name was Mehred Muhammad Alshkher. He is a native of the city of Hama in Syria. He has a wife and three children. The Turks promised to pay a salary of $ 2 a month, and he agreed to go to Nagorno-Karabakh to fight for the Azerbaijanis.
Before leaving for Azerbaijan, he was in a training camp, where Turkish instructors worked with him and others who agreed. Then, through Turkey and Georgia, they were all transported to Azerbaijan.
On October 19, 2020, as part of a detachment of 250 fighters, he was on the front line. He was wounded and abandoned. As a result, he was captured by the Armenians. He clarified that the Azerbaijani military themselves are not going forward, but are sending the Armenian troops like him to storm the positions.
It should be noted that these videos began to quickly spread across the Web, however, social media users reacted differently to these admissions. However, this is not surprising, since each conflict has several sides and their opinions are opposite.
Commentators from the Azerbaijani side do not believe the stories on the video. They believe that Yerevan and Stepanakert have invented all this, since they want to drag Moscow into the conflict and oppose it to Baku and Ankara.
In turn, the Armenian users are sure that these videos say the truth, since the prisoners have nothing to hide. They actually saved their lives, provided medical assistance, and sooner or later they will be able to return to their families. At the same time, the Russian special services are quite capable of verifying the information provided by them. Establish their exact data, the presence of a family and other characterizing moments.