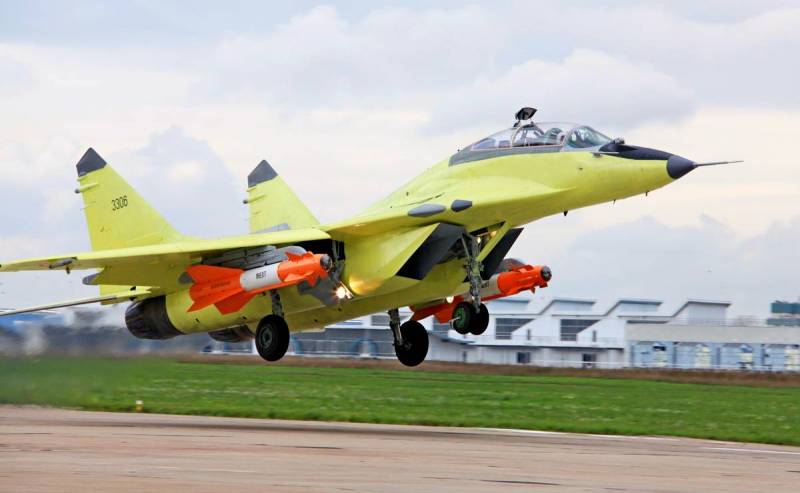 The Algerian Air Force ranks first in Africa in terms of its power. At the same time, the best MiG-29s ever built by Russia have already begun to arrive there. They should further increase the capabilities of the African country's air fleet, writes the American edition of Military Watch.
The Algerians have four squadrons of MiG-29 fighters of various modifications. They are armed with about 50 units of the MiG-29S, MiG-29SMT and MiG-29UB.
In August 2019, Algeria signed two contracts with Rosoboronexport for a total amount of $ 1,8 billion.The Algerians ordered 16 heavy Su-30MKI (A) and 14 medium MiG-29M / M2. The first batch of MiG-29M / M2 (presumably two units) was recently delivered to the airbase in Busfer (near Oran) disassembled. The 193rd (19th) fighter squadron is located there and the Algerian Air Force wants to replace the outdated MiG-29S with new fighters, which were purchased in the early 2000s in Belarus and Ukraine.
Algeria is a traditional buyer of Russian weapons, so the deal is not surprising. The MiG-35 was adopted by the Russian Aerospace Forces in June 2019. However, why the Algerians did not order the newest MiG-35s is not clear. Especially in light of the fact that they showed interest in him, as well as in the fifth generation Su-57 fighter.
The MiG-35 boasts a number of excellent characteristics. It has a more powerful engine with a variable thrust vector, a new radar with AFAR, modern missile weapons (R-37M and X-58), an electronic warfare system, and even has artificial intelligence.
Perhaps Algeria does not dare to buy the MiG-35 right away, since its characteristics will improve even more after several years of operation in the Russian Aerospace Forces. The Algerians decided to wait and bribe the MiG-29M / M2 for now, because this is the cheapest fighter produced in Russia today. But despite the immense appeal of the MiG-29M / M2 on the world arms market, the MiG-35 will undoubtedly surpass it.