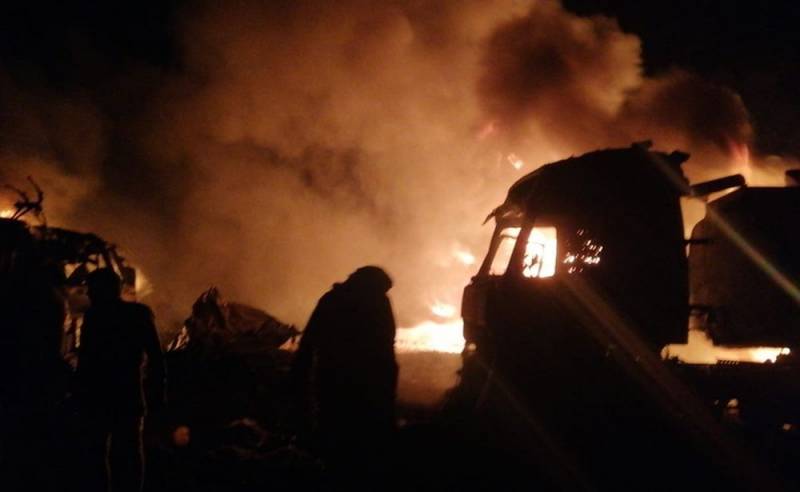 On the evening of October 23, 2020, powerful explosions rocked the city of Jub al-Qusa, which is under the control of pro-Turkish militants. It is located between Jerablus and Manbij in northern Syria in the Aleppo (Aleppo) province and is the largest black market for oil and petroleum products in the region. It was from here that raw materials and processed products were sent to Turkey.
Photos and videos of burning storage facilities with oil and fuel and lubricants, as well as a huge number of tank trucks, appeared on the Web. After that, users began to wonder who could act so unfriendly towards Turkish President Recep Tayyip Erdogan, whose family has been controlling this business since the beginning of the civil war in Syria.
There are two main versions of what happened. According to the first, the sources claim that the strike was carried out by US Air Force planes. In addition, American drones were spotted in the area the day before. According to the second, the attack was carried out by the Russians. Allegedly, some time before what happened in the area of ​​the Khmeimim airbase, local residents recorded the launch of Iskander-M missiles.
We remind you that the territory in question was seized from Syria during the Turkish Armed Forces Operation Euphrates Shield in August 2016 - March 2017. Then the SAA, with the help of the Russian Aerospace Forces, liberated the city of Aleppo (Aleppo) and began to move north. The Turks could not allow the oil and oil products smuggling market to fall into the hands of official Damascus.