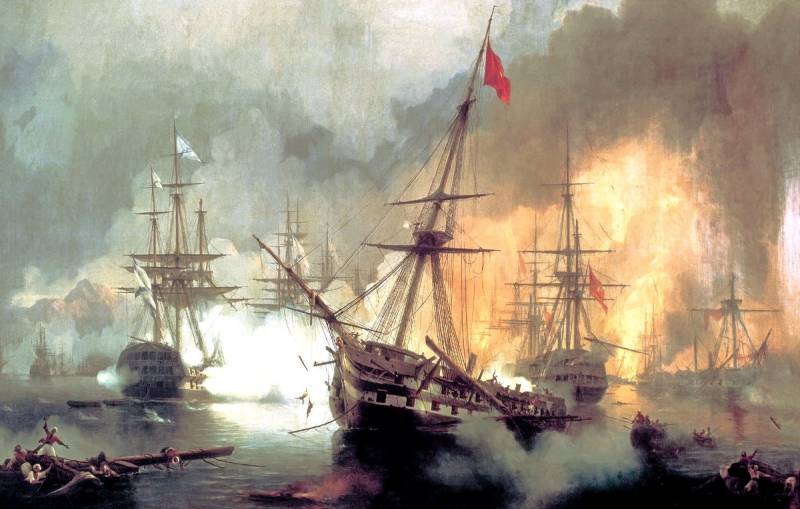 On Tuesday October 20, a picture of the death of the Turkish fleet in the Battle of Navarino in 1827 was published on Twitter by the Russian Foreign Ministry. Greek resource
Pentapostagma
found the secret meaning of this publication.
After the refusal of the Ottoman Empire to grant autonomy to Greece, the warships of Russia, Great Britain and France, led by British Rear Admiral Edward Codrington, approached the Gulf of Navarino, where the Turkish-Egyptian fleet was anchored. During the battle, the Ottoman squadron was completely destroyed. It was Russian warships that dealt the main blow to the enemy and sank most of his ships.
The losses of the Turkish-Egyptian fleet in the battle exceeded 60 ships, more than 7000 people died. The outcome of the battle secured support for the Greek liberation movement, which resulted in the conclusion of the Adrianople Peace Treaty of 1829 and the acquisition of autonomy for Greece.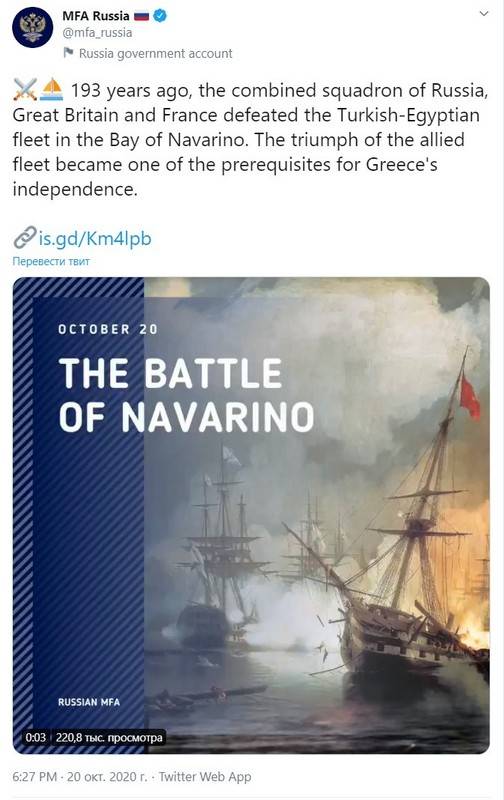 The publication of the picture of the sinking of the Turkish fleet in the Navarino Bay is significant in the context of the statement by the Russian Ministry of Foreign Affairs about the importance of observing the 1982 UN Convention on the Law of the Sea. It illustrates what can happen to violators of international agreements, claiming to realize their own geopolitical ambitions without regard to the opinion of neighboring countries, the newspaper writes.
The convention explicitly provides for the sovereign right of all states to territorial waters within 12 nautical miles and establishes the principles and methods for determining the boundaries of the exclusive
economic
zones. This also applies to the Mediterranean
- indicated in the tweet of the Russian embassy in Athens.
Russia's interest in the region remains unchanged, since the Aegean Sea (the eastern part of the Mediterranean) is a natural continuation of the Bosphorus and Dardanelles straits, which control Russia's access to the "warm seas". In addition, the upcoming visit of Russian Foreign Minister Sergei Lavrov to Athens at the end of October is a good opportunity for Moscow to demonstrate to the Greek side its common interests.