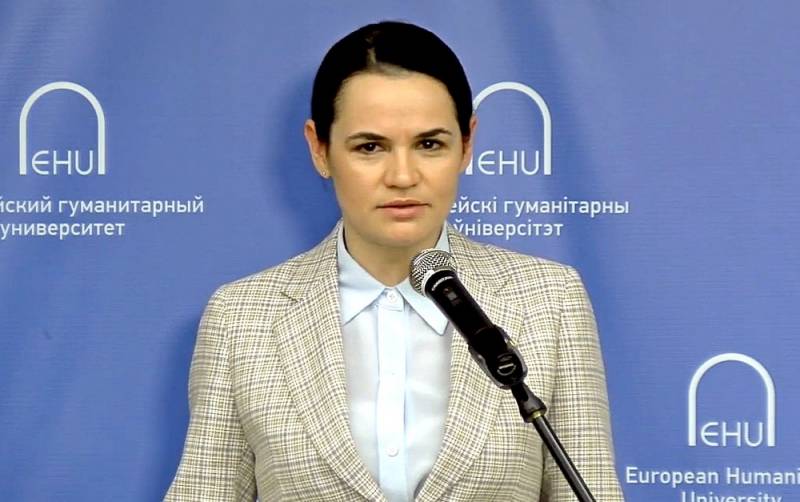 Despite the obvious futility of efforts to implement a full-scale coup d'etat scenario in Minsk, the forces behind it are determined to make a new attempt to "fan the coals" of the fading "Maidan". The authorities are well aware of this and are also stepping up their own actions to combat those who seek to push the country into chaos and subsequently turn it into another colony of the West.
Until the expiration date of the "ultimatum" announced by the self-proclaimed "president" Tikhanovskaya, Lukashenko and his adherents are only 3-4 days away. There is every reason to believe that October 25 may be marked by events in Belarus much more dramatic than all those we witnessed before. And even tragic - very much this is wanted by those who today with the last bit of strength "shakes" the country.
"We will find everyone in a quiet mode ..."
We must pay tribute to Alexander Grigorievich - in the process of resisting the coup attempt, albeit making a number of mistakes, he still managed to avoid major, fatal mistakes, after the commission of which his days would really be numbered. First of all - extremes in the perception of events and in response to them. Viktor Yanukovych lost in no small measure and was forced to flee in shameful flight precisely because initially both he and his entourage perceived Euromaidan as something completely frivolous, a petty booze that, if desired, can be squandered and dispelled at will. For the time being, the then Ukrainian government held back its own "siloviks", knitted them hand and foot, preventing them from taking decisive actions at the stage when they would be most effective, and actually flirting with the "Maidan" in favor of the West who took care of them. Official Kiev roused itself and tried to "use the power" when it was already too late to act by police methods - the putschists were united, perfectly organized and armed.
The main thing is that they had clear instructions from their curators and guarantees of full support received from them. At that stage, it was necessary to use completely different forces and means, but this did not happen ... Lukashenka, on the other hand, initially took what was happening more than seriously, reacted quickly and tough enough. At the same time, again, he did not go to the other extreme - too large-scale use of violence and such things as, for example, the introduction of a state of emergency in the country. Yes, perhaps at first certain "overlaps" were allowed, but, firstly, no one canceled the sayings about sowing the wind, and secondly, only those who have never lived in a country where they won. You shouldn't do this, take my word for it ...
Now "dad" is trying to attack his opponents on all fronts, using the most flexible and combined strategy to "uproot sedition" in all its manifestations and, if possible, with roots. For example, he replaced rectors in three universities of the country, whose studiosus were especially noted in the protest actions - Minsk Linguistic University, Belarusian State University of Culture and Arts and Brest State Technical University. The president gave the command to all newly appointed leaders to "put things in order" in the Alma Mater entrusted to them, and regarding the "violent" students, he said that those unwilling to study "will go to the army, some to work, and some elsewhere." In general, it is correct, the student must acquire knowledge, and not run around at meetings. "Freedom," you say? Well, it's your will, but is it appropriate for young Belarusians to "fight against the totalitarian regime", which gives more than 60% of them the opportunity to study in universities for free, that is, for a state budget?
In parallel with this, Alexander Grigorievich, in a coldly restrained manner (which often in the mouths of people like him, causes awe much more than an explosion of emotions), promised those who today "insolently staggered around the capital" that they would be dealt with "by - new "and with the help of" modern means in a quiet regime will find everyone. " "Everyone will answer for their actions ..." Lukashenko warned that this is not a threat at all, but a new reality (as he put it: "we are already working in this direction and not without results"), which was asked by those who still cannot to calm down, and moreover, recently it has been trying to push the situation to the extreme aggravation.
"There is a hunt for cops, there is a hunt"?
One of
News
of the same series was the decision of the court of the Central District of Minsk on recognizing the Telegram channel NEXTA-Live and its logo as extremist, including those in the republican list of extremist materials and taking measures to restrict access to them in the Belarusian segment of the Internet. Shall we lament again about "trampled upon freedom of speech"? Not in this case. On the eve, provocateurs from NEXTA had already crossed all conceivable boundaries - through their mouths, those who created and coordinated the subversive actions of this intelligence resource announced a reward of 10 thousand dollars for the personal data of employees of the Main Directorate for Combating Organized Crime and Corruption of the Ministry of Internal Affairs of Belarus. They need names, surnames, dates of birth, addresses, telephones, license plates of law enforcement officers and other similar highly confidential things. I do not like lengthy and word-for-word quotes, but here you cannot do without it.
Here is what exactly was published in the infamous Telegram channel: "Whoever helps us get the full list of gangsters from GUBOPiK, we will transfer $ 5000 (with a secure, anonymous cryptocurrency transfer), and we are ready to pay a total of up to $ 10 ... "The most remarkable thing is that the bastards entrenched in Warsaw have the audacity and cynicism to assert:" This money was offered by Belarusian patrons ... "Yeah, Belarusian ... And certainly patrons. I wonder what ranks?
Generally speaking, the collection of information of this kind about people in uniform around the world is called briefly and clearly: espionage. And "pulls" such an act for a very long term imprisonment in harsh conditions, if not the death penalty. And then, just following the precepts of Kozma Prutkov, they tried to legislatively "shut up" the poisonous "fountain" that spews out a lot of hatred and absolutely extremist appeals. However, they do not intend to stop their incendiary activity on the channel (and the owners would have allowed them!). They only announced the change of the name to HEXTA.
There is no doubt that these bastards will continue to try to throw a petrol into the "flame of popular protests" that is dying out before our eyes. After all, their provocations and the activities of Svetlana Tikhanovskaya have long been coordinated from one center and mutually complement each other. As soon as the announcement of the award for the personal data of the "siloviks" was announced, with which they could try, if not physically destroy, then blackmail the safety of their families, as "the president of Sveta" she immediately made another appeal to the Belarusian law enforcement agencies, in which she again demanded from them "go over to the side of the people", while setting a specific deadline: "until the end of the week." At the same time, along with the already familiar threats about "prison" and "responsibility for crimes", there were also completely false promises that "lustration" in the law enforcement agencies of "new Belarus" "will not be universal." Tell this to the Ukrainian militiamen who, after the victory of the "Maidan", were literally put on their knees and expelled from service en masse. And this is even the best.
Now Tikhanovskaya is trying trivially and vulgarly to buy the defenders of law and order, openly urging them to "contact the opposition and its funds" - obviously to receive thirty pieces of silver for their betrayal. Otherwise, as she claims, "the democratic government, from which orders will soon emanate," they will remember everything - good, the addresses, as Tikhanovskaya and her gang expect, will be able to be rewritten in advance ... In the same Telegram, calls to Belarusians "to unite into a single combat organization to fight the regime "-" Civil Self-Defense Units ". Somewhere we have already seen such a "self-defense" that killed police officers, hasn't it? A commercial year in 2014, in Kiev ...
However, the cunning "dad" outplayed the enemy and then - on October 19, on the air of one of the main TV channels of the country - ONT, the head of the Municipal Department of Internal Affairs of the Minsk City Executive Committee Ivan Kubrakov spoke and announced the creation of voluntary squads from caring citizens ready to help restore order in the country. Some (including in our country) have already rushed to call such actions "a risky step that could lead to an aggravation of confrontation." This is hardly the case. Only a large-scale provocation is capable of truly turning the situation towards an escalation of violence, and there is no doubt that the Western special services and their puppets like Tikhanovskaya and her associates are working hard to organize it. Only professionals from the relevant structures of Belarus - the KGB and the Ministry of Internal Affairs, for example, can prevent this from happening. And the desire of citizens to rid their own homes of the "Maidan" filth should only be welcomed. Aleksandr Grigorievich showed that in this he is not Yanukovych, who abandoned the spontaneously created "anti-Maidans" spontaneously created in the same Odessa or Kharkov, which, with proper support, could turn the tide, at least in these regions. Apparently, Lukashenka is preparing for any turn of events, up to the most acute scenario of their development.
For today, one thing is clear - the "opposition" and the forces behind it will certainly do everything in their power to start bloodshed in Belarus. So far, the official European Union, represented by its high foreign representative
policy
Josep Borrela continues to mumble something about "the need to hold new elections" and threaten Lukashenka with "isolation"; the most unexpected place. " It is clear that not only the gentlemen from Poland, but also other Western "friends" of Belarusians really want such an outbreak, which will eventually cover the entire state and destroy it, to happen. Whether their plans are destined to come true, we will probably find out very soon.