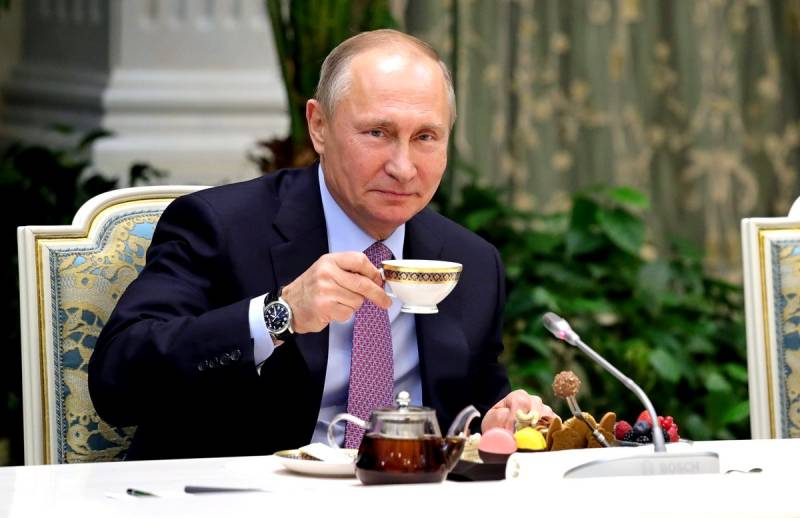 Epigraph: "You have to look here and listen to what I say! And who is not interested ... please - the door is there! " (V.V. Putin)
On October 7, as always, quietly, at home, without unnecessary fanfare, Putin celebrated his next birthday, his 68th. In its own way, the TASS news agency decided to congratulate him on this date, having published and posted on the network the last part of its special project "20 Questions to Vladimir Putin", interrupted in March due to the outbreak of the coronavirus epidemic on the 17th episode. A project in which the Russian president informally sums up his 20th anniversary at the helm of the Russian government, answering questions from TASS special correspondent Andrey Vandenko.
In the final episodes, timed to coincide with the last birthday, Putin is just answering questions about his family, about children, grandchildren, and personal losses. It also shows the behind-the-scenes part of the special project, in particular an interview with the press secretary of the Russian president Dmitry Peskov, where he speaks frankly about the very idea of ​​the project, about the "ideal storm" and about the reaction of the GDP to Vandenko's questions. In general, the last three episodes, like the previous 17, thwarted the expected hype. Everyone watched - both friends and enemies of the president, even those who insisted that on principle they did not listen to GDP. Comments have been prudently disabled beforehand.
Everything would be fine, but in a barrel of honey, as always, there was a fly in the ointment. Personally, I, like many of Putin's sympathizers, was strained by one moment in an interview when he, answering a question about children and grandchildren, unceremoniously cut off Vandenko with the words: "You shouldn't grunt!" security.
Rough somehow, isn't it? The innocent question of the journalist somehow did not suggest such a reaction. Personally, after such an answer, I would have fallen into a stupor. I'm still amazed how Vandenko had the audacity to argue: "I'm not grunting, I'm coughing!"
If such a passage drove me into a stupor, then you can be sure that all the enemies of VVP, starting with Dozhd and ending with Meduza, RBK and Echo of Moscow, immediately replicated yet another jamb of VVP with appropriate comments, not without savoring. "You shouldn't grunt!" became another meme from Putin's piggy bank, replenishing those already there "to wet in the toilets", "she drowned" and "we will go to heaven, and you will simply die!"
I understand, of course, that the president's image is a delicate matter. And here you will not immediately understand where you will win and where you will lose, but it is one thing to say about terrorists that we "will soak them wherever we catch them, we will catch them in the outhouse, which means we will soak them in the outhouse". Or cleverly avoiding answering the question about a sunken submarine. Regarding the victims of aggression who went to heaven and how the aggressor will end up, I also have no objections. As well as regarding the "radical circumcision of Islamic radicals, so that they do not grow anything else there." I can also appreciate the president's subtle humor about his Israeli colleague Moshe Katsava: "He turned out to be a very powerful man! Ten women were raped! I never expected this from him! He surprised us all! We all envy him! " As well as his words, spoken in defense of his friend Berlusconi: "Berlusconi is being tried for living with women. If he were a homosexual, nobody would touch him with a finger, "I also noted.
For me, Putin is primarily associated with the words: "Lucky fools, and we work from morning to night!" or "I am not ashamed in front of citizens who voted for me twice in the presidential elections. All these eight years I have plowed like a galley slave, from morning till night. I am satisfied with the results of my work! " And even "espionage, like prostitution, is one of the most important professions in the world," I can understand, after all, Putin is a former intelligence agent. But "in vain you grunt" is beyond my understanding and there is absolutely nothing to be proud of, in vain TASS gave this remark without cuts, it could have cut it out.
Observing Putin all these 20 years, I see how he has changed, how he has matured, and what was forgivable to him in 2000, in 2020 I can no longer forgive. Power changes a person. And Putin is no exception. I see that our guarantor has become bronzed, of course, it has not yet reached Father Lukashenko, but the trend, however, is alarming. Already any coughing drives him out of himself, and the desire to restrain himself in emotions is not even visible. He started well - with "wet in the toilet", and ended - "you shouldn't grunt!" It's sad.
Clinton tapes
I could not ignore the birthday of the president and Meduza, having specially dug up the declassified transcripts of his conversations with Vladimir Vladimirovich on the website of Bill Clinton's digital library for this date, which were released 2019 years later. There, the 20nd President of the United States is already driving his two nails into the nesting box of the GDP. The conversations date back to 42 and concern the presidents' reaction to the death in the waters of the Barents Sea of ​​our nuclear submarine missile cruiser K-2000 Kursk and the fate of Yugoslav President Slobodan Milosevic. Both could be saved by GDP. But he didn't.
And if there is no particular fault in the death of the K-141 crew on Putin, he is only indirectly involved in the death of 23 submariners who survived the explosion and hoped in vain for salvation (I in detail
wrote about it here earlier
), then the death of Slobodan Milosevic is already completely on Putin's conscience.
Below I just give the declassified negotiations, draw your own conclusions. This telephone conversation took place on September 30, 2000 at the initiative of Bill Clinton. He was entirely devoted to the situation in Yugoslavia. Clinton and Putin discussed how best to remove Milosevic from power and what to do with him after that.
Clinton: I want to ask you another question. How are we going to get him out of there?
Putin: Do you mean take it away?
Clinton: Yeah, is he afraid to resign?
Putin: I think I can have a few words with him and say that the international community has nothing against him and will not take any action. But I would like to discuss this later and I think I need to explain it to him again.
Clinton: But can he stay in Serbia? Will they let him go somewhere else?
Putin: I think it would be better if he stayed in Serbia.
Clinton: Yeah, me too, but I just don't know what the setting is.
Putin: To be honest, I don't know, but maybe he wants to leave. This is a possible step on his part, but I don't know. We don't need such a gift. Why don't we send him to America?
Clinton: Yes, I understand what you mean. Let me think about it ...
How it ended, you know. Already five days after the conversation took place in Belgrade, the so-called "bulldozer revolution" began, which became the first in the subsequent chain of color revolutions that subsequently swept through a number of countries of the North. Africa and the CIS. The reason for it was the opposition led by Vojislav Kostunica's disagreement with the results of the early presidential elections and who accused the incumbent of rigging them. As a result, by the evening of the next day, after the successful storming of the FRY parliament and the state television and radio company by protesters, Milosevic was forced to resign under pressure from his own security officials, who had defected to the side of the protesters. And a day later, on October 7, the Central Executive Committee of the FRY recognized the victory of his opponent in the first round. The revolution ended there. Milosevic, to his grief, remained in Serbia.
He ended badly. Already on April 1, 2001, he was arrested by police special forces on charges of abuse of office and corruption, in order to secretly transfer him into the hands of the International Hague Tribunal a few months later, where he died of a heart attack on March 11, 2006, before he was sentenced. But he never admitted his guilt!
Does Putin feel the blame for Milosevic's death? Hardly! At that time, we were still friends with America. At least they hoped for reciprocity. Putin did not have a great friendship with Clinton, but he already had good contact with Bush Jr. Bush drove him around his ranch in a personal pickup truck, and even gave it to steer. Here's what Putin said about it in 2001:
I wasn't too thrilled to be spending the night at the Bush ranch. He had to think for himself what would happen if he let in a former intelligence officer. But Bush himself is the son of the former head of the CIA. So we were in a family circle and felt pretty good.
It is strange, of course, that after the bombing of Yugoslavia, Putin did not change his attitude towards the hegemon. But then there was already Yevgeny Primakov's plane deployed over the Atlantic, whom Putin respected very much. Why he leaked Milosevic, and with him Serbia, which has always been and remains our friend, I do not know. Probably Putin in 2000 and Putin in 2020 are two different Putin. The turning point was Munich, 2007. Everything has changed, especially the attitude towards the United States.
But the GDP itself has also changed. And if on a personal level, as can be seen from the first TASS report, it is not for the better, then on the outer track Putin has become just a furious apparatus, which is feared by enemies and respected by friends. Moreover, I do not even know which of them is more. But I know for sure that there are no indifferent people there. He is either loved or hated. To the fullest. Black and white world, no halftones. Because Putin can do everything except to lose. This is something his enemies cannot forgive him.
To summarize, I can summarize that if, on a personal level, Putin, having started well with "soaking in the toilets," ended up with a lousy "in vain, you grunt!", Then on the external track there is a reverse trend - starting with the drain of Milosevic and the loss of Serbia, he ended up saving those doomed to the death of Assad and Maduro and the retention of Syria and Venezuela in the Kremlin's orbit with the neighboring countries of the Middle East and Central America. What can I say here? A good person is not yet a profession, for
politicians
this paradigm doesn't work. The president is judged not by his personal qualities, but by his deeds. And for 20 years, Putin has proved by his deeds that he is not in vain in his post, showing himself as an ideal crisis manager. And maybe just such a set of personal qualities contributed to this.