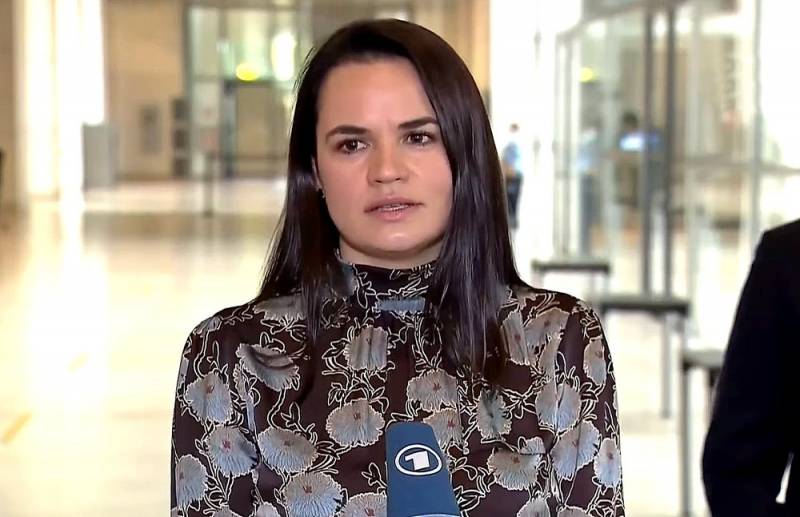 The self-proclaimed Belarusian "president" Svetlana Tikhanovskaya's joke "tour" through European countries received a rather unexpected development. As it became known, this citizen is now listed in the database of persons wanted for criminal offenses, the Ministry of Internal Affairs of Russia. Under what specific article of the Criminal Code the actions incriminated to the "opposition leader" fall, is not specified in the scanty lines of the official register.
However, this is not so important - the activities of this lady and certain periods of her life give grounds for a variety of assumptions on this score. Another thing is important here - if we are not dealing with a computer malfunction, then we can hope that the leadership of our country has finally decided to move from waiting for something that is not clear and trying to "agree in an amicable way" with the West to retaliatory offensive actions.
"Maidan" for sale?
It is high time - the activity of the protege of the Western intelligence services, which has completely lost its sense of reality, takes on a character that carries an ever more distinct threat not only to the national interests of Belarus, but also to Russia. After all, this person does not just travel around the capitals of the European Union - she is very actively putting together a kind of "front" against the country, which she has the audacity to call "her". Speaking (albeit via videoconference) in front of the deputies of the French National Assembly, this impudent woman burst into another batch of ultimatums addressed to Alexander Lukashenko. Tikhanovskaya demanded that he "accept the proposals" of the Maidan "Coordination Council" and "sit down at the negotiating table" with him, and without fail with the mediation of the OSCE.
However, as the "President of Light" said at her own press conference following the "fateful" meeting with German Chancellor Angela Merkel, "they," so be it, "are ready to invite Vladimir Putin to mediate future negotiations." But only and exclusively "on a par with the leaders of all other countries." Appreciate the scope of unheard-of generosity - a rogue with extremely dubious connections, already placing herself on a par with the head of the German government ("we are ready"!) Most mercifully deigns to allow the head of the Russian state to negotiate with exactly the same crooks and foreign agents as she is! At the same time, by the way, once again emphasizing that "
political
the crisis in Belarus is the business of the Belarusians themselves, and it is not for Moscow to solve it ". At least kill, but personally it seems to me that the wanted list is just the answer to this absolutely boundless super insolence. And rightly so! As they say in certain "circles": the field must be seen ...
However, the matter is not limited only to rudeness in the process of antics in front of journalists. Tikhanovskaya calls on French legislators to create a kind of "expert mission to study crimes against the Belarusian people" with the subsequent "bringing to severe responsibility" of all those responsible. On which the leaders of the "Maidan" will point ... Regarding Germany, "Wishlist" is even more abrupt: the self-proclaimed "leader" calls on Berlin not only to "create a humanitarian corridor for victims of repression", which in reality should be embodied in the granting of the right to visa-free entry to the country for anyone who will declare himself a "Belarusian oppositionist". She openly seeks that Germany "provide substantial financial support to various segments of the Belarusian protest." That is, in fact, she took over the financing of the coup attempt in Minsk! "But to whom" Maidan "is not expensive, with fervor, with heat! Come on in, it's cheaper! " - something like this it looks like. Not too much, you see, things are going well for the "president", since she is already so openly begging. What, tight-fisted Poles with Lithuanians don't give money "for revolution" ?!
It is painfully similar to a desperate attempt to attract a new investor to a "startup" that turned out to be a failure. No, if Germany, in addition to overflowing migrants from the Middle East and North Africa, also needs crazy Belarusian "oppositionists" - their business. There is nowhere to put money - let them accept it, treat it with Bavarian sausages and beer, even pay for their "races" in Minsk. But all this will have a completely clear name: "anti-Russian subversive activities." Why? But because the Union State! In Moscow, having officially declared Ms Tikhanovskaya on the wanted list, it seems that this is exactly what they decided to remind. And it is very convincing.
"Oppositionists": megalomania in half with persecution mania
Everyone knows exactly in what way the activity of such entities is developing: first they will ask the West to recognize them, to warm them up and feed them a little. Then - to throw some money, and at the same time to cut in tougher sanctions against "dictators and tyrants" with whom they are "relentlessly fighting". And it will all end with hysterics, screams about "ruined lives" and tearful pleas to "bomb a little" their "wrong" fatherland, which turned out to be deaf to revolutionary calls - solely for the purpose of awakening consciousness among the masses and further universal democratization. Well, or bring a "peacekeeping contingent" into the country. Or - both, for greater reliability. And yet these individuals will enthusiastically tell right and left about the brutal and insidious attempts to "physically eliminate" them, undertaken by the leaders of the "criminal regimes" and their loyal detractors. And, accordingly, to demand "to bring to justice" all those involved in such unheard-of atrocities.
It is along this path today that another cheerfully and broadly walks another man who has managed to climb onto the "international arena" and grasp the communication with the mighty of this world, as well as many television cameras and microphones, "the beacon of democracy" - Alexey, be remembered by nightfall, Navalny. This organism, not poisoned with mineral water, has enough bad courage to hurl accusations against the president of the country from a safe German far away and threaten to sue his press secretary. You see, the "oppositionist" who has found himself at the center of the largest anti-Russian provocation does not like the fact that Mr. Peskov openly declares his cooperation with the US CIA. He, you know, requires "proof". I wonder which ones? Yes, most of his murky "life path" is one solid proof. Moreover, irrefutable.
It seems that it is high time for Russia to recall some of the legal issues, long forgotten supposedly as unnecessary, but in fact - for the sake of the same West. No, to apply to individuals like Navalny or Tikhanovskaya such a formulation as "treason to the Motherland" seems to me in principle incorrect - because you cannot betray a country and people that you never, in fact, considered your own, did not love, did not honor, did not feel kinship with him. Rather, he despised more or less openly and saw in them only steps to his own rise and the satisfaction of painful ambitions. Here, perhaps, you will have to operate with much more mundane and specific concepts. Such as "anti-state activity" or, for example, "deliberate actions aimed at causing damage to the interests of Russia." Perfect in the interests of third countries, of course ... Am I exaggerating? Not a bit!
Thanks to Navalny's acting, scribbling on cheat sheets written by his curators (it does not matter - from Langley, or elsewhere), today Berlin and Paris are already "preparing a package of additional sanctions" directed against persons "involved" in his "poisoning", and intend contact other members of the European Union with recommendations on the introduction of such. This is from a joint statement by the foreign ministers of the two countries, published on the website of the French diplomatic department. France and Germany, you see, "demand the truth" from Moscow, threatening and teaching. Under the truth in this particular case (as, indeed, always in such situations) is meant nothing more than a complete and unconditional admission of one's own non-existent "guilt". For less - do not agree. And all this happens due to the fact that one single idle delirium, without stopping, pours and pours dirt on our country.
Tikhanovskaya's voyages and her fiery speeches give the deputies of the European Parliament a reason to make an official appeal to the Minister of Defense of Belarus Viktor Khrenin, the head of the local General Staff Alexander Volfovich and other "siloviki", a total of 24 people, with an appeal "not to carry out the orders of the illegitimate president" and " to take the side of history shoulder to shoulder with the peaceful Belarusian civil society ". In fact - to commit high treason and a military coup. Yes, at the same time, MEPs also dare to threaten the generals: they say, "following criminal orders will not remain without responsibility." It is very interesting how, in the same France, they would have perceived the call coming from our State Duma to the army and gendarmerie there to go over to the side of the "yellow vests", to take the Elysee Palace by storm and arrest Macron?
At the moment, it is no longer a matter of Nord Stream 2, whose empty pipes, it seems, could choke Europe. Not in new sanctions, due to which they will stop selling something else to us or refuse to build. Not that Russia will again begin not to invite or "exclude" from organizations that, by and large, it needs like an umbrella for a fish. The fact is that, as in the 90s of the last century, they are trying to reduce our country to the level of a colony, without disdaining by absolutely no means and methods. And some of our seemingly fellow citizens are happy to try to help this. Isn't it time to answer for such actions?
Squealing and bouncing in anticipation of the domestic "democratic community" is already breaking off the leashes, smelling the aroma of new tasty grants and other "cookies" by Victoria Nuland. The letter that the representatives of this public, who call themselves "the only ones who managed to preserve reason and honor in Russia," sprinkled in support of the Belarusian "Maidan" - this, I tell you, is something. Not just a "masterpiece" far from fine literature, but evidence that betrays their essence with their heads. You see, they lament that today in our country "they cannot bring ten thousand to the streets." In that, you see, "indifference, apathy, fatigue, a sense of hopelessness, which gripped the Russians" are to blame ...
But gentlemen democrats still dream that "the example of the brotherly Belarusian people will awaken Russia from lethargy" - "tomorrow we will be able to stand next to you and not retreat!" They want "Maidan", chaos and fratricide. They dream of the destruction of Russia. The signatories are entirely well-known personalities of a very definite style: Memorial, Moscow Helsinki Group, Yabloko. There is no need to declare anyone on the wanted list - everything is in full view. Resolving the global confrontation with the West is neither easy nor quick. But with their own "citizens" who have chosen a stranger in it, something will have to be decided. It is unlikely that Russia, today surrounded by a hostile ring and under completely unprecedented pressure, can afford such a luxurious "fifth column".