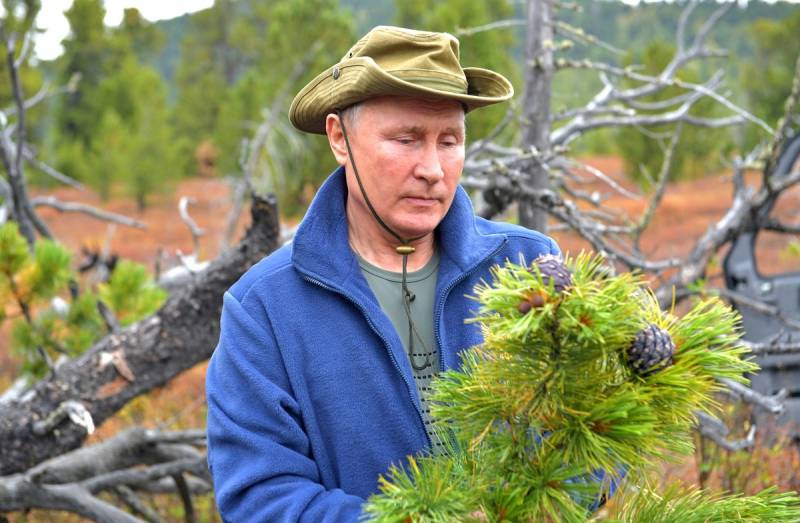 A campaign to save the forest from destruction begins in Russia. Finally. But why only now did the authorities manage to clear up the problems that they themselves have created? And, most importantly, will the war with the "black lumberjacks" have the desired result?
Last week, President Putin ordered to deal with the lawlessness that is happening in the domestic timber industry. According to the head of state, this "does not fit into any gate":
Far Eastern regions of Russia are not yet able to increase their capacity for deep timber processing. At the same time, our neighbors in East Asia have a growing demand for Russian sawn timber and other, not "raw", but already processed wood.
The point is that, since 2007, "effective private owners" and simply "black lumberjacks" have been neglected in the Russian taiga. They demolish valuable wood species on an industrial scale under the guise of sanitary felling or simply "out of bounds", and then export clean round timber or wood with minimal processing to neighboring China, where there is a great stable demand for them. At the same time, in the Celestial Empire itself, they are actively restoring their own forests, forbidding their deforestation. At the sites of illegal logging, "black loggers" set arson to hide them, which annually lead to terrible forest fires.
Vladimir Putin ordered from January 1 next year to introduce control over export contracts for timber, and from 2022 - to completely ban the export of round timber from Russia. Sounds great. It is assumed that our country will establish its own wood processing industry, create new jobs, and increase the receipt of taxes and customs payments to the budget. In general, this initiative can only be welcomed. However, several fair questions immediately arise.
Why only now? The answer suggests itself. The federal budget is rapidly losing revenues due to falling oil prices and lower demand for Russian gas. The Kremlin is seeking to plug the hole by converting plain round timber into processed timber, which must pass through a more expensive customs position. The point, as always, is about money.
Will it be possible to solve the task at all? The problem of "black loggers" and annual large-scale burnings of the taiga is largely man-made. It was created in 2007 by the federal authorities themselves, having adopted a new Forest Code in the interests of "effective private owners". The single centralized Forest Service was liquidated, its powers were transferred to the regions without proper funding and material
technical
base. The result is logical: there was no one to protect and restore forestry, paradise times have come for outright crooks who, without paying any taxes, demolished our taiga, setting fire to the felling sites, and then drove wood to the PRC according to all sorts of "gray schemes", deceiving customs. Representatives of local law enforcement agencies, who preferred to look aside, having their own "gesheft", also made money on this.
So, for all the optimism of President Putin's proposals, the main thing was not voiced in them - on the restoration of a single federal forest protection structure, which will be returned powers from the regions. The country needs tens of thousands of professional foresters, a modern material and technical base (for example, a UAV to monitor the vast taiga), and sufficient budget funding. Systematic work is needed to restore the already barbarously cut forests.
So far, we are only talking about "tuning" the work of the customs authorities and the selective confiscation of equipment from unlucky lumberjacks. In the absence of an integrated approach, all these good undertakings may turn into a banal increase in bribes for officials and law enforcement officers who will simply continue to drive the "left" round timber to China.