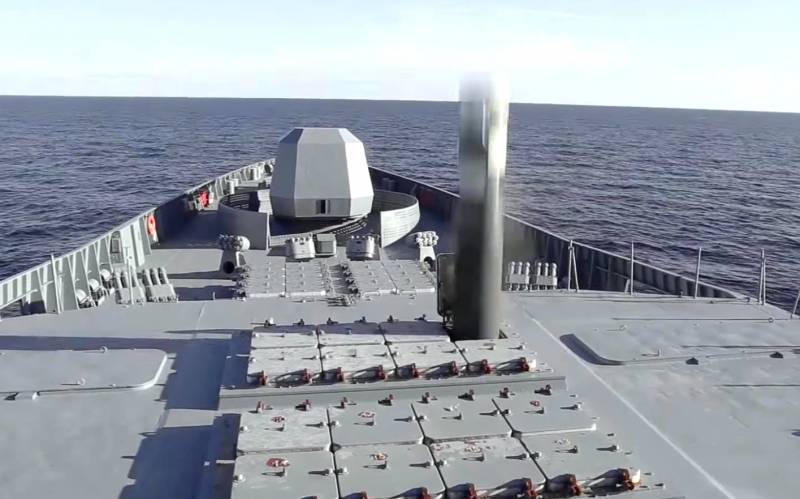 The Russian hypersonic "Zircon" was first used against a sea target. The promising missile was launched from the Project 22350 frigate "Admiral Gorshkov" and successfully hit the target at a distance of 450 km.
It should be noted that this is the second test of the ammunition by target shooting. The first ones took place in January 2020 and were also recognized as successful. Then the rocket hit a target located on the coast at a distance of 500 km. The launch was also carried out from the frigate "Admiral Gorshkov".
According to information published by the agency
RIA News
, within the framework of current tests, the maximum flight speed of the Zircon was 1,6 km / s, and the maximum altitude was 28 km. At the same time, it took the ammunition about 4,5 minutes to overcome the distance to the target.
Recall that the development of a promising rocket has been underway since 2011. The ammunition is designed to engage enemy surface targets equipped with air defense and missile defense systems that are capable of intercepting supersonic anti-ship cruise missiles.
It is known that the hypersonic "Zircon" is capable of speeds up to Mach 9 and cover a distance of 600 km. The first stage of the rocket is presumably equipped with a solid-propellant taxiway, and the second - with a ramjet.
At the moment, a promising hypersonic missile continues to undergo state tests. About 2020 test launches are scheduled for 2021-10, 7-8 of which will be carried out from the Admiral Gorshkov, and the rest from the Severodvinsk nuclear submarine. Adoption of "Zircon" into service is scheduled for 2022.