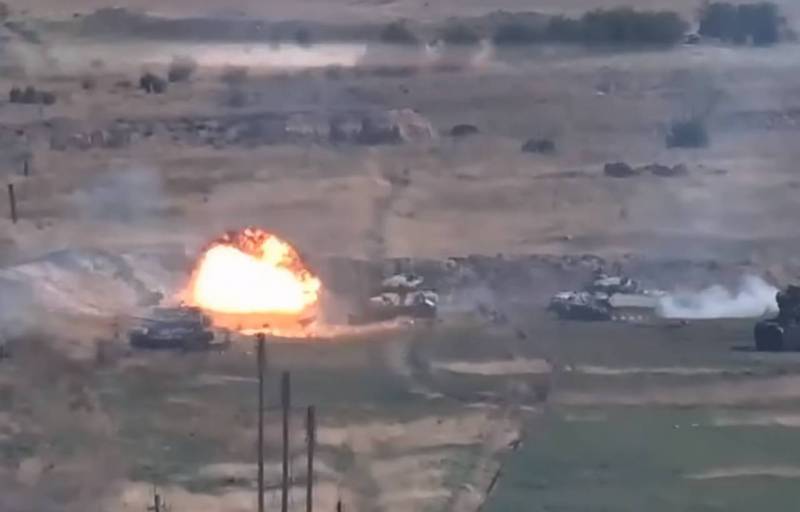 The armed confrontation in Nagorno-Karabakh demonstrates the actual uselessness of using a tank
equipment
in the mountains. In the first days of the conflict, dozens of tanks of the Azerbaijani Armed Forces were destroyed, while Baku reports the destruction of tanks of the opposite side with the help of the Bayraktar UAV.
According to National Interest experts, the mountainous terrain is not suitable for the use of heavy combat vehicles, since they are very vulnerable to attack drones and ATGMs. If the conflict in the NKR continues to develop according to this scenario, the loss of tank equipment will become the largest since the war in Iraq.
According to Yerevan, the Armenians have hit 137 enemy tanks at the moment. Baku, in turn, assures of the destruction of 130 tanks in Yerevan - this data already exceeds the losses of the Iraqis in the Persian Gulf, when the coalition burned 85 tanks of Saddam Hussein's troops.
Such large losses are associated not only with the successful actions of unmanned aerial vehicles, but also with unsuccessful combat tactics - the opposing sides do not have enough means to protect their military equipment from the air. Meanwhile, the armies of Great Britain and the United States went to a significant reduction in the number of tanks. The Russian Federation is also in no hurry to adopt the T-14 Armata platform, planning to release only a small batch of these combat vehicles.