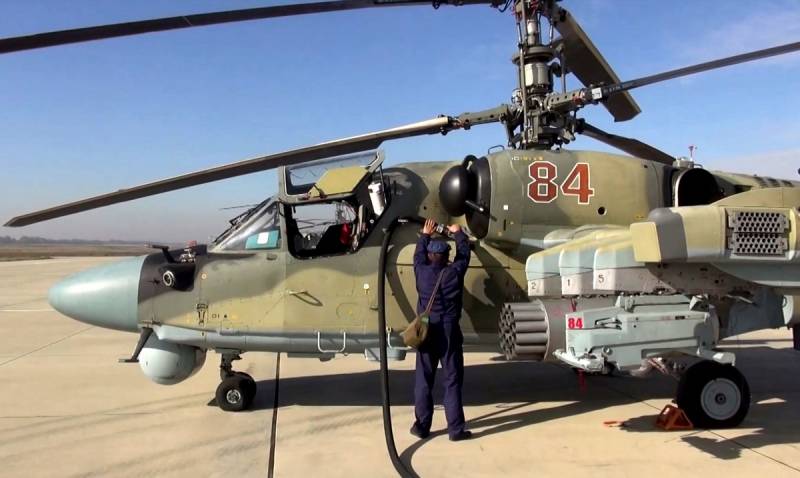 The Ka-52K Katran universal attack helicopter has successfully passed tests and is ready for serial production. The vehicle was created on the basis of the famous Alligator and will be used as part of the newest Russian universal amphibious assault ships of Project 23900 - analogs of the Mistrals previously not supplied by France.
It should be noted that in terms of its technical characteristics, the "deck" helicopter differs significantly from its "ground" counterparts. In particular, this concerns the blade folding mechanism, which performs this operation in less than a minute. The target detection range of the onboard radar at the sea "Katran" is up to 200 km, which is almost twice as much as that of the "ground colleagues". In addition, the fuselage, units and blocks of the Ka-52K are carefully treated with an anti-corrosion coating and special sealing means that protect the machine from moisture.
The new helicopter received a Vitebsk laser self-defense station, an Okhotnik armament control system, and an Arbalet radio interference suppression system. Add to this the possibility of equipping the Ka-52K with a sighting and navigation system for the Kh-31 and Kh-35 anti-ship missiles, and we will get an excellent sea-based attack helicopter.
According to the developer, if necessary, "Katran" can be used as a search and rescue vehicle and even hunt for enemy submarines.
The trial operation of the combat vehicle in sea conditions should be completed by the end of the year. Ka-52K troops are expected in 2021.