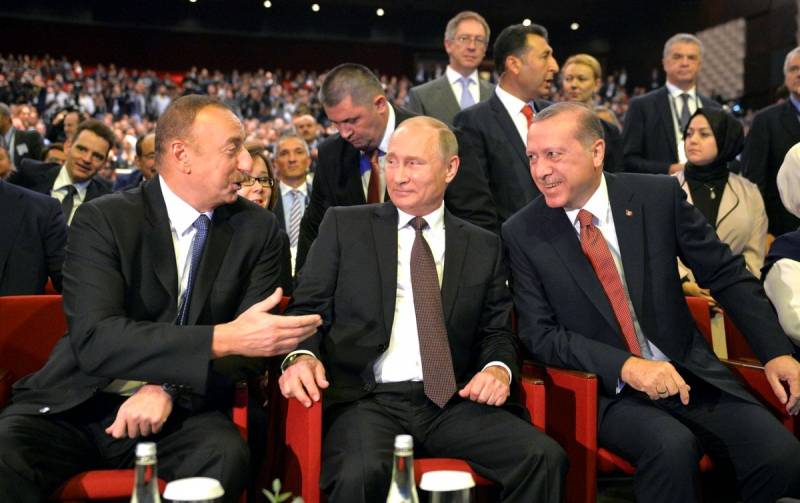 The latest aggravation in Nagorno-Karabakh has presented Moscow with a serious dilemma. Ankara, openly behind Baku, wants to force the Kremlin to choose between Armenia and Azerbaijan. The problem is that it is in Russia's national interests to maintain constructive and, preferably, friendly relations with both of these countries.
Moscow needs an ally in the person of Armenia, but it absolutely does not need Azerbaijan to turn into its open enemy in the Transcaucasus. Our relations with this former Soviet republic are not very simple today.
On the one hand
, Baku is a competitor to Russia in the hydrocarbon trade. Thus, the countries of the European Union are considering Azerbaijani gas as a direct alternative to raw materials from Gazprom. The TAP (Trans-Adriatic Pipeline) pipeline will deliver 8 billion cubic meters annually to Italy and another 1 billion to Greece and Bulgaria. In the Turkish market, the domestic monopolist has lost all its positions, yielding them to Azerbaijan, which is already pumping 6 billion cubic meters there through the TANAP gas pipeline. There is fierce competition for oil, which is supplied to the same markets as the Russian one. At the same time, Baku is very unhappy with Moscow for the results of the spring "oil war" with Saudi Arabia, which brought down world quotations of "black gold".
On the other hand
Azerbaijan is a major buyer of domestic weapons. In recent years, the amount of arms contracts concluded amounted to $ 5 billion. Baku buys Russian tanks, armored personnel carriers, MLRS, S-300 air defense systems, is interested in Su-35 and MiG-35 fighters. Note that, unlike Armenia, Azerbaijan pays in cash, petrodollars. On the other hand, Yerevan, as an ally, pays for weapons with targeted loans issued by Russia itself, and the volume of purchases from it is much more modest.
In addition, it should be remembered that both Armenia and Azerbaijan are equally former Soviet republics and are members of the CIS. True, Yerevan preferred to integrate with Russia within the framework of the Eurasian Economic Union and the CSTO, while Baku is more focused on military and
economic
cooperation with Turkey, which is a NATO member. It will not be an exaggeration to say that the current aggravation of the situation in Nagorno-Karabakh is a direct consequence of Azerbaijan's support from Ankara and indirectly from Tel Aviv.
There are a number of other important factors to consider. There is a large Azerbaijani diaspora living in Russia, and some of its representatives have a very large weight in domestic business. For example, the head of the oil company "Lukoil" Vagit Alekperov and the president of the Crocus Group holding Araz Agalarov. In addition, the Kremlin is clearly wary of the Armenian Prime Minister Nikol Pashinyan, who came to power through street protests. We do not really approve of this. President of Azerbaijan Ilham Aliyev is much more "own" for the Russian ruling elite. He is a major, a graduate of MGIMO, his father Heydar Aliyev headed the KGB of the Azerbaijan SSR. Ilham Aliyev is also related to Vladimir Putin by the fact that he has repeatedly become the head of state in the presidential elections and is clearly in no hurry to retire, having ceded power to someone.
In general, Azerbaijan is ruled by people in approximately the same style as in the Kremlin, therefore it is much easier for them to find a common language.