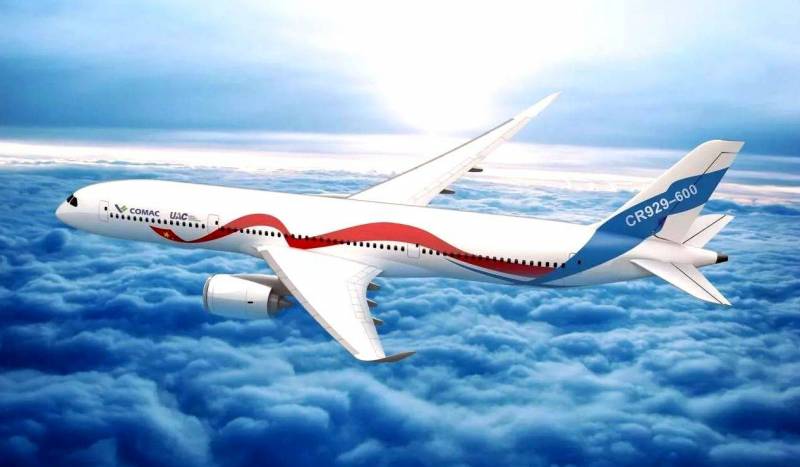 The implementation of the Russian-Chinese project of the wide-body long-range CR929 aircraft has been suspended. Serious disagreements have arisen between Moscow and Beijing, which impede the creation of a promising airliner capable of taking part of the market from Boeing and Airbus, writes the Asia Times online edition from Hong Kong.
Russian officials and technical specialists cannot agree with their Chinese counterparts, which threatens the collapse of the entire project to the delight of American and European competitors. This project was once promoted by Chinese leader Xi Jinping and Russian President Vladimir Putin as an example of cooperation between the two countries to overcome the technological "iron curtain" of the West. But now its implementation has been postponed, since the parties cannot agree on the details.
A source in China's state-owned aircraft company (Comac) reported on ongoing disputes that could drag on for a long time. At the same time, the Russian UAC confirmed that the production of the airliner is postponed by 4 years from the previously planned schedule and its appearance is expected in 2029. This makes the first flight of the CR929 an almost pipe dream.
More than four years have passed since Moscow and Beijing decided to join forces in the passenger aircraft market. In 2017, a joint venture between Comac and UAC was established in Shanghai. Its site was Pudong Airport, where they still believe in the possibility of an airliner in 2025. But in reality, the fate of the CR929 is in the balance.
The head of the Ministry of Industry and Trade of Russia Denis Manturov told the media about the disagreements between Moscow and Beijing. He accused the Chinese of wanting to take over key
technology
and at the same time they refuse to open their home market. But he assured that Russia would not abandon this project.
Comac, in turn, said that Moscow is only interested in selling spare parts to Beijing and does not want to share important technologies. For example, the UAC insists that the CR929 fuselage design be based on the design of the outdated Il-86. But Comac refuses to accept "medieval Soviet design." Moreover, Russia intends to use India in the production of components, leaving Comac with the final assembly of the CR929. Beijing categorically rejects such plans and insists on a more serious participation in the project, the cost of which will be $ 13-20 billion.