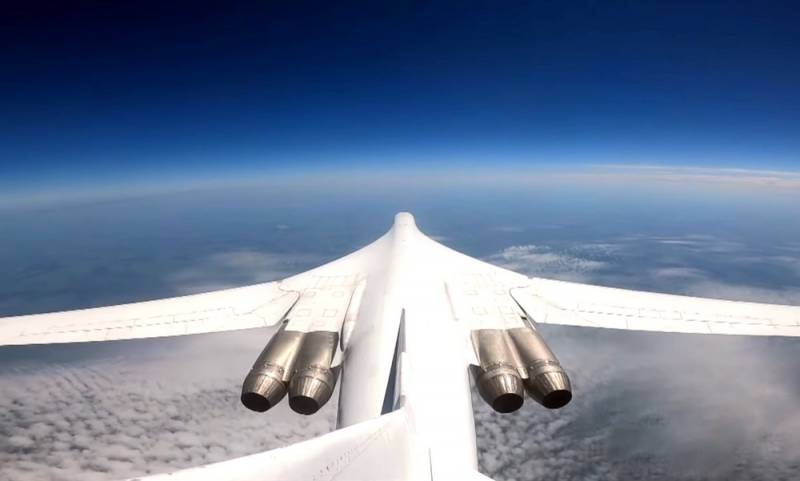 The former and far from cloudless relations between Russia and the West have recently shown a tendency towards an ever sharper aggravation. Direct military confrontation from a hypothetical threat before our eyes is turning into a fairly real prospect, not yet inevitable, but becoming more and more likely.
At the same time, we are talking, alas, not about armed conflicts on a local scale, but about a global clash of nuclear powers, the last obstacles to which are being dismantled by our opponents with alarming intensity and determination.
American nuclear blackmail ...
The "proposals" voiced the other day by the White House special envoy at the talks between the United States and Russia on the fate of the strategic offensive arms agreement (START-3), Marshall Billingsley, cannot be called anything but an ultimatum. Moreover, extremely arrogant, cheeky and cynical. Moscow is instructed, "not rock the boat" or even trying to defend its point of view, at a "firefighting" pace to wave a humiliating and unequal "presidential memorandum", which "outlines the conditions" for the prolongation of the long-suffering agreement - the last thing left of the once effective on the planet of the system of collective security and containment of the nuclear arms race. In fact, Washington is offering Moscow to disarm and wind up its own defense projects in exchange for some completely vague and vague promises on its part. Moreover, the representatives of our country must certainly also "influence" China in such a way that it joins the treaty and immediately stops building up its own nuclear potential.
It is clear that the United States is categorically not happy with Beijing's third place in the "atomic club" with its 320 warheads, which took place at the beginning of this year. However, at the same time, they flatly refuse to involve their own "nuclear" NATO allies - Great Britain and France - in the negotiations. The "reasoning" is simple - they say that the number of atomic weapons is "not increasing, but decreasing." Well, first of all, whether they are reducing it or not is still a big question. Secondly, what is available (Paris alone has under three hundred nuclear warheads) is enough for Armageddon. Moreover, the United States does not even want to hear about removing at least its own atomic bombs from Europe: we will not take them out, period. "And you can leave your weapon in Kaliningrad ..." - sounds in response to "generous" proposals. So Kaliningrad is actually Russia! Here we certainly do not need anyone's permission.
The envoy of Washington makes no secret that the United States is interested in extending the treaty in about the same way as the dog in having a fifth limb - according to him, if "the deal falls through," his country will continue to build up its own nuclear "fist" without any restrictions and " with extreme joy. " But you might think that this is not done anyway! Or was Donald Trump, who announced at the end of last month that the United States had not only "significantly increased its nuclear capabilities," but also "raised them to a level that no one could even imagine," was he simply joking? It is highly doubtful. This alone makes one strongly doubt the sincerity of Washington's "peaceful" intentions. It seems that they want to banally "dissolve" Russia in the style of the most primitive "thimblers". Moreover, they are trying to urge on in the most merciless way - as Billingsley threatened, "after Trump's re-election, the entrance fee will be even higher." How much more? Why the rush is understandable without further ado: Donald Trump is eager to get another "brilliant diplomatic victory" in his electoral asset in order to once again dissolve feathers in front of his own electorate.
The fact that all his "achievements" in the foreign policy field, in fact, turn out to be, at best, the most perfect "zilch" (for example, flirting with Kim Jong-un and the DPRK), and at worst - carry the seeds of serious conflicts (talking about "peacekeeping "Trump in the Middle East), of course, nobody cares. Mr. President always acts according to the principle: "I would have to crow, but there, though it's not dawn!" But the Kremlin does not have the slightest intention of arranging such a "promotion" for him at the expense of our country. Deputy Foreign Minister Sergei Ryabkov has already stated that no negotiations will be conducted "in this genre", since such boorish behavior of US representatives and their "ultimatum techniques" reduce the possibility of any agreements to practically zero. According to Mr. Ryabkov, in this scenario, it seems much more expedient to "build up Russia's security", primarily the forces of strategic deterrence.
... And preparation for the attack in British style
To our great regret, the matter is not limited to mere threats and attempts to "twist the arms" of our diplomats, forcing them to accept completely capitulatory conditions for the extension (and even then for the shortest time) of START-3. The North Atlantic Alliance is already without any hesitation preparing for an armed aggression against our country. In addition to the Americans, their main allies - the British - are especially zealous in this dangerous business. The half-dead British lion, for whom Russia has always been an object of hatred and geopolitical enemy No. 1, is again trying to grin its yellowed fangs. In the course of the NATO provocative air operation, which took place on September 4 this year, characterized by the Commander-in-Chief of the Russian Aerospace Forces Sergei Surovikin as "unprecedented", in addition to the three US Air Force B-52H bombers capable of carrying nuclear weapons at a distance of up to fifteen kilometers, our border was approached and British reconnaissance aircraft, "probing" our territory to a depth of 600 kilometers.
However, this is only a small part of the global offensive that the RAF has launched on our borders. According to the data published not by some tabloid leaflet chasing inflated "sensations", but by the most authoritative publication of the country - The Times, in this special operation, which unfolded in the space from the Arctic waters and the Barents Sea to the Black Sea area, aircraft operating in groups of up to five sides take part Sentinel reconnaissance and strike control aircraft; RC-135 strategic reconnaissance aircraft and Boeing E-3 Sentry early warning aircraft. This spy group operates under the cover of Typhoon fighters with the support of Voyager air tankers.
London does not at all hide the goals of its own actions. If you believe the revelations of one of the representatives of the Ministry of Defense cited by the publication (why not believe them?), The task is not only to "drive Russia crazy, keeping it in constant tension." There is a very specific practical meaning here: according to the British military officer, "raising the alarm on their fighters and putting Russian ships out to sea, enable our spy planes to collect intelligence data, intercepting signals from their radar and radio communications." In turn, according to his own admission, "the information obtained in this way will allow us to identify the weak points of the enemy's defense and use these vulnerabilities." Excuse me, is this already preparation for aggression, or not quite yet ?! For what other purpose can the military look for vulnerabilities in other people's defensive orders and lines, except in order to inflict a sudden and crushing blow on them? This is war, dear compatriots! An attack is being prepared on us - and already quite openly, even demonstratively.
And, by the way, not only the Royal Air Force - literally this week, the British army for the first time carried out a massive landing on the territory of southern Ukraine. Deploying directly from Great Britain, 250 soldiers of the 16th Air Assault Brigade parachuted at Ternovsky Proving Grounds, where they joined an impressive British contingent of soldiers of the Royal Horse Artillery, the Royal Logistics Corps and the Royal Electrical and Mechanical Engineers. The whole company is officially taking part in the Exercise Joint Endeavor, which is just starting today, which the British Secretary of War called not only a "reaffirmation of commitment to a strong relationship with Ukraine," but also, above all, "a demonstration by Britain of the ability to send highly professional troops to those places where they are needed. "
This demonstration is extremely similar to practicing preparations for an attack on Russian Crimea, which, it seems, has been raving lately not only in Kiev, but also in Washington and London. In conclusion, I would like to cite recent and very characteristic statements by high-ranking military officials there. Thus, the head of the Pentagon, Mark Esper, at the end of last month, bluntly stated that the US army was preparing intensively "to confront Russia around the world." In turn, the chief of the British Defense Staff, General Nick Carter, admitted that Britain is on the verge of "significant changes in military philosophy." According to him, the impetus for such actions by the government of the country were "potential threats", the largest of which, without a doubt, is Russia. Someone might say that such loud words were uttered more than once, and over decades - both during the Cold War and later, especially after 2014. And, thank God, they never ended with the Third World War. Nevertheless, never before has the aggressive rhetoric of the Western military leaders been supported by quite concrete practical actions to find ways to break into our borders and landings within a few tens of kilometers from them.
Today there is no longer the slightest doubt that there can be no question of any reduction in nuclear weapons, even at the level of the United States and Russia alone. What Britain is doing does not admit of a double interpretation at all - such forces and means are not used only in order to "play on the nerves" of a potential adversary. Everything indicates that they intend to test our defense for strength, and in earnest. Where this will happen - in the Crimea, beyond the Arctic Circle or anywhere else - it is impossible to say with complete certainty. Such an alignment will inevitably force Russia to take unpopular measures and significantly increase its defense potential in these areas. Any provocation that would imply violation of the state border of our country must be suppressed in the most severe way. Having yielded once, you will have to give in and retreat over and over again.