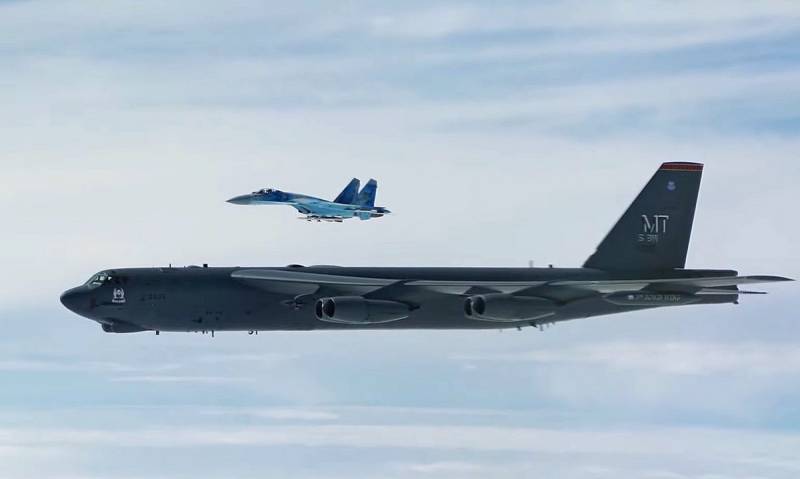 Have you not forgotten, friends, the recent arrivals of American birds of prey from the squad of vultures to our Crimean shores? They will now be put on a permanent basis. "Big Brother" thinks about us and gets closer. Now listen to what Armen Gasparyan, the Kremlin's staff propagandist, thinks about this, which he doesn't actually hide.
Once upon a time I listened to him with my mouth open. But the time has passed when I unconditionally believed everything that he and his colleagues said. Now I have become more critical. So I have some questions about this video.
Comparing the flights of American strategic bombers B-52H over the Baltic states and over Ukraine is, at least, incorrect. Since Latvia, Lithuania and Estonia have been official NATO members since 2004, while Ukraine is not yet. And no matter how we consoled ourselves with the thought that with an unresolved territorial conflict, no one would take her to NATO, as it turned out, the Americans did not need it. The military partnership is also quite enough for their strategists to be on our southern borders. I just want to ask those in power in the Kremlin: "Well, did these Poles help you ?!" Well, did it help you that Ukraine did not become a NATO member? So maybe even now you admit that in 2014 you made a strategic mistake by allowing Ukraine to go into a hostile camp? Well, I don't want to start the old song again. What happened cannot be returned.
But the questions for our sworn non-brothers remained. Aren't you creepy yourself? Strategic bombers of the US Air Force, each carrying 240 Hiroshimas, is not an argument for you to send them by the tenth route bypassing Ukraine? And I counted this only the total equivalent of the hydrogen bombs in service with the B-52H, and there are also air-launched cruise missiles, and tactical high-precision missiles, and anti-ship "Harpoons", not counting the gliding guided aerial bombs. In short, if it collapses, it will not seem enough to anyone!
But they were already falling. And more than once! The plane is old. The last B-52H with serial number 61-0040 left the factory in October 1962. Count yourself how old he is. A total of 1960 such aircraft were built from 1962 to 102 at the Boeing plant in Kansas, 70 of which remain in the US Air Force to this day (the service life has been extended until 2044).
List of incidents involving B-52
Lest you think that I scare you, below I will give statistics of crashes and disasters that happened to these wonderful aircraft, which have been in service with the US Air Force since 1955.
On January 10, 1957, a B-52, returning to Loring Air Force Base from a regular instrumentation training mission, self-destructed in the air and crashed near Morrell, New Brunswick, killing eight of the nine crew members on board. The crash is considered to have occurred due to excessive load on the wings and / or glider during a pilot's reflex test. This was the fourth B-52 crash in 11 months.
On February 11, 1958, a B-52D crashed in South Dakota as a result of icing in the fuel system, causing an uncontrolled decrease in the power of all eight engines. Three crew members were killed.
On September 8, 1958, two B-52S collided in the air near Fairchild Air Force Base, Washington, DC, killing all 13 crew members.
On October 15, 1959, a B-52 from the 492nd Bomber Squadron at Columbus AFB, Mississippi, carrying two nuclear weapons, collided in the air with a KC-135 tanker near Hardinsburg, Kentucky; four of the eight bomber crew members and all four tanker crew members were killed. One of the nuclear bombs was damaged by fire, but both weapons were recovered. (I give information from American sources, it is important for them that both "weapons" were recovered. They call hydrogen bombs this way, I specially kept an identical translation. No radioactive contamination of the area was reported, apparently, there was no).
On January 24, 1961, a B-52G crashed mid-air and crashed after a serious loss of fuel near Goldsboro, North Carolina, causing two nuclear bombs to be dropped without detonation. Three of the eight crew members were killed.
On March 14, 1961, a B-52F taking off from Mather AFB, California with two nuclear weapons underwent an uncontrolled decompression that forced it to descend to 10 feet. Due to the increased fuel consumption at low altitude and the impossibility of getting close to the tanker in time, the aircraft ran out of fuel. The crew ejected safely and the unmanned bomber crashed 000 miles (15 km) west of Yuba City, California. (What happened to the nuclear bombs there is not reported).
On January 24, 1963, a B-52C on a training flight from Westover Air Force Base, Massachusetts, lost its vertical stabilizer due to low-altitude impacts and crashed on the western side of Mount Elephant near Greenville, Maine. Of the nine crew members on board, two survived.
On January 13, 1964, the B-52D lost its vertical tail after being caught in winter storm turbulence; he crashed on Mount Savage in western Maryland. Two nuclear bombs being ferried were found "relatively intact"; three out of five people were killed.
On January 17, 1966, a fatal collision occurred between a B-52G and a Stratotanker KC-135 over Palomares, Spain, killing all four tanker crew members and three of the B-52G's seven crew members. Two unexploded 28 megaton B-1,45 FI nuclear bombs were eventually discovered; the conventional explosives of two more bombs exploded on impact, severely scattering both plutonium and uranium, but no nuclear detonation. Following the crash, 1 metric tons (400 lb) of contaminated soil was sent to the United States. In 3, an agreement was concluded between the United States and Spain to investigate and clean up the contamination left by the accident. (Less than 100 years later, the United States did acknowledge the fact of radioactive contamination of the area. If this happens in Ukraine, I think it will take much longer, you will all die out like mammoths).
On January 21, 1968, taking off from Plattsburgh airbase (New York) during Operation Chrome Dome B-52G SAC with four thermonuclear bombs on board, while trying to make an emergency landing crashed into the ice shell of North Star Bay (Greenland) 15 km away from Thule Air Force Base. The resulting fire caused extensive radioactive contamination of the area, and the cleanup (Crested Ice Project) lasted until September of the same year. Following the Palomares incident (see above), the costs of cleaning and
political
the impact was too great to risk again, so the SAC (Strategic Air Command) completed an air warning program the next day. (Whom did they warn there in Tula? Polar bears? But the scandal with the Danes who owns the island was grandiose, one bomb was never found!).
On November 19, 1968, a B-52D Stratofortress (serial number 55-0103) of the USAF Strategic Air Command (SAC) from Strategic Wing 4252d crashed at Kadena Air Force Base on Okinawa, Japan. The plane, which was carrying out the bombing operation of the Democratic Republic of Vietnam, crashed and burned during a failed take-off with a full bomb load. The fire from the aborted takeoff ignited the aircraft's fuel and set off a 30 lb (000 kg) bomb load, causing such a powerful explosion that a huge crater about 14 feet (000 m) deep and in diameter was formed under the burning plane. 30 feet (9,1 m). The blast shattered windows at a dispensary at Naha Air Base 60 miles (18 km) away and damaged 23 homes. The accident led to massive protests demanding the removal of the B-37 from Okinawa and the closure of the airbase altogether. (And yet there were no nuclear bombs there. Non-brothers can comfort themselves with the thought that they do not have so many houses, there is nothing to destroy).
On January 7, 1971, a B-52C (serial number 54-26660) SAC crashed into northern Lake Michigan at the mouth of Little Traverse Bay near Charlevoix, Michigan during a low-altitude training flight. All nine crew members were killed.
On March 31, 1972, a B-52D (serial number 56-0625) from the 306th Bomber Wing, during a routine training mission shortly after takeoff from McCoy AFB, experienced numerous engine failures followed by a fire. The plane was unarmed. The aircraft immediately attempted to return to base but crashed 3 feet (220 m) from Runway 980R in a civilian residential area north of the airfield, destroying or damaging eight houses. A crew of seven pilots and a 18-year-old boy were killed on the ground.
On October 19, 1978, a B-52D (serial number 56-0594) crashed on takeoff at March AFB, Riverside, California, due to power loss from engines 1 and 2 and water loss in the left wing. Eight of the nine crew members were killed.
On September 15, 1980, a B-52 caught fire at Grand Forks airbase with 8 AGM-69A missiles and 4 B28 bombs. The crew urgently left the car, and the airport services put out the fire for more than three hours. The firefighters were hampered by a gusty wind, fanning the flames, and fully fueled fuel tanks. The fuselage was saved from fire, but the likelihood of a disaster was high. According to the director of the Livermore National Laboratory, Roger Batzel, if the wind was blowing in the other direction, the flames would have destroyed the plane, along with the bombs and the crew. (4 thermonuclear bombs! I hope the wind always blows in the right direction for the non-brothers).
On February 3, 1991, a B-52G Stratofortress (serial number 59-2593) of the 4300th temporary bomber wing of the US Air Force, returning from a sortie, fell into the Indian Ocean near Diego Garcia after a power failure. Of the six crew members, three died in the ejection. Considered a non-combat loss (Gulf War).
On June 24, 1994, a B-52H, Czar 52 (serial number 61–0026) crashed at Fairchild AFB, Washington, during training ahead of an air show. All four crew members were killed.
On July 21, 2008, a B-52H, Raidr 21 (S / N 60-0053) en route from Barksdale Air Force Base, Louisiana to Andersen Air Force Base, Guam, crashed about 40 km off the coast of Guam. All six crew members died (five regular crew members and a flight surgeon. What the surgeon was doing there, I don't know!).
On May 19, 2016, during takeoff from Andersen airbase on the island of Guam, a bird hit the B-52 engine (serial number 60-0047). The plane made an emergency landing, but rolled out of the runway, and as a result of the accident completely burned out. The crew managed to evacuate. (Bird too, I hope.)
On January 5, 2017, one of the engines fell off during a training flight in North Dakota near Minot Air Force Base. After losing the engine, the aircraft was able to land successfully, as it was equipped with eight turbo engines. None of the crew members were injured. (How many people were injured by the crashed engine is not reported).
Fool technology
At the end of his short speech, Armen Gasparyan asked a sacramental question why non-brothers do not protest against this potential threat to their security. I am somehow embarrassed even to explain to an experienced propagandist why this is happening. He himself knows better than I how the propaganda acts on the minds of the "pereichny hulks" unprepared for such influence. And such professionals work in Ukraine that Goebbels, looking at them, should probably shoot himself with envy.
I have stated in more detail
technology
brainwashing with Overton windows. I highly recommend to everyone
familiarize
(you really won't regret it!). And for the lazy, I will quote just a couple of paragraphs, but without the technology itself, it is long (there is a step-by-step instruction corresponding to the title of this section).
I probably won't surprise anyone if I say that in the 21st century, mankind is faced with a new type of warfare - information cognitive war, when, without a single shot, exclusively using the tools of psychological control of people's minds, the "aggressor" tries and takes control over entire countries and even continents. At the same time, the victims do not even realize that they have become the object of an attack, for which they use all the latest know-how of hidden advertising, the 25th frame and neuro-linguistic programming. In Ukraine, this is exactly what we have seen since 2014. The Americans have become adept at such wars, in which they are the pioneers and trendsetters, so the Ukrainians had no chance to resist when they began to use proven techniques. Especially when all the media are under the control of the junta, which has usurped power in the country, and all alternative information is blocked or suppressed by it. The object of processing by means of directed informational influence is the brains of Ukrainian citizens, who are supplied with the necessary information in the right proportions. Even a well-trained person is not able to understand these streams of lies, when a piece of truth is taken, a piece of untruth is wrapped in it, all this is abundantly moistened with outright nonsense, on the basis of which system logical blocks are built and conclusions are drawn that are repeated twice to consolidate. At the same time, the most blatant lie is presented as an axiom that does not require proof, and the entire building is being erected on its foundation. And all this non-stop, day after day, month after month. What kind of psyche do you need to have in order not to succumb to such a massive attack on your brain? Here and a prepared person will go crazy, what then can we say about an unprepared "pereichny" Ukrainian?
As a result of these psychological experiments, the country of blue fences in the number of suicides has already come out on top in the world, and in terms of the number of psychos it competes only with the United States, where Democrats are fighting hard battles with Donald Ibrahimovich for the Oval Office, using all available and inaccessible methods.
Overton's technology of brainwashing of the population is that any unacceptable idea is systematically and methodically broadcast through information windows, like a series. As a result, people's attitude towards this idea changes over time: if initially it was "unthinkable", then it becomes "radical", then "acceptable", "reasonable", "popular" and, finally, "right". The latter is fixed by law, after which it becomes the norm and binding on all, even disagreeing. That is, using this technology, any idea in people's minds can be turned upside down - turn black into white and vice versa.
You can already observe how this happened in practice by looking at us through the fence, after which you yourself will answer the rhetorical questions of Armen Gasparyan.
That's all for me. Sorry if I'm tired of anyone.