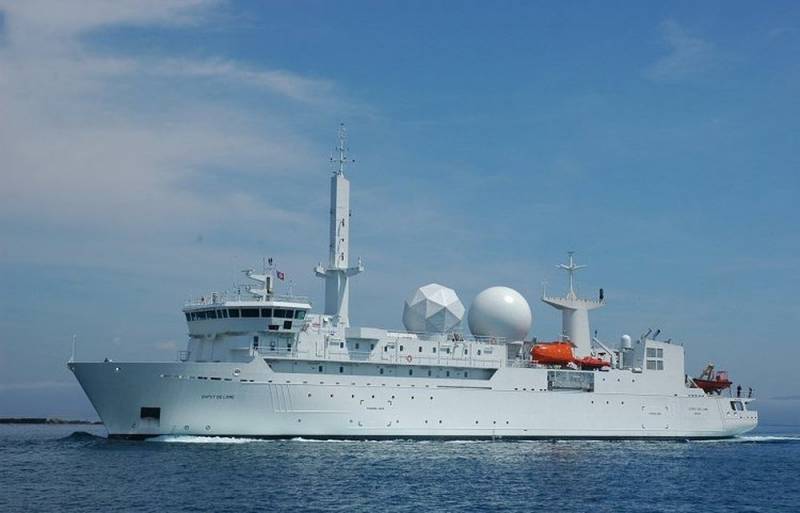 On September 6, 2020, the reconnaissance ship Dupuy de Lome A759 of the French Navy once again entered the Black Sea. This is the first ship in the history of the country, specially designed and built to conduct RER in the interests of the Directorate of Military Intelligence (DRM) of the French Defense Ministry, writes the French magazine Air & Cosmos.
In the Black Sea, a reconnaissance ship is collecting various information. For example, in the period from September 17 to 25, 2020, Moscow wants to test a rocket by launching it from the country's territory at a target in the Mediterranean Sea near Cyprus. NATO is very interested in this, and Dupuy de Lome A759 "will be in the first row" and will be engaged in the collection of telemetry data.
In addition, Russia, using the Crimea and the North Caucasus, is providing support to certain forces in Syria and Libya, using its Navy and Aerospace Forces. At the same time, the process of rearmament is underway in the Russian Armed Forces. An entire squadron of Russian surface ships, auxiliary vessels and submarines is located in the waters of the Eastern Mediterranean. And all this causes concern for the Alliance, so the ship was sent to update the existing data of the air defense and electronic warfare systems of Russia.
However, the ship's mission is not limited to the collection of Russian information. After Ankara unceremoniously got into a crisis in Libya, Paris began to keep an eye on Turkey. France is concerned that the Turks, ignoring the UN embargo, are supplying weapons and
equipment
for PNS in Tripoli. Moreover, Ankara does not hesitate to use its ships and aircraft.
Moreover, Paris is watching with extreme concern the aggressive behavior of Turkey towards Greece, a NATO ally. Therefore, the collection of intelligence by the French military should help diplomats and
politicians
to have the desired impact on the Turkish leadership.