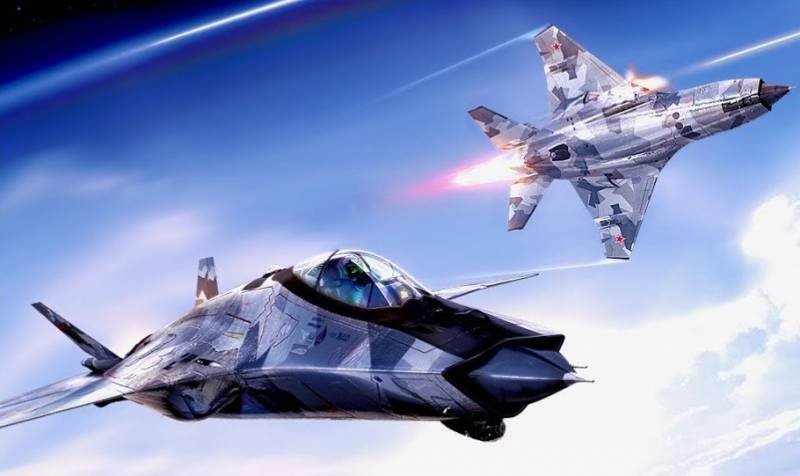 Moscow announced the development of a new fifth-generation fighter-interceptor, the MiG-41. The plane will be able to carry out arctic missions and fly into near space. Russia is currently implementing several defense programs at once - will the state master the work within the MiG-41? Experts of the Chinese newspaper "Zhongguo Junwang" argue about this.
It is assumed that the new fighter will be equipped with the most modern technical equipment for search and detection of targets, as well as the ability to effectively hide from enemy radar. The MiG-41 will be equipped with a ramjet engine or even a pulse detonation power plant.
The aircraft's speed will reach about Mach 4-4,5, and the range will reach 31 kilometers (its predecessor, the MiG-700, has a range of 720-37 km). The main armament of the new fighter is long-range air-to-air missiles (including the R-XNUMX missile system). It will also be able to use the long-range intercept missile system (MFRK DP), anti-missile laser weapons and aerospace weapons to attack objects in low orbit.
It is expected that the first flight of the MiG-41 will take place in 2025, and will enter service with the Russian armed forces in 2028.
Along with the development of a new combat aircraft, the Russian Federation is implementing the expensive PAK DA (long-range aviation complex) and Su-57 projects. In this regard, the question arises as to whether the state will be able to maintain the proper quality of design work on the MiG-41.
Aircraft design standards are very high, and some of them exceed the technological capabilities of Russia. It is too early to draw conclusions about how successfully this project can be completed.
- Chinese experts doubt.