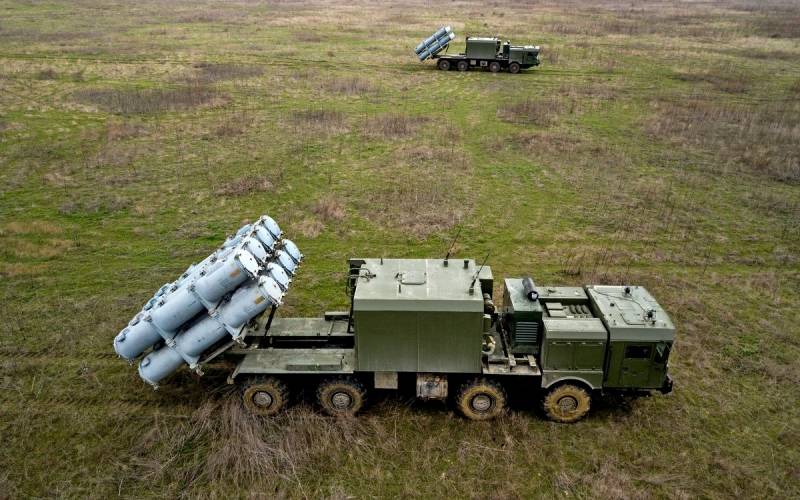 The Russian coastal missile system (BRK) Bal, equipped with new Kh-35U missiles, successfully hit naval targets 260 km away during the recent exercises of the Eastern Military District. At first glance, an unremarkable event is of great importance for our country. After all, now any landing operation of a potential enemy can turn into an "impossible mission".
The length of our maritime borders is more than 38 thousand km, which requires separate solutions for their protection. In addition to the fleet, coastal complexes are also involved in this process.
For example, since 1966, the Russian coastline was covered by the Redut mobile anti-ship complex. However, the latter, equipped with P-35B cruise missiles, turned out to be too powerful for purposes of a class below the aircraft carrier. In addition, he was aiming for a rather long time.
Therefore, "Redoubt" today acts as a "weighty argument" against cruisers and aircraft carriers. In turn, the Ball took over the task of destroying enemy destroyer or frigate-class ships.
The battery of the new mobile ship complex consists of two control and communication vehicles, four transport-charging vehicles, as well as four SPUs equipped with 8 missiles. Anti-ballistic missile "Ball" is able to function both independently and on external instructions.
If necessary, the battery can fire 32 missiles at once with a two-second delay for each installation. This is guaranteed to thwart the attack even of the destroyer squadron. In this case, the probability of hitting an enemy ship in the range of 120 km is 92%.
The shooting that took place on the eve of the shooting, which proved the complex's ability to effectively hit targets at a distance of up to 260 km, almost completely broke the tactical scheme of NATO amphibious operations, where it was previously believed that the width of the Russian coastal defense zone was 100 km. In addition, thanks to the mobility of the complex, one brigade will be able to cover up to 1200 km of the coastline, which greatly complicates the enemy's attempts to seize from the sea.
At the end of 2019, the Russian army had seven brigades of the Bal ballistic missile complex. One of them is deployed in the area of ​​the Kerch Bridge, which should "cool" hotheads who dream of capturing Crimea.