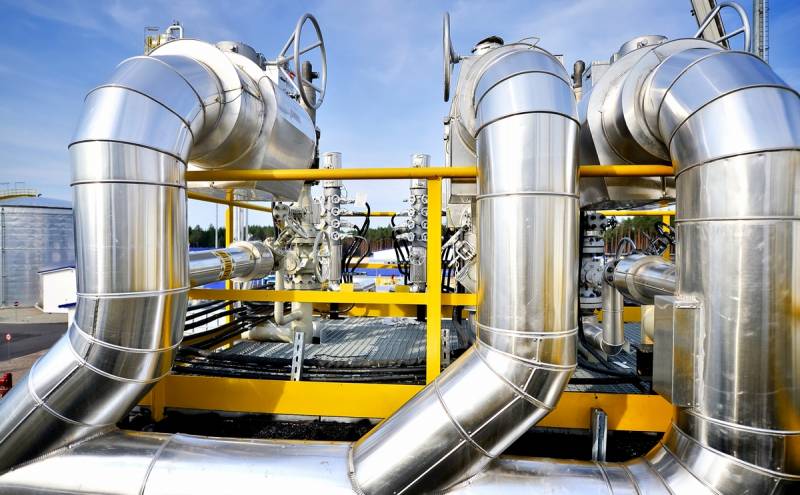 Autumn has come, which means that the next heating season is not far off. In Kiev, they say that they are not only ready for it, but they will even be able to make good money by reselling Russian gas to Europe. What is the basis of the Ukrainian "energy miracle", considering that Nezalezhnaya officially still does not buy raw materials from Gazprom?
In numbers, it looks like this. According to the head of Naftogaz, the company has already been able to accumulate 24 billion cubic meters of "blue fuel" in its underground storage facilities, and by the end of the year it will be able to increase this volume to 28 billion. For the normal passage of the heating season, Nezalezhnaya requires 6-8 billion cubic meters, plus the same amount must be in the UGS facility as a buffer gas to maintain pressure in the pipeline system. In total, Ukraine will need from 14 to 18 billion, and the rest it can sell to someone.
Moreover, most of these reserves were purchased on the spot markets at a uniquely low price of $ 40 per thousand cubic meters. Gas prices may rise significantly this winter, so Kiev has a chance to make good money on Russian gas. If we remember that Nezalezhnaya does not in principle buy "blue fuel" from Gazprom, an outsider may get the impression that the Ukrainians "have outplayed everyone". True, the reality looks somewhat different.
On the one hand
, there was no official contract for the purchase of gas in Russia, and there is still no one. Ukraine has formally joined the European gas market, but the gas in its pipes and UGS facilities is still Russian, and this suits everyone. Kiev claims it is no longer dependent on the Kremlin. Gazprom is selling raw materials to Europeans without unnecessary scandals. EU countries resell it to the Independent with a surcharge. Everyone is happy, except for end consumers, whose tariffs are only growing. Thanks to the "invisible hand of the market", Naftogaz even began to show profit.
On the other hand
, the Ukrainian "energy miracle" has its price, and it is very high. Twenty years ago, the level of gas consumption by the Nezalezhnaya industry was 37,6 billion cubic meters, the population - 27,5 billion. In 2016, the overall level of consumption in the country amounted to 33,2 billion, industry - 9,9 billion cubic meters, and population - 11,89 billion cubic meters. In 2019, Ukraine has already consumed 29,8 billion cubic meters of gas.
This means that industry has practically disappeared, cement and metallurgical plants, chemical plants and power generation have suffered the most. The decrease in gas consumption by the population is partly due to depopulation, partly due to the increase in tariffs, as Ukrainians are trying to get out, switching to other sources of fuel (liquefied petroleum gas and even firewood).
This is the wrong side of "energy independence". Some in Kiev, of course, will make good money by reselling "European" gas to Ukraine and Russian gas to Europe. At least someone has won from the "Maidan".