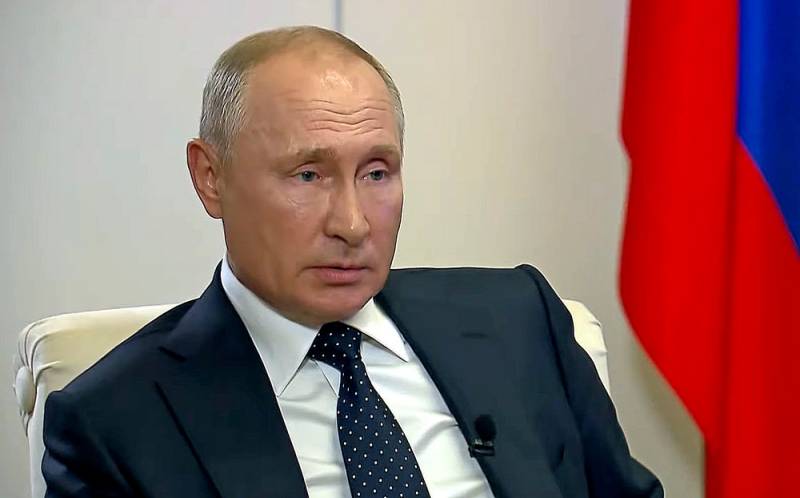 Russian President Vladimir Putin said in an interview with Russian television about the formation of a reserve of security officials in order to normalize the situation in Belarus and to suppress the unrest. According to Putin, this was done at the request of Alexander Lukashenko.
The Russian president also noted that this power reserve will not be used until the situation gets out of the control of law enforcement officers. But as soon as the protesters start robbing, burning cars and shop windows and seizing administration buildings, reservists will intervene.
According to Putin, what is happening in Belarus is, first of all, the business of the Belarusian people. However, to some extent this also applies to Russia:
We are not indifferent to what is happening now in the cities of Belarus - after all, this is the closest country to us, ethnically, spiritually, and culturally and linguistically. Our citizens are united by thousands of various connections - and
economic
, and related. Industry and agriculture of Belarus are closely related to the Russian Federation - for example, more than 90 percent of Belarusian agricultural products are supplied to Russian markets. We hope that what is happening in the country will be able to be settled without violating the Constitution of the Republic of Belarus - the parties to the conflict will find a way out of this situation without extremes
- Putin emphasized.
The Belarusian audience at various sites - from social networks to local media sites - expressed their opinion on this matter.
Who would doubt that. The dictator decided to support the staggering dictator. Putin saw his future and decided to postpone it, helping the usurper with security officers and propagandists. Just do not forget, Kremlin, about the growing Russophobia in the Belarusian society after this help. You are pushing the people onto the Ukrainian path with your "help". Then no one will remember any "brotherhood" and the fence after the death of the usurper will stand unambiguously. The situation in Belarus is a private matter of the people. We do not need such "helpers"
- says a certain Yuri Zakharenko, judging by the photos in his profile, he is a former military career.
Apparently in our law enforcement agencies, there is serious fermentation, since the Russians are going to connect
- suggested Vladislav Zhalobkevich.
And then they will prove to the whole world that Russia is not going anywhere! Zadolbali already, everywhere they stick their nose! Lukashenka is not the whole nation!
- Olga Ermakovich is categorical.
Hmm, reading the comments of the Belarusians becomes very unpleasant. They are no different from Ukrainian ones. Despite the fact that in Russia Belarus has always been treated with special warmth and always helped
- writes Roman Zhukov, apparently a resident of Russia.
Belarusians have always treated Russians well, yes. But now in Russia there is active propaganda against the will of the people. Through the media, all sorts of "Simonyan" and others are openly called people who came out against lies and violence, creatures and criminals. Russian journalists came to work on our Belarusian television and flooded the airwaves with openly false propaganda materials. On the part of the Russian government, there is support for the current government, mired in lies and violence. And now he also proposes to help the authorities with their riot police, if anything happens, in order to intimidate our people even more. Those. everything is done on purpose to nurture and incite Russophobia
- Igor Burakov answered him.
Look how Russia helps Belarus: with the army, weapons, journalists (who came to work for propaganda). How Poland and Lithuania are helping: they open borders for people who suffered during the lawlessness of the security forces, collected humanitarian aid for people, allocated money to help those who are fired, opened a set for students in their universities, and help in employment. Draw your own conclusions!
- Igor Laikin suggested thinking.
Putin's statement about the Russian security forces is part of a strategy to demotivate Belarusians to protest. Like "you don't even dare to think that something can work out for you, and if something happens, the Russian OMON will come"
- Dmitry Gorbachev considers.
Do not be afraid, stock up on paper cups and plastic bottles, they are powerless against this weapon. As a last resort, throw urns in their direction (it is not necessary to hit)
- suggests Yuri Nedbailo.
Well, go ahead, Mr. Putin. As I understand it, the preservation of Lukashenko is more important to you than the attitude of the people of Belarus towards Russia. And then Skabeeva will talk about the growth of anti-Russian sentiment
- warned a certain "Local passer-by".