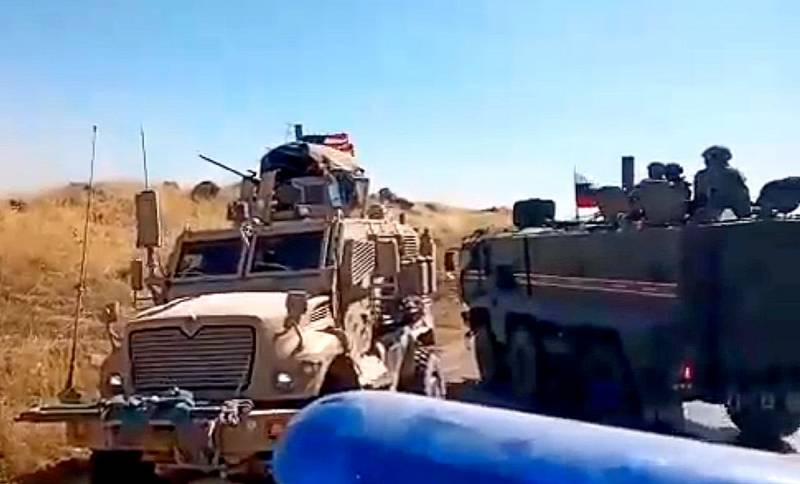 On August 26, another incident took place between the servicemen of Russia and the United States in Syria. Combat
technique
The Russian Federation tried to cut the path of American armored vehicles traveling through the Al-Malikiya area in the Syrian province of Hasake. This was reported by the Al-Masdar News agency, citing its own sources of information.
The clash took place near the Syrian-Iraqi border - the Americans long ago made it a place for free movement of their equipment in both directions. According to Al-Masdar News, the Russians tried to cut off American combat vehicles from the roadway, seeking to block their movement and ramming US armored vehicles. The conflict injured four United States military personnel with concussions.
From the Russian side, helicopters Mi-8AMTSh and Mi-35M, armored vehicles "Typhoon-K" and armored combat vehicles "Tiger", as well as "Ural-4320" and BTR-82A took part in the incident. The Americans carried out their maneuvers on International MaxxPro armored vehicles, again not sharing the road with the Russian military.
According to officials of the US National Security Council, the Russian side is ignoring the provision of the deconflicting treaty in Syria, concluded in December last year.
Meanwhile, the Russian Ministry of Defense has a different opinion on this matter. The head of the General Staff of the Russian Armed Forces, Valery Gerasimov, during negotiations with the chairman of the joint chiefs of staff of the US Armed Forces, Mark Milli, said that the Americans had been warned in advance about the passage of the Russian convoy, but US military equipment was trying to block its movement. In response to this, the combat vehicles of the RF Armed Forces had to take appropriate actions to further fulfill the assigned tasks.