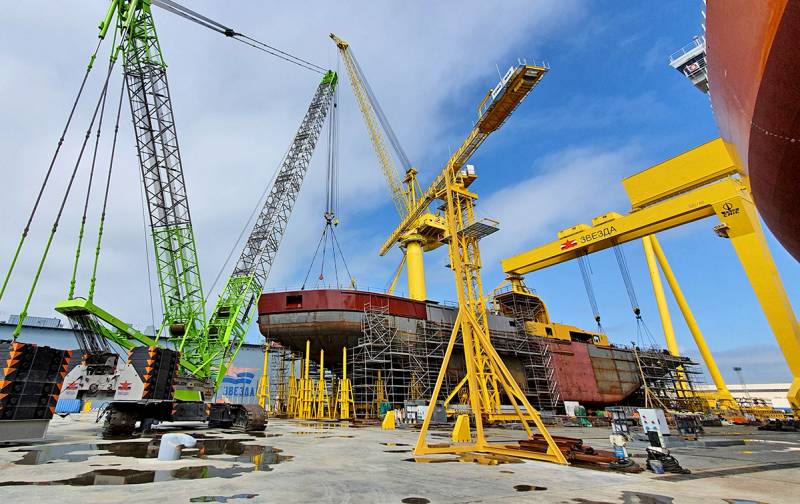 The State Duma will consider the initiative of the Ministry of Industry and Trade to ban the transportation of oil and gas on foreign ships. As conceived by officials, this should secure exports from Western sanctions and contribute to the development of domestic shipbuilding. However, doubts are already being expressed that the Russian oil and gas business will be delighted with such an undertaking and may begin to "sabotage" it.
The Code of Maritime Navigation has been amended, according to which it will be possible to export oil and gas only on domestically built tankers. For example, 115 million tons of "black gold" out of 218,6 million last year was shipped to customers by sea from four ports: Ust-Luga, Primorsk, Novorossiysk and Kozmino, that is, more than half of the total. It is a convenient and relatively inexpensive way to transport oil, but at the same time it is very vulnerable.
Thus, the United States began a real hunt for Iranian tankers carrying cargo to Venezuela, arresting them. In addition, Washington has promised to impose sanctions against companies that own ships that transport oil "in the dark." It turns out that the officials are trying in advance to spread straws for the strategically important branch of Russian exports. In general, this prudence is welcome.
With such an initiative, the state seeks to give an additional incentive to domestic shipbuilding. All new gas tankers in our country are imported, Korean production. Seoul has been confidently holding the laurels of one of the world's leading shipbuilders for a long time. In particular, the last order of Russian raw materials producers in South Korea amounted to 20 specialized vessels, of which 15 are icebreaker tankers suitable for transporting gas along the Northern Sea Route.
The construction of the Zvezda shipyard in Primorye was a big step in the revival of the national civil shipbuilding. The Russian Aframax-class tanker Vladimir Monomakh has already been launched. When the shipyard reaches its design capacity, new orders will be given to metallurgists and manufacturers of ship components, and many residents of the depressed Far East will work. In addition to Zvezda, the Crimean Zaliv plant may take part in the import substitution project.
Despite the general positive
news
Some experts doubt that oil and gas companies will give her a standing ovation. They point out that the government actually forces big business to buy and maintain its own tanker fleet, which is very expensive. The advantage will be given to Sovcomflot, which operates through leasing companies. At the initial stage, the transportation of oil and gas by Russian tankers will be higher than by foreign ones. In addition, Zvezda builds ships more slowly than South Korea, there are serious problems with personnel. They say that the same welders were lured long ago by foreign competitors for higher salaries.
The quality of ships produced at domestic shipyards is also called into question. Higher operating costs will inevitably lead to higher oil and gas transportation costs, which will ultimately affect the consumer price.
In this regard, it is suggested that oil and gas companies will try to conclude long-term charters with foreign contractors, since the amendments to the Code will not have retroactive effect, and will also ask for an exception to the general rule. As the saying goes, the interests of the state are separate, of big capital - separately.