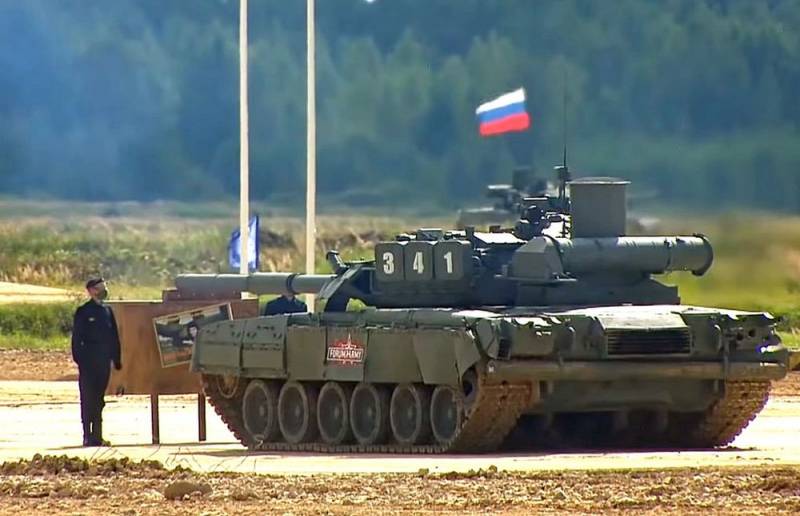 During the ARMY 2020 individual tank biathlon race, five Russian tanks demonstrated firing guided missiles at fixed targets at the range. At the same time, the mistakes during these demonstration firing, carried out in literally "greenhouse" conditions, surprised the Russians.
The T-90A fired first. He fired three TOURs on the target, of which two passed. The T-80U was the second to enter the firing line. He also had three TOURs and again two misses. The third took the position of the T-80UE-1. This time, out of three TOURs, only one passed by. The fourth was the T-80BVM. All three of his TOURS missed the mark. The fifth was the T-72B3. He fired four TOURs and they all hit the target.
Thus, out of 16 shots, only 8 ended in successful hits, i.e. 50% misses on stationary targets on the range. Moreover, in a real battle, everything will be much more complicated. Targets will move and shoot back.
Comments of Russians:
Show-off in everything is our motto, but in reality nothing remains of greatness and power
- considers AndyLW.
Now they will come up with an acceptable excuse and continue to kick the ox. Military
technique
- this is not like Roskosmos rockets, which are compared every day in terms of the number of launches with the United States, and it is pointless to pretend. When there is no verification of characteristics in practice, everything can be successfully replaced with PR
- confident military_cat.
Most likely, the crews lack skills - there will be one such missile at the cost of a Zhiguli. Apparently, there are few such ammunition in parts.
- Kasym thinks.
The probability of hitting such an adjustable projectile is 0.7-0.8, this is if the crew is well trained, and for training it is necessary both on the simulator, and in reality, shoot with such a projectile, which costs a couple of million rubles. I don't think the crews had good hands-on experience
- specified the figs.
This is a show, where there should be no jambs! And what are the results of the shooting at the ranges, or are they carried out in electronic form?
- Become surprised.
There, along the way, the judges are the same, that's why we always win in tank biathlon
- Ruslan Yuriev quipped.
Ours can not get from a standing position at a stationary target in the conditions of the training ground. And the announcer tried to present everything as defeat of goals
- said Sania Sanches.
Spanish shame. The gunner, I think, was "punished" by the entire district ... Of course, anything happens in war ... But these are demonstration performances, they are preparing for them ...
- Artem Smyslov was indignant.