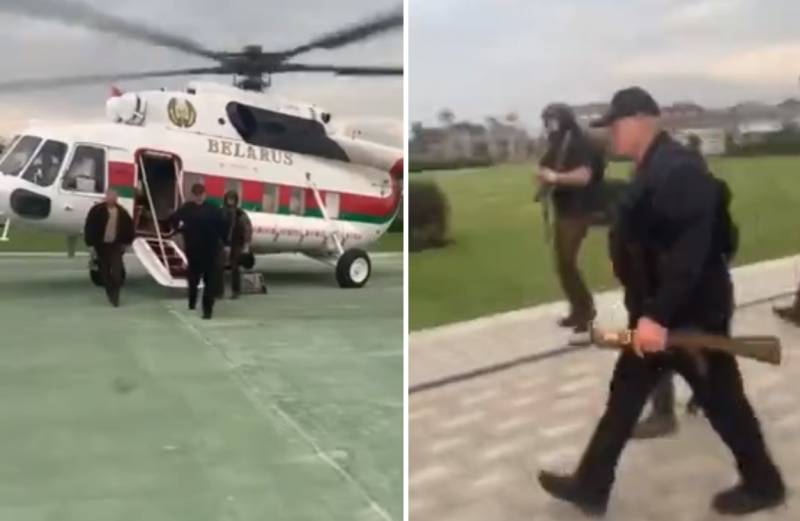 On the evening of August 23, 2020, Belarusian leader Alexander Lukashenko, after
inspection
military training ground in the Grodno region in the west of the country, literally parachuted in Minsk. The helicopter with the head of state landed right on the territory of the Palace of Independence, the official residence of the President of Belarus.
Lukashenka got out of the rotorcraft in a bulletproof vest and with a Kalashnikov assault rifle in his hands. Moreover, it is clearly noticeable that small arms do not have a magazine with cartridges.
The president makes it clear with all his appearance that he is not going to leave the country to be torn apart by "peaceful protesters" and will stand to the end. At the same time, he also does not want to shed the blood of his compatriots, even if they do not agree with him in something.
The footage shows that together with the head of state, several armed people leave the presidential side. Near the helicopter Lukashenka is met by a group of servicemen, one of them looks like the head of the Belarusian Defense Ministry Viktor Khrenin.
We remind you that at this moment in Minsk, not far from the residence of the head of state, a protest action of many thousands is taking place, to which the opposition has brought "European integrators" from all over the country, as well as from near and far abroad. "Peaceful protesters" wanted to approach the Palace of Independence, but the Belarusian security forces have not yet allowed them to do so.