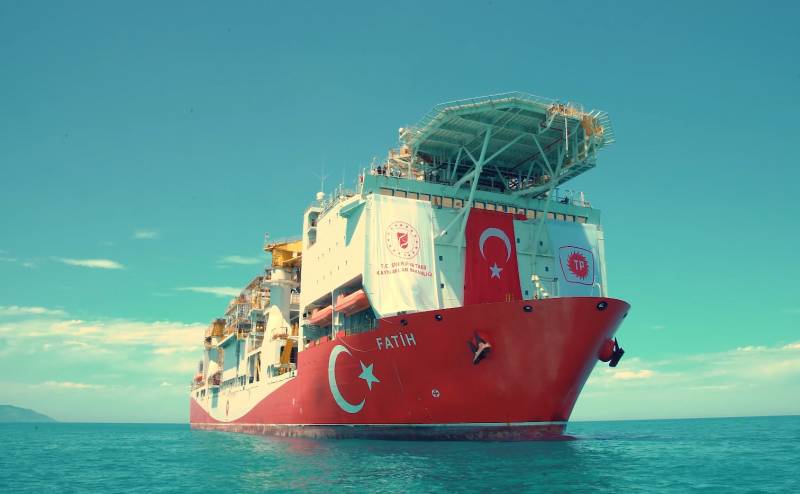 Recently Turkish leader Recep Tayyip Erdogan
announced
, which will soon make an important announcement for the whole country. It was about the natural gas reserves found by the Turks in the Black Sea basin. This intriguing
news
was noticed by the international media, but in the end, almost no one congratulated Ankara on this event, writes the Turkish newspaper Daily Sabah.
Only Pakistan, Ukraine, Palestine and Azerbaijan conveyed congratulations to Turkey in connection with the discovery of the Sakarya field 170 km from the coast.
We rejoice in the happiness and prosperity of our friends
- wrote the President of Pakistan Arif Alvi on his Twitter account.
The presidents of Palestine and Ukraine, Mahmoud Abbas and Volodymyr Zelenskyy, respectively, congratulated their Turkish counterpart by telephone, and Azerbaijani Foreign Minister Jeyhun Bayramov made a call to Turkish Foreign Minister Mevlut Cavusoglu.
Before that, Ankara announced that it had discovered a gas field with a volume of 320 billion cubic meters. m. The President of Turkey said that his country has made the largest find in its history. He is confident that the specified field is only a part of even larger reserves and can be commissioned as early as 2023.
According to the Minister of Energy and Natural Resources of Turkey Fatih Donmez, the cost of the discovered field is approximately $ 65 billion. The state energy company Turkish Petroleum Corporation (TPAO) will operate the field. At the same time, an international tender may be announced in the near future for the construction of a gas pipeline to deliver energy raw materials to the shore.
The Sakarya discovery was made in the Tuna 1 area after extensive exploration for several years with Turkish seismographic vessels Barbaros Hayrettin Paşa and MTA Oruç Reis. The depth of the sea in the area of ​​the field reaches 2100 m, but the field itself is still 1400 meters below the seabed.
We will remove the current account deficit from the agenda of our country
- said the head of the Ministry of Finance of Turkey, Berat Albayrak, while on board the Turkish drilling ship "Fatih".
Annual gas consumption in Turkey was 45-50 billion cubic meters. m. In 2019, the country imported 45,3 billion cubic meters. meters of gas worth almost $ 12 billion. According to calculations, the production of every 10 billion cubic meters. m of gas per year will reduce the country's trade deficit by $ 3 billion. The discovered reserves are almost 20 times higher than the total gas production in Turkey, which is 16,6 billion cubic meters. m.