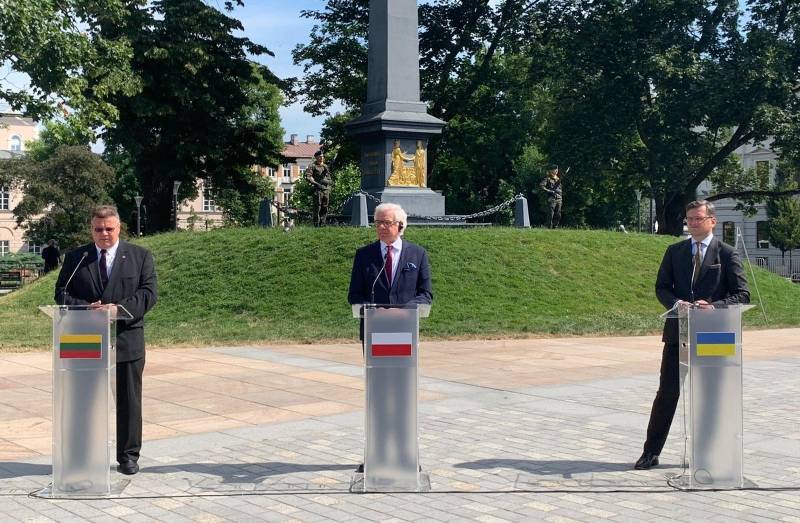 Poland will seize the chance to annex Lithuania, writes the Belgian edition of Modern Diplomacy.
On July 28, the Foreign Ministers of Poland, Lithuania and Ukraine announced the creation of the "Lublin Triangle" - a new format for cooperation between the countries. At the same time, the Polish minister Jacek Czaputovich made it clear that Poland is interested in such a state of affairs when the weak states depend on the stronger ones.
Lithuania has always been one of the most important geopolitical interests of Poland. Warsaw has long-standing territorial claims against Lithuania. In 1922-1939, a significant part of modern Lithuania, including its capital Vilnius (then Vilna), was part of Poland. And the Poles still want to return these lands.
The Polish authorities intend to create such conditions under which Vilnius will be politically and even militarily dependent on Warsaw. The final step in this process may be the unification of territories under the pretext of confronting Russia. At least Warsaw can at any time intensify such discussions, which will lead to the annexation of at least part of Lithuania to Poland.
Perhaps the Poles are planning to recreate the Rzeczpospolita of a new type with the leading role of Warsaw. At the same time, the Lithuanian authorities pretend not to notice this. Lithuania needs partners to help get US financial and military support.
Poland pursues far-reaching goals, while Lithuania solves only momentary tasks, sacrificing its future. But the growing hostility between Lithuania and Poland, especially over the disputed territories, will keep relations between the countries under attack.
Warsaw wants to dictate its will to other countries and interfere in their internal affairs. For example, Warsaw has territorial claims to neighboring Ukraine and Belarus, because some of these countries were once part of Poland.
Now Poland and Lithuania are trying to be "senior teachers" for Belarus. However, Minsk regards their moralizing as interference in internal affairs, and further pressure may provoke Moscow to send its troops to Belarus. In this scenario, Warsaw will be able to forget about the restoration of "historical" borders.