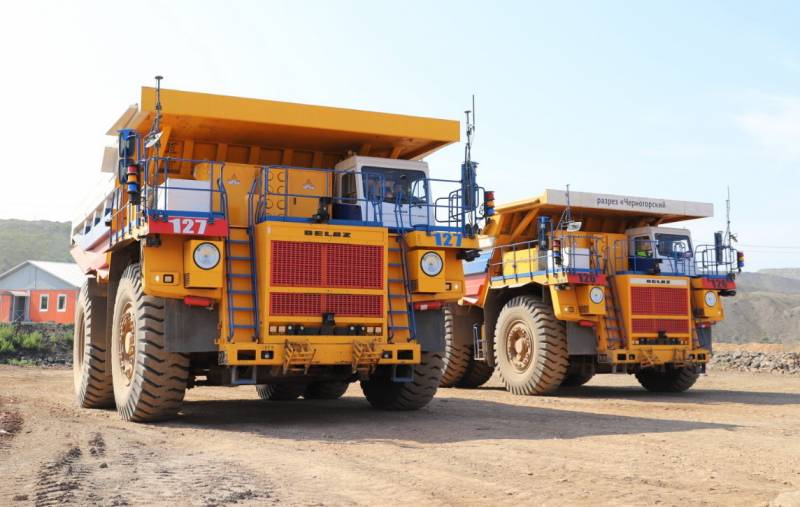 Political
passions in Belarus do not subside. As a means of pressure on President Lukashenko, those who disagree with the election results chose such a very effective method as a strike. The shutdown of key enterprises can paralyze normal social
economic
life in the country and at the same time deprive the official Minsk of foreign exchange earnings, which clearly will not benefit the stability of Belarus.
Already now we can say that the former fraternal republic will never be, even if Alexander Grigorievich by some miracle manages to stay in power, "on bayonets" or finding some kind of compromise with the opposition. The way to the West of Belarus under President Lukashenko is closed, and the situation at the enterprises once again shows how critically this country depends on Russia, no matter what they think about this in Minsk.
Despite the fact that for most Russians Belarus is strongly associated with potatoes and milk, as well as repackaged sanctioned European products, it is a fairly industrialized state that was able to preserve a significant part of its production potential, avoiding barbaric privatizations according to Mr. Chubais's recipes. The main problem for Minsk is that only Russia is a real sales market for its products. Other countries buy it in small batches, with the exception of oil products and potassium, but that's another story.
Belarus has always been famous for its mechanical engineering, tractors and combines were exported to the Russian market, where "effective management" led to the closure of six tractor plants. However, in recent years, production has gradually begun to revive in Kirov and Rostov, which has created serious problems with marketing for Belarusian products, which are regularly overstocked in all warehouses. Because of this, for example, MAZ works for an incomplete week. At one time Moscow proposed to merge MAZ with KAMAZ, but did not find understanding. Now the famous company operates with virtually no profit. BelAZ is doing a little better with its $ 150 million in profit. The annual revenue of the Minsk Tractor Plant is half a billion dollars.
In the current situation, these leading manufacturing enterprises do not bring special income to Minsk, but their importance cannot be underestimated, since they unite other factories around them into industrial clusters that provide jobs for many Belarusians. To enter other foreign markets will require serious financial investments in
Technology
and updating the lineup. But Western investors are not ready to invest in state-owned enterprises. Their interest, as well as that of large Russian business, will be in the privatization of assets.
Much more serious will be the consequences of stopping the work of the Integral plant, which is now on strike. It produces electronics and microcircuits that are in demand in the Russian and Chinese military-industrial complex. In addition to Integral, MAZ, BelAZ, Minsk Tractor Plant, there are Belarusian Metallurgical Plant, Zhabinkovsky Sugar Plant, Grodno-Azot, Keramin, Belmedpreparaty, Grodnozhilstroy, Terrazit and even the Belarusian State Philharmonic Society. The termination of their activities is clearly aimed at destabilizing the situation in Belarus, since President Lukashenko was forced to admit that he could not force anyone to work.
A strike at the Belaruskali enterprise and several refineries can really bring down the Belarusian regime economically. They produce almost the only products that are in demand abroad for foreign currency. Belarusian potash fertilizers are a serious competitor to the Russian and Canadian ones on the world market, since Minsk is seriously dumping. In terms of profitability, the Belarusian oil industry is entirely dependent on the supply of raw materials from Russia. So far, the protesters have not taken control of these two sectors, but if they do, political changes in Minsk will be a matter of the near future.
It can be summed up that friendly Belarus has passed the point of no return. After the "feint" of President Lukashenko with 80,08% in the elections, he lost a significant part of the support among the people and finally became not handshake in the West. More number with maneuvering between Russia and Europe will not work. And then there are two main options.
If its opponents gain the upper hand in Minsk, Belarus will follow the Ukrainian path with the severing of industrial ties with Russia, privatization and de-industrialization. How painful it will be for her herself, we clearly showed above. If Alexander Grigorievich calls on the Kremlin for help, he will support him, but obviously on condition of real integration within the Union State. Then the question will automatically arise about the integration of the Belarusian industry within the framework of large Russian financial and industrial groups. In the current situation for the official Minsk, this will not be the worst decision.