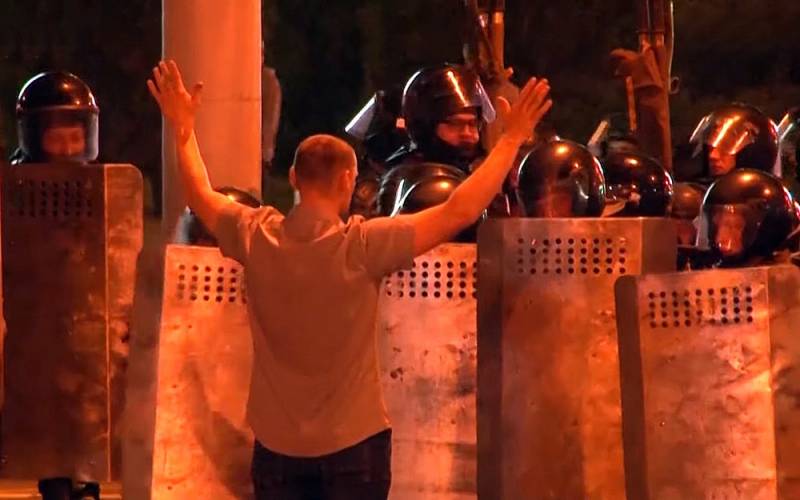 Looking at everything that is now happening on the streets of Minsk and other cities of Belarus, you involuntarily catch yourself thinking that I have already seen something similar somewhere. And exactly, 6 years ago in Ukraine. At that time, people who took to the streets of Kiev and other cities of Western Ukraine with what they thought were just demands, naively believed that they were following their own unique path to their best destiny. But the road to hell is paved with good intentions.
Overthrowing the hated (then not yet stained with blood) tyrant, these "people with bright faces", due to their limitations, did not take into account (and some did not even know) that more than a dozen countries had already passed this path before them. And the experience of these countries has convincingly proved that they did not achieve anything good as a result, having rolled back in their development in the pre-industrial era. But we are all smart in hindsight. Now the Belarusians have to learn this truth as well.
The events in Minsk once again confirm the fact that no one goes to the Maidan because of a bad life. In Ukraine, for example, it is now several times worse than under the "criminal Panda" regime, but no one goes anywhere. And why? The answer is simple - not before! Everyone is saved as best he can, alone fighting for his own survival. Everywhere, where I watched such actions, from the North. Africa to Hong Kong and Ukraine, "people with bright faces" came out to protest exclusively from a good life, wanting even better. What they got as a result - we all know very well. Some are still simply "glowing with happiness" - Tunisia, Egypt, Yemen, Bahrain, Algeria, Morocco, Oman, Jordan, Georgia, Kyrgyzstan, Armenia. Others are at war with their fellow citizens on the ruins of their own countries - Syria, Libya, Iraq, Ukraine. Only in Hong Kong was communist China able to stabilize this process with an iron fist, and then for a short time.
Everywhere I saw such a "movement" (both in North Africa, and in Hong Kong, not to mention Ukraine), the shaggy hand of American curators was clearly visible. It got to the point that on the Maidan resistance fighters were handed out manuals with Arabic script and minarets instead of churches. They were in such a hurry that they did not even have time to redo it. And you shouldn't be surprised - the organizers planned the Maidan in Ukraine for 2015 (the year of Yanukovych's re-election), but everything went according to an accelerated scenario.
In Belarus, a completely different picture is observed. One gets the impression that the resistance scenario is being written off the wheels, although the elections were planned in advance. There is not a single center, not even single leaders of the Maidan, the protesters gather spontaneously and disorganized. It got to the point that the main rival of Lukashenka, around whom the people was supposed to rally, fled to Lithuania and from there sends video messages to her followers asking them to abide by the law and not start riots. Agree that Maidans are not done this way.
A holy place, however, is never empty, and scattered masses of protesters are trying to unite some telegram channels that, online, day and night, post videos of riot police beating innocent civilians who just went out for a walk through the streets of Minsk. And, in spite of the blocking of the Internet, through some of their narrowly dedicated channels, they promptly inform the population about the locations of the next actions and methods of countering the police. But all this looks more like the hand of a British-Polish master than an American one.
Minsk between a rock and a hard place. Where will multi-vector Lukashenko swing?
Not everyone drew attention to the visit of US Secretary of State Mike Pompeo to Minsk on February 1 this year, where he met with Lukashenko and Belarusian Foreign Minister Makei (I especially emphasize the presence at this meeting of the head of the Belarusian Foreign Ministry, who professes the most Western-centrist position in the entire environment Lukashenko). Then, apparently, some guarantees were given to the daddy that the States would recognize his legitimacy if he took some steps away from Russia. And dad took them (and Langley helped him with this). It is this circumstance that explains the certain confusion that was present in the assessment of the actions of the Belarusian regime to disperse peaceful protest demonstrations, which was observed both on the part of the United States and on the part of its Western partners. The partners looked at Washington, and there they waited for how it would all end.
Trump is rational. He "cared about" the features of regimes in countries that not every American can find on the map. Lukashenko is a partner for him, with whom he made a good deal. Pompeo flew to Belarus in winter, among other things, also in order to sell surplus oil from American storages to Belarusians through ports in Poland and the Baltic States, at a time when dad was just looking for an alternative supplier for his refineries instead of Russia. It is known about at least two American tankers, which over the past summer brought oil for Minsk, close in quality to the Russian Urals, for which the Belarusian factories were "sharpened". Donald would be happy to drive a wedge in relations between the Russian Federation and the Republic of Belarus (confirmation of this is Pompeo's visit to Minsk and the provocation of the SBU supervised by the States with PMC Wagner), but now, being in the status of a "lame duck", he thinks more about keeping his own chair than about anything else. This was used by the globalists, who hate Lukashenka so much that they could not resist trying to overthrow him at the first opportunity, using all the levers of their pressure for this, and do not care what Trump wants there. Trump is now himself a colossus on feet of clay, and is unable to resist globalists, not only in Belarus, but even at home.
At that moment, all those who were already tired of his unbridled activity on the outer perimeter climbed out. I mean both Germany and other EU countries that have been inscribed in the globalist food chain for the past 30 years and who prefer any democrat-globalist in the Oval Office rather than the insane isolationist Trump, who has already gotten everyone out. Therefore, seizing the moment, they happily staged a holiday of disobedience, expressing their "phi" regarding the elections in Belarus, refusing Lukashenka to recognize his legitimacy. Than, willing or unwilling, pushed him into the arms of Comrade. Xi and Comrade Putin, who were the first to congratulate the father on his election for another term. Now the multi-vector Lukashenka will be forced to hesitate, if he does, only between the PRC and the Russian Federation. What we need! But I have big doubts that he will sit still. And only he himself is to blame for this.
Bloody dictator. Belarusian Pinochet
Watch this video.
What, besides hatred for the bloody dictator, can arise after him? Lukashenka, by his actions, breeds his opponents. If already now on the streets of Minsk, according to the minimum estimates, there were up to 20 thousand people. (only those detained in 2 days more than 6 thousand), you can imagine how many there will be in the future. Even if I, realizing all the destructiveness and harm of such actions, having behind me all the consequences of the Ukrainian Maidan and the devastating damage that it brought, internally shudder and oppose such Good with such fists. By the way, for comparison, on the Kiev Maidan there were on average no more than 15 thousand protesters, and 20 thousand protesters for the smaller Minsk, and who took to the streets spontaneously, is a colossal figure.
At the same time, having the experience of the Ukrainian Maidan, I immediately see inconsistencies. First of all, what is striking is the spontaneity of the protest. There are no leaders in contrasting red jackets guiding the process, nor their combat infantry in identical gray, faceless robes with balaclavas on their faces. On the Maidan, hundreds of protesters were immediately created, led by commanders-centurions, who stood out from the rest with a bright band on their sleeves. Here I see the confused and idle youth, for whom this is most likely a holiday of disobedience, rather than a conscious protest. Most of them were born already under Lukashenka and they did not find anything better or worse. The old man is just tired of them. With their "brain", which does not exist, they do not understand that by their actions they are plunging the country into chaos - for them it is just a fun "move". They took to the streets rather to hang out, to film it all in order to tell their friends later that they had overthrown the "dictator." And, who is now sowing the wind, defending his ass, Lukashenka risks very soon to reap the storm that will sweep away him and his regime. You can be sure that these sprouts will germinate very soon and give such shoots that the old man will not seem a little. There, behind the hillock, sit such "gardeners" who have taken more than one "harvest" from similar seedlings. I am not at all sure that the dad will sit out until the end of his term. And this is already a problem for Russia. We must now look for a replacement for him, if Moscow does not want to see Belarus in the circle of its most sworn enemies, along with Poland, Ukraine and the Baltic limitrophes.
The second difference between the Belarusian Maidan and the Ukrainian one is the absence of a single center and curators, which says that they did not prepare for it in advance. The crowd is clearly disorganized. There are no attempts to seize administrative buildings, not to mention ministries and law enforcement agencies. The most they did was to block the streets and try to erect the only barricade, which was immediately demolished by riot police. As a result, unable to gain a foothold in one place, the Belarusian Maidan began to blink, here and there pockets of resistance arose, which were immediately suppressed by mobile OMON groups in order to emerge in another place. Moving from the center even to the sleeping areas, where the protesters were supported by ordinary inhabitants, clapping their hands, blinking windows and signaling cars with horns. This new tactic of waging a color revolution has even received its name "Partisan Maidan". It is impossible to say that this was planned in advance, but the riot police in heavy ammunition very quickly got tired of running after running away busters, so the caught ones got doubly. The excesses of the performer were present everywhere, although, I think, dad gave the go-ahead for the most severe suppression.
The third and very important difference is the absence of anti-Russian rhetoric, no: "Moskals for knives!", "Moskalyaku for gilyaka!" and "He who does not jump is a maskal!", there are not even EU flags, and nationalist white and red flags are present in limited numbers. There is no division into west and east, the Belarusian protest is homogeneous. He is not "for" something, he is "against". Against the dad, who has bothered everyone for 26 years. But this is only because they do not know that it can be much worse. And the dad, who created an oasis of socialism with a capitalist face in the Republic of Belarus (mainly, of course, at the expense of Russia), can only compete in this with Sweden and the North. Europe, where there are some elements of socially oriented capitalism with a human face. Everything is relative. Young Belarusians simply have nothing to compare with.
The fourth difference is the absence of Antimaydan. Where are these 4 of the five Belarusians who voted for dad? Why don't they defend their choice? It is clear that the majority is always passive. But my question is - is it the majority? I am gnawed by vague doubts about the election results. I'm not sure that the dad got even half of the votes.
And, as a result, the fifth difference is the emergence of the threat of mass strikes. There was no such thing in Ukraine. This is a very serious weapon, due in part to the presence in the Republic of Belarus of a real, not fake, trade union organization. Look at
news
summaries. The workers of the Belarusian Metallurgical Plant (BMZ, for a moment, one of the largest plants in the country), OJSC Grodno Azot, METZ and MMZ (Minsk Electrotechnical and Minsk Margarine Plants), BelAZ and MAZ (Zhodino and Minsk auto giants are on strike) , Bobruisk "Belshina", MTZ (famous Minsk tractor) and BelZhD (employees of the railway). Imagine if some Uralvagonzavod or Cherepovets Metallurgical Plant went on strike in the Russian Federation. I think it would be a state of emergency on an all-Russian scale. Do you know who works in these factories? These are not young people who drink smoothies and want LGBT people not to be offended in the EU. This is a fundamentally different contingent.
About the absence of radicals, paid aunts, employees of the American and other embassies, local oligarchs and money from them, and even intelligible demands to the dad, except for "Dad, go away!" I will not say anything. No, this is not how Maidans are made! There is a spontaneous protest of the masses against the unfair and dishonest, from their point of view, elections.
Summary
I think Lukashenka's days are numbered. For him, it will all end in a war of attrition. And if in the end, by mobilizing all power resources, he can still retain power, then the conclusion is obvious - from this confrontation with his own people, he will inevitably come out weakened. Its legitimacy will be undermined, relations with some of the elites will be ruined, and bridges with the West, hastily erected in recent years, will be burned again.
Russia is satisfied with this. Guess why?