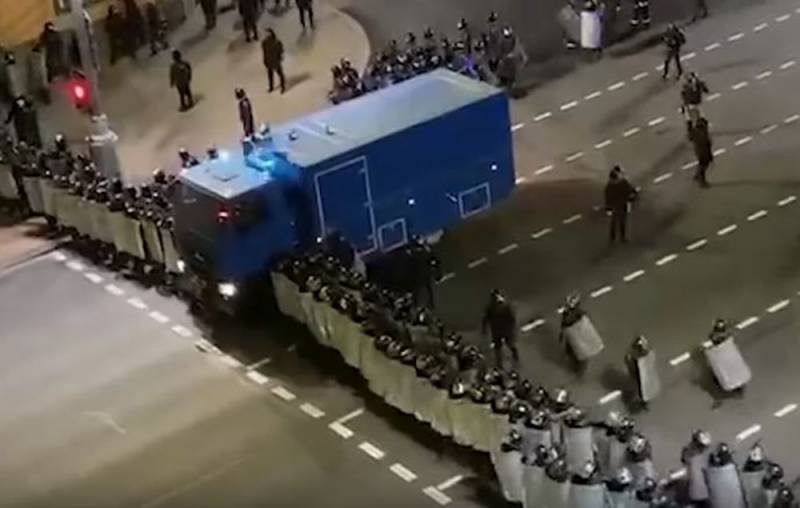 The protests in Belarus and their brutal suppression by the authorities are an omen of future events in Russia, writes the American newspaper The Hill.
According to the newspaper, Belarusian President Alexander Lukashenko is unfairly called "the last dictator of Europe", since Russian leader Vladimir Putin is more suitable for this role, "whose regime collapse" will become more destructive in its consequences.
The newspaper considers - "Lukashenka's days are numbered." He allegedly falsified the results of the expression of the will of citizens and is now trying to hold on to power by violent means, but the growing public discontent may force him to leave. Moreover, the Belarusian security forces themselves can convince Lukashenka to leave his post in order to calm down the raging street.
At the same time, the Kremlin will actively participate in future elections for the head of Belarus, trying to put its own man at the head of the neighboring country. Moscow cannot allow a representative of the West to come to power in Minsk. But the more the Russian authorities will devote time to Belarusian problems, the more often they will have to look back at the growing instability in their own country. Moreover, the removal of Lukashenka from power may become a model for a repetition of such a scenario in Russia.
Russia is a failed state, even more so than the Republic of Belarus. And she will be next
- reports the publication.
The Hill clarifies that the main weakness of Russia has already been discovered - the Russian leadership has lost the confidence of its population. This is reflected in the desire of people to receive information from alternative sources, and not from "strongholds" of propaganda. A recent poll by the Levada Center showed that only 25% of the population trusts Putin. Moscow's ability to suppress mass protests by repressive methods will be tested in the near future. On September 13, 2020, elections are to be held in Russia in 18 regions. Moreover, the situation there is even more unpredictable than in Belarus.
The newspaper sums up that American and European
politicians
it is necessary to prevent further violence on the part of state bodies in Belarus and begin to prepare for the outbreak of protests in Russia. And while Moscow is trying to build an "external empire", it can imperceptibly lose the "internal empire", after which Russia will collapse.